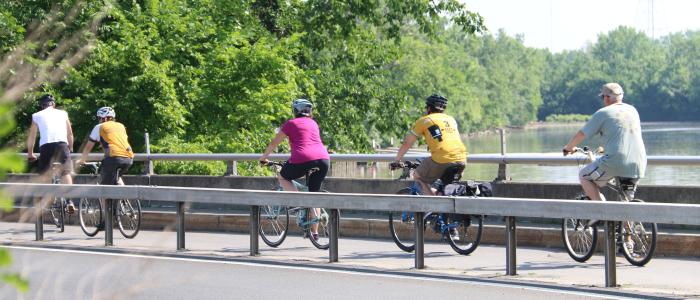 Cycle through Albany County! Whether you are an avid cyclist, or a casual pedal pusher, a bike ride is a wonderful way to see the sights and enjoy the fresh air. Albany County boasts bike trails along historic waterfronts, former railroad lines, and scenic forests. Scroll on for the details on where to go on a cycling adventure in Albany County. 
Spanning nine miles from Albany to Voorheesville, the Albany County Helderberg Hudson Rail Trail is a local treasure. Ride through the communities of Voorheesville, New Scotland, Bethlehem, and Albany on a fully paved path that was formerly the Delaware & Hudson (D&H) Railroad. In addition to scenic views of nature, bicyclists can admire works of public art from the Mohawk Hudson Land Conservancy's Art On The Rail Trail (ART). 
Bicyclists can explore over 20 miles of multi-use trails at the Albany Pine Bush Preserve. Cycle through pine barrens, over sand dunes, through forests and ravines. It is a great way to experience this unique fire-dependent habitat in the heart of Albany County! This time of year, lucky cyclists may even be able to spy a rare Karner Blue Butterfly fluttering among the violet lupines. 
Retrace history with a bicycle ride on the Erie Canalway Trail! Stretching over 360 miles from Albany to Buffalo, this trail follows the legendary Erie Canal. The 40-mile section of the trail from Downtown Albany to Schenectady County is locally known as the Mohawk-Hudson Bike-Hike Trail. Hop on at the Corning Preserve to follow the trail along the Hudson River, to the Mohawk River, and beyond. Don't forget to track your miles with the Erie Canalway Challenge to win rewards! 
Embark on a cycling adventure at John Boyd Thacher State Park. Sitting high above Albany along the Helderberg Escarpment, the park offers over 25 miles of trails for mountain biking. While cycling across the terrain, chase a few waterfalls and soak up panoramic views of the Hudson-Mohawk Valleys and the Adirondack and Green Mountains. 
Please note that due to current circumstances, CDPHP & CDTA have postponed the launch of the 2020 CDPHP Cycle! season. 
Explore downtown Albany with CDPHP Cycle! The bike-share program, operated by CDTA & CDPHP, is a fun and easy way to cycle the city. For $5 an hour, locals and visitors can rent a bike to see the sights and squeeze in some exercise. Bike rental hubs are conveniently located throughout downtown Albany from Washington Park, to State Street, to the Corning Preserve.