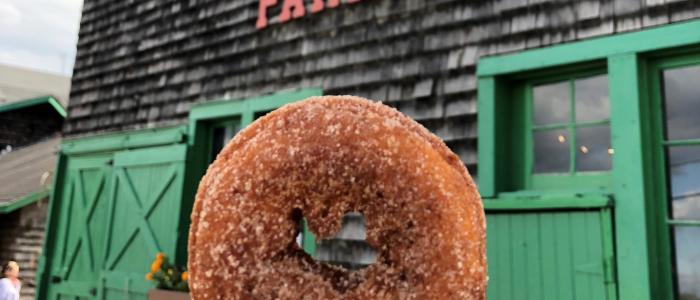 From Upstate New York's famous apple-cider doughnut, to twists on a classic cake donut, Albany County is home to a variety of bakeries and eateries with must-try doughnuts. Not sure where to start? Doughnut worry, we've got you covered with five places serving up delectable doughnuts in Albany County. 
Cider Belly Doughnuts, an Albany staple, serves up fresh and delicious apple cider-based doughnuts. Located in the heart of downtown Albany, the doughnut shop amps up everyone's favorite apple cider doughnuts with unique toppings, glazes, drizzles and fillings. Flavors rotate, but bellys frequently available include "Ol' Albany," "French Apple," "Sugar Daddy," and "Original Cinn." A second location in Colonie is projected to open later this year. 
Indian Ladder Farms, nestled in Altamont, is a 100-year-old farm and orchard. Situated at the foot of the Helderberg Escarpment, the family-owned farm is a scenic destination. The freshly-baked apple cider doughnuts, available daily, are worth the drive to the family-friendly farm. After savoring a delicious doughnut, say hello to the farm animals, pick-your-own berries or apples depending upon the season or raise a pint of hard cider or craft beer at the Indian Ladder Farms Cidery & Brewery. 
Bella Napoli Bakery and Cafe in Latham is an Albany tradition. For over 50 years, the Mainella family has been baking up authentic Italian pastries and American treats at the bakery's two locations in Troy and Latham. While Bella Napoli specializes in Italian baked goods such as Sfogliatelle and cannoli, the bakery is a go-to spot for doughnuts. Patrons can find an array of rotating doughnuts in flavors such as strawberry cheesecake, lemoncello, Tiramisu, cotton candy, cannoli, and peanut butter and jelly available. The bakery also takes orders for specialty donuts. 
For over 60 years, Schuyler Bakery has been whipping up delicious baked goods. Tucked in Watervliet, the family-owned bakery serves everything from cookies to pies, but it is well-known locally for doughnuts. The menu features a variety of types from old fashioned, to cinnamon sugar jelly, to lemon filled, to Boston creme, available everyday. Apple Cider doughnuts are prepared on the weekends and Paczkis (traditional Polish filled doughnuts) are on the menu seasonally. 
Duck Donuts, a popular doughnut shop franchise, opened its first Upstate New York location in Latham at the end of last year. All of the fresh, made-to-order sweet treats start with the signature vanilla cake donut. Customers then pick a coating (ranging from powdered sugar to flavored icing), followed by a topping (such as sprinkles or even chopped bacon), and then a drizzle (hot fudge, marshmallow, salted caramel or raspberry). If you are not feeling adventurous enough to create your own doughnut concoction, Duck Donuts has you covered with foolproof Fan Favorites.