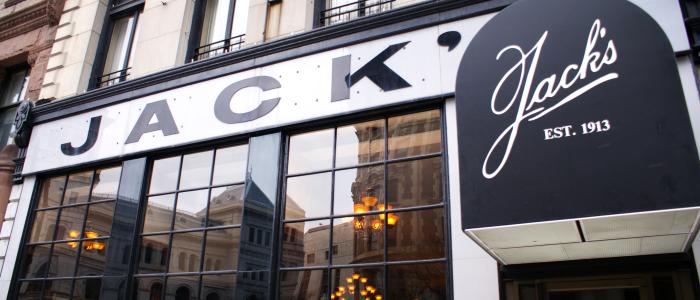 144 State St, Albany, NY 12207
2 minute walk
Wellington's, located in downtown Albany's elegant Renaissance Hotel, is an upscale restaurant for lunch or dinner. Savor farm fresh eats, made from locally-grown and produced ingredients, while soaking up unparalleled views of the New York State Capitol Building and downtown Albany. Plus, on the way into the restaurant, meander through the the hotel's lobby and marvel at the historic murals by Irish artist Victor Gerald White depicting Albany's history.
42 State St, Albany, NY 12207
7 minute walk
Jack's Oyster House is legendary restaurant that has served patrons since 1913. Nestled on State Street, this Albany institution is a great spot for visitors and locals alike to enjoy an elegant dinner. The menu features upscale cuisine with an emphasis on ingredients from local farms and Capital Region purveyors. Splurge on the 7-course tasting menu, beginning with the East Coast oyster trio and ending with the pistachio gelato, for a meal that is guaranteed to be unforgettable. 
414 Broadway, Albany, NY 12207
7 minute walk
Loch & Quay, situated on the corner Broadway and Beaver, is an intimate restaurant with only 10 tables and a mahogany bar seating 18 patrons. Located in a historic building constructed in 1819, the restaurant boasts original tile floors, tin ceilings and lights. The quaint eatery serves up handcrafted cocktails, wine, craft beer and a menu of burgers, paninis and hot & cold sandwiches. 
25 Chapel St, Albany, NY 12210
8 minute walk
Yono's is Albany's go-to spot for world-class fine dining. The restaurant's founder Chef Yono Purnomo has crafted a menu featuring his own signature blend of contemporary American fare with Indonesian influence. The dishes utilize seasonal, farm fresh ingredients from Upstate New York packed with global flavors. Yono's is the longest tenured Four Star restaurant in the Capital Region and boasts an impressive wine list. The landmark restaurant is intimate with only 15 tables in the dining room. 
25 Chapel St, Albany, NY 12210
8 minute walk
Yono's sister restaurant, dp An American Brasserie, is Dominick Purnomo's signature restaurant. With a more casual atmosphere than Yono's, the eatery serves up French brasserie staples and contemporary American cuisine paired with over 70 wines, craft beer and handcrafted seasonally-inspired cocktails. Boasting one of the longest lists of wines by the glass in the region, it is a top spot for dinner in Albany. 
90 N Pearl St, Albany, NY 12207
8 minute walk
Bourbon enthusiasts will enjoy dinner and drinks at The Bishop, nestled on the corner of North Pearl Street and Sheridan. The drink list boasts an array of bourbons and ryes, as well as handcrafted cocktails, beer and wine. The Bishop's scratch kitchen serves up a beef-centric menu with steaks, burgers, sandwiches and entrees. 
79 N Pearl St, Albany, NY 12207
10 minute walk
Located in the heart of downtown Albany, The Hollow Bar + Kitchen is a triple threat. It is a lauded restaurant, popular bar and iconic live music venue. The Hollow's menu is stacked with mouthwatering dishes comprised of farm-fresh ingredients. Many of the classic pub fare offerings can be made vegan or vegetarian, and the restaurant boasts a variety of gluten-free dishes. 
32 Dove St, Albany, NY 12210
11 minute walk
Dove + Deer is a newly restored bar and restaurant nestled in Albany's Center Square neighborhood. Housed in a historic brownstone built in 1854, the cozy restaurant is full of charm. The menu features elevated pub fare with fresh ingredients and vegetarian offerings as well as craft cocktails, specialty wine and craft beer. 
683 Broadway, Albany, NY 12204
13 minute walk
Olde English Pub is a local favorite. The must-visit pub is housed within a structure referred to as the "Quackenbush House," the second oldest building in Albany. Sip on British ales, frozen Palomas and handcrafted cocktails in the garden bar, surrounded by lush greenery and underneath twinkle lights. Dine on English fare such as Fish & Chips or fresh seasonal eats inside the cozy pub. Before leaving, don't forget to pose for a selfie in the bright red British telephone booth located outside near the entrance. 
182 Washington Ave, Albany, NY 12210
14 minute walk
Iron Gate Cafe specializes in breakfast, brunch and lunch. The family-owned and operated restaurant is located on the edge of Albany's Center Square neighborhood in a converted historic mansion. Grab a seat in the picturesque garden patio and devour mouthwatering brunch fare including omelets, scrambles, pancakes, French toast, sandwiches and more.