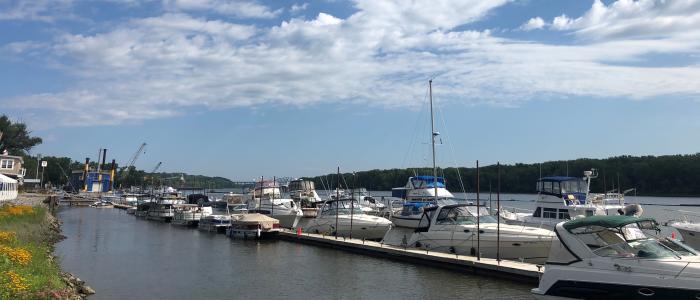 Albany County is full of discoveries. Explore natural wonders in the Helderberg Hilltowns. Dive into history at world-class museums in the City of Albany. Marvel at New York State's second largest waterfall in Cohoes. Follow along as we showcase all there is to explore in the towns of Albany County.   
The Town of Coeymans was incorporated in 1673. The town includes the village of Ravena and the hamlets of Alcove, Aquetuck, Coeymans, Coeymans Hollow and Roah Hook. Located along the bank of the Hudson River, the town features family-friendly parks and waterfront dining. Keep scrolling to learn about a few attractions for visitors (and locals!) to explore in the Albany County town of Coeymans.   
Please note that some of the below businesses and attractions may be temporarily closed due to COVID-19. We recommend to visit each business's website or social media before making plans to visit. 
Located on the banks of the Hudson River, Coeymans Landing Park has a playground, picnic tables, a charming gazebo and boat launch. The park is also an Upstate Kayak Rentals self-serve kayak rental hub! Grab a pair of kayaks and paddle around this area for unique views of large barges and ships from the nearby Port of Coeyman's. Plan your park visit around sunset for some stunning views!
Nestled in Coeyman's Landing Park is the family-owned Yanni's Too Restaurant! Sip on cocktails, spoon up chowder and dine on seafood fare on the restaurant's spacious patio overlooking the Hudson River. The restaurant owner Marc Yanni is dubbed "The Calamari King" for his award-winning calamari. The waterfront restaurant impressively scooped up multiple "Bestie" awards from Capital Region Living Magazine including "Best Calamari", "Best Lobster Mac n Cheese", "Best Seafood Restaurant", "Best Chowder" and "Best Outdoor Dining."
Spanning 160 acres, Joralemon Memorial Park has wooded trails, a pavilion, playgrounds and tennis courts. Take a hike along the trails to view rare wildflowers, towering trees and interesting plants. Hikers might even stumble upon a historic lime kiln dating back to the Civil War! Tucked away in the park is also a massive Disc Golf Course. The 38 hole disc golf course features two 18-hole loops throughout the park's wooded areas and open fairways. The course is perfect for players of all skill levels from beginners to more experienced players. 
More Coeymans-based Businesses & Parks: