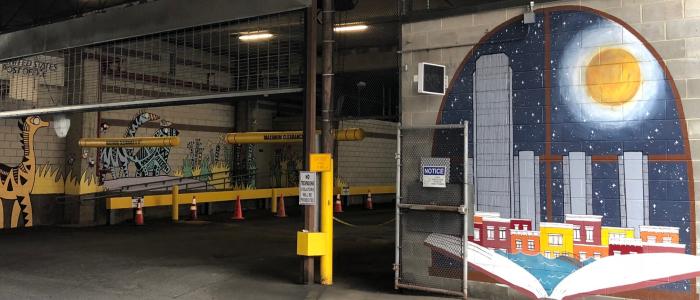 Throughout 2020, Discover Albany is highlighting Artful Albany by showcasing the many ways art is featured throughout the community in restaurants, meeting spaces, historic sites, rural areas, craft beverage facilities and more.
"Meet The Murals" is a Q&A feature in our 2020 Discover Albany Visitors Guide highlighting several of the #CapitalWalls artists. Local artist Cara Hanley painted "Illuminated" inside the Green-Hudson Garage at 45 Hudson Ave in 2017. Cara is also the artist who designed the wonderful illustrated cover and map rendering in our 2020 Visitors Guide! 
The #CapitalWalls mural project is spearheaded by Albany Center Gallery, Albany Barn and Albany Parking Authority.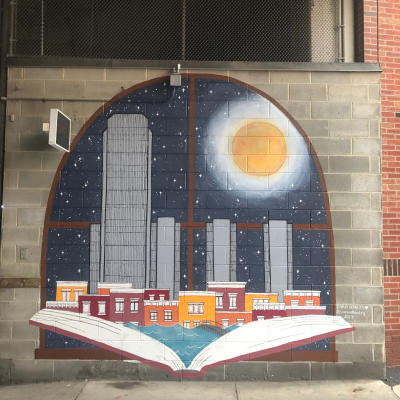 Photo courtesy of Albany Center Gallery
Q: What inspired your mural?
A: When I was invited to participate in the #CapitalWalls project, I knew I wanted to take the opportunity to pay homage to the city that I call home, Albany. The truth is that I am really in love with our quirky little city. I have lived here most of my life and yet when I walk around, I continue to find details, like the intricate cornices of buildings or the greenery popping up through the sidewalk, that I hadn't noticed before. My goal for the mural "Illuminated" was to inspire a sense of wonder related to our city. I believe that nighttime inspires introspection and curiosity, so the night scene in my mural is aimed to relate a sense of dreaminess.
Q. We all see the finished product, but how much planning goes into a mural?
A: Planning a mural can be a long process. For my mural "Illuminated," I started sketches months before while I was on an artist residency in Venice, Italy. This was actually great timing because I was experiencing some homesickness and brainstorming was a great way of tying me back to home. The sketch process is a back and forth between the artist, art director, and funders to make sure that everyone is in support of the final work. This is both challenging and rewarding. When creating a work of public art, it is important that the community is considered with sensitivity.
Q: Why did you get involved with the #CapitalWalls project and what have you gotten out of it?
When I was approached about the #CapitalWalls project, I experienced a mixture of excitement and terror. I lunged at the opportunity to create something for the community that I hold dear to my heart, but I was also nervous about creating such a large-scale piece. My primary medium is watercolor and I tend to work on a small scale. However, I knew I could not pass up this opportunity. Tony from Albany Center Gallery and partners Albany Barn and Albany Parking Authority provided me a lot of encouragement and friends and family were also a huge support for me during this time. I pushed myself out of my comfort zone by taking on this project and I grew from the experience. Creating a mural was a truly magical experience and I have since had several opportunities to create wall and window murals for local businesses. Working large-scale is such a physical experience and a huge contrast to my usual process. The variety keeps me inspired and thinking more flexibly.