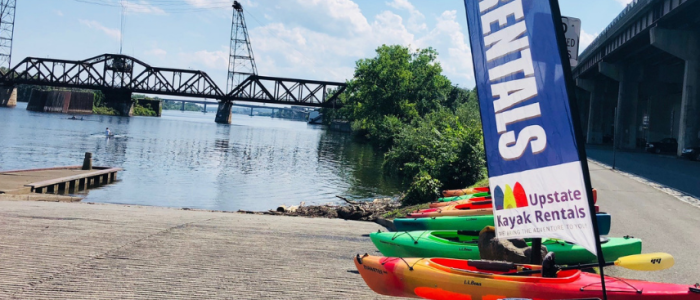 Before pumpkin spice takes over, there is still plenty of sunny summer fun to be had. Soar on a zipline, ride a ferris wheel, kayak the Hudson River, or explore the city on a trolley tour! Read on for 7 things to do before the end of summer in Albany County.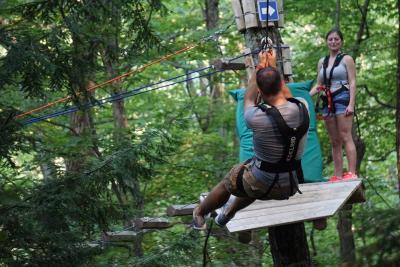 Summertime screams adventure, so plan an adventure that will get you screaming! High above Albany in the scenic Thacher Park sits WildPlay, an adventure course. Swing like Tarzan through the trees and dart like Indiana Jones across wobbly bridges. If you are really brave, take a 40 foot plunge on the What's To Fear Jump. Experience the 15 ziplines and 60 aerial games until WildPlay closes for the season on September 2.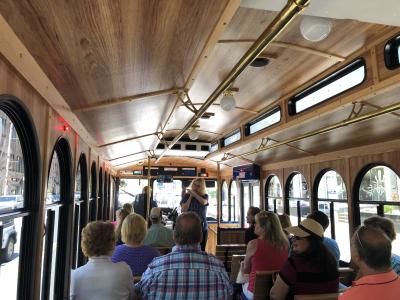 Historic Albany Trolley Tours
Did you know that Albany's official tulip is the Orange Wonder? Or that the Empire State Plaza is 98 acres? Revel in Albany's fascinating 400-year old history and learn more fun facts on the Historic Albany Trolley Tours. Visitors board the air-conditioned Capital City Trolley, driven by CDTA, and embark on a guided exploration of Albany. The trolley travels through Ten Broeck Triangle, Capitol Hill, Center Square, Washington Park and more, while a tour guide regales visitors with tales of Albany's storied past. Remaining tours are on August 16 and September 20. Purchase $20 tickets here.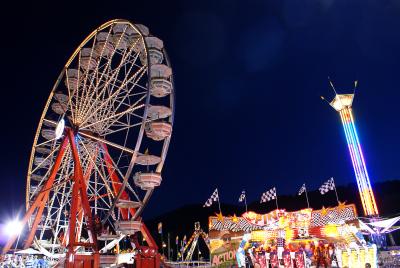 Altamont Fair
Savor the end of summer with the taste of fried dough, funnel cake, cotton candy, and fried Oreos underneath the flashing bright lights of the Midway at the Altamont Fairgrounds. For over 125 years, the Altamont Fair has been a tradition in Albany County. Jam to live music, view antique farm machinery, get your thrills on carnival rides, peruse the craft competition, and learn about agriculture. The Altamont Fair runs from August 13 - 18.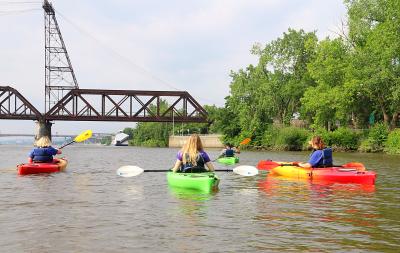 Paddles up! Upstate Kayak Rentals self-serve Kayak Rental Hub at the Corning Preserve Boat Launch makes it easy to set out on a paddling adventure. Riverfront explorers can conveniently book and unlock a kayak with a cell phone. Paddle along the Hudson River for a unique view of the skyline and to uncover hidden canals. If you are feeling extra adventurous, paddle down the river to the next connecting hub location at the Henry Hudson Park in Bethlehem.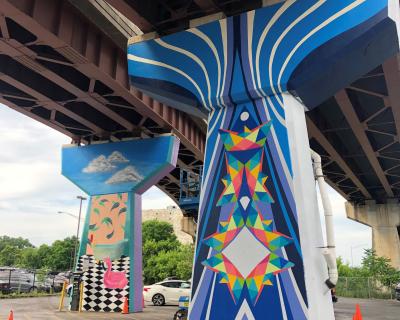 Pictured murals by artists Vanessa Mastronardi & Arzu Fallahi
#CapitalWalls Murals & Nippers
This summer Albany has been painted all colors of the rainbow. Explore the area underneath the overpasses behind Quackenbush Square and be mesmerized by the #CapitalWalls murals (thanks Albany Center Gallery, Albany Barn & Park Albany!). Marvel at the nod to Herman Melville, the abstract brightly colored shapes, and the cheerful jumping dolphins. Additionally, the Nippers are back in town! Embrace the dog days of summer and head out on a quest to find all 10 pups that were recently-placed by the Downtown Albany BID.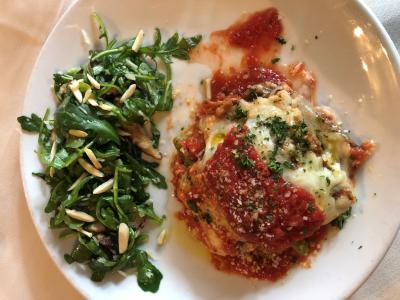 Historic Downtown Albany Food Tour
Have an appetite for history? Taste Albany's evolving culinary scene on the Historic Downtown Albany Food Tour by Taste of Troy Food Tours. Lace up your walking shoes as this guided walking tour sprinkles in history, architecture and culture between stops at local restaurants. Enjoy sips and tastes from Albany Pump Station, Ama Cocina, The Hollow Bar + Kitchen, Stacks Espresso Bar, Cider Belly Doughnuts and Olde English Pub. The Historic Downtown Albany Food Tour occurs every Friday until the end of October.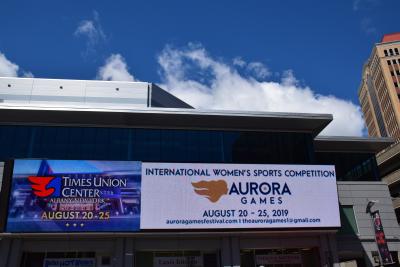 The city will be buzzing with excitement during the inaugural Aurora Games, an all-star women's sports competition. Athletes from more than 15 countries will be competing in downtown Albany at the Times Union Center. Empire State Plaza Events will kick off the festivities with a free celebration on Monday, August 19 including a screening of A League of Their Own on the Plaza's main stage, meet and greet opportunities with star athletes and a brilliant fireworks display. In addition to daily athletic competitions, there will be "Conversations with Champions," a series of 12 panel discussions featuring world-class female champions and empowerment role models at the Albany Capital Center. The Aurora Games will be held from August 20 - 25.