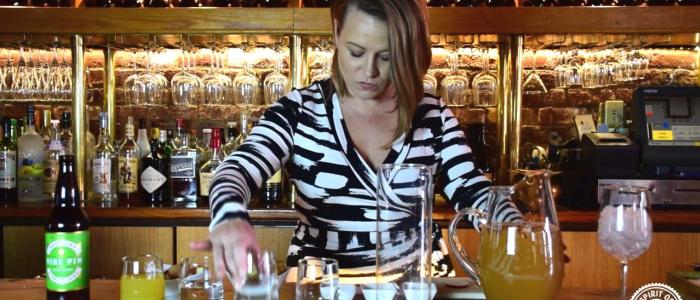 Inspiration
This cocktail celebrates and embodies New York's favorite time of the year: Autumn. With the beautiful foliage and favorite activity, apple picking, it's no wonder why residents and visitors alike love the Fall. The Apple Cider Sangria embodies all that comes with that dazzling time of the year. Along with the abundance of apple products, the Hudson Valley and Capital District are known for their local wineries.
Mixology
1 bottle white wine
1/2 gallon local Apple cider
1 bottle Nine Pin Cider
1 bottle Prosecco or sparkling wine
5oz Cointreau or Triple Sec
4oz Peach Schnapps
3oz Ginger liqueur (may substitute fresh grated ginger)
6oz pineapple juice
3oz Honey syrup
Whole cloves
Cinnamon sticks
1 Apple
1 Pear
In a gallon pitcher combine white wine, apple cider, Cointreau, peach schnapps, ginger liqueur, honey syrup & pineapple juice. Add about 10-15 whole cloves to pitcher along with 2 cinnamon sticks, 1 sliced Apple & 1 sliced Pear, stir. Best if refrigerated overnight.
To Serve: Fill wine or tulip glass with ice & fill the glass about halfway with sangria (make sure to get some of the fruit in each glass) then top with 1 oz Nine Pin Cider & 1 oz Prosecco. Garnish with cinnamon stick if desired or for a sweeter cocktail, rim the glass with a brown sugar & cinnamon.
Find it:
The Ginger Man
234 Western Ave, Albany, NY 12203
Phone:(518) 427-5963
How to Make Apple Cider Sangria