Tastes and Traditions
With so many restaurants to visit and enjoy, Albany is already foodie paradise. This year, our partners from the heritage, craft beverage, and arts & entertainment community will join together to present a series of events to celebrate Albany's culinary accomplishments and excitement.
Throughout the year, visitors can enjoy unique events, talks, demonstrations, and tastings that focus on everyone's favorite topic -- food!
Featured Events & Tours
Colonie Restaurant Week
Colonie Restaurant Week is a biannual week-long event highlighting the delicious and unique eateries in and around... More
Friday Night Wine Tastings
Free tasting! Capital Wine & Spirits Albany hosts a free wine tasting every Friday evening from 6 to 9 pm, featuring several wines chosen by our... More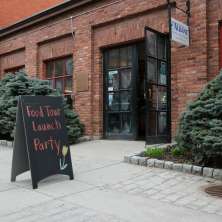 Historic Downtown Albany Food Tours
Lace up your walking shoes for a leisurely, 1.5 mile stroll around Historic Downtown Albany. Savor 6 tastes and sips at five independent venues for a progressive lunch with a... More
Share your discoveries!
Post your Tastes and Traditions pics and tag @DiscoverAlbany for a chance to be featured on our social media! #DiscoverAlbany