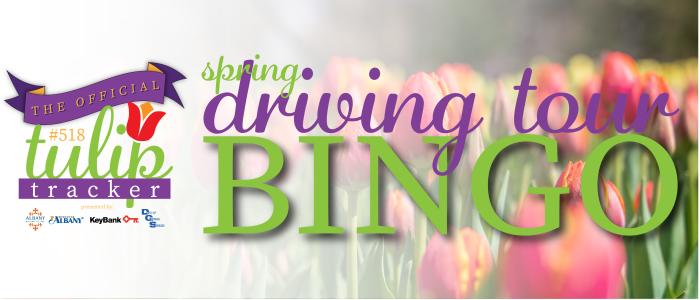 2023 is the 75th Anniversary of Albany's Tulip Festival! #DiscoverAlbany, the City of Albany, KeyBank and the City of Albany Department of General Services are celebrating with videos, blog posts and other online content. Follow along on social media with #518TulipTracker and use the hashtag to join the conversation. 
Are you tracking the tulips with the Self-Guided Tulip & Garden Driving Tour? Play a round of bingo with us while exploring the tulips and gardens! Below are the instructions on how to play for a chance to win an Albany themed prize. 
1. Screenshot the bingo card below. 
2. Drive to a location featured on the bingo card. Find directions to the locations on the Self-Guided Tulip & Garden Driving Tour. 
3. Snap a photo of the flowers or tulips at each spot on the bingo card and mark off the spots as you go. Share your progress on social media by tagging @discoveralbany and using #518TulipTracker. 
4. When you fill out a row, you have a BINGO! 
5. Shop or Snack at a City of Albany business and save your receipt.
6. Email your bingo card, photos of flowers and receipt to info@albany.org. All completed cards will be entered into a drawing to win a fun Albany themed prize! (Please note that the photos will be used as proof of participation - Discover Albany does not have permission to use these photos for marketing purposes unless you express permission.) 
7. Don't forget to share your bingo cards on social media! Tag @discoveralbany and use #518TulipTracker to show your progress!