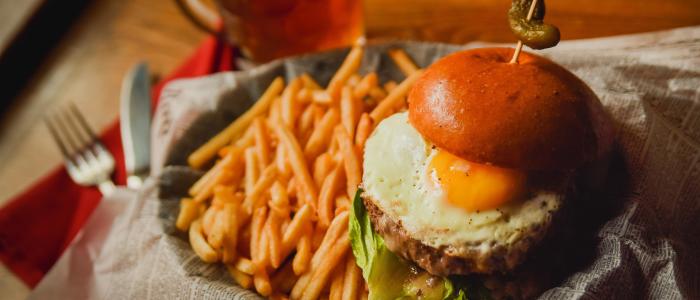 Scroll on for a list of delivery, take-out and closings of restaurants in Albany County. We will update this on a daily basis as information is released to us from our partners. New York State has mandated the closure of bars, tasting rooms and restaurants as of March 16 at 8:00 PM. For updates on attractions and other museums in Albany County, click here.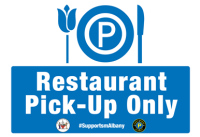 The City of Albany has created curbside pickup areas in front of local eateries serving take-out to ensure the continued compliance of social distancing protocols.  Curbside pick-up parking spots may only be used for up to 30 minutes and are denoted with these signs.
Delivery, Take-Out & Catering Orders
Albany Distilling has closed the ADCo Bar & Bottle Shop and suspended distillery tours until further notice. Starting on March 19, Albany Distilling is open for pick ups (four cocktails for $45) on Thursday & Friday, 4:00 PM - 8:00 PM and Saturday, 12:00 PM - 4:00 PM. 
Offering a "Bunkering Down" Survival Kit available for delivery and curbside takeout on Thursday, Friday & Saturday from 12:00 PM - 2:00 PM and 5:00 PM - 8:00 PM. 
The Century House is offering curbside, no contact pick-up and delivery options. Order online at the Century House's website or via Grubhub. 
CH Evans Brewing at the Albany Pump Station is offering take-out via Grubhub, UberEats and the restaurant's own delivery service. Call 518-447-9000. 
Open for curbside, takeout and delivery from 11:00 am - 9:00 pm until further notice! Order through Door Dash or call the restaurant for pick-up/no-contact curbside takeout (518) 308-0400.
Open for takeout! Order on Grubhub and your order will be ready for pickup or delivery.
Open for takeout on certain days of the week. Check The Excelsior Pub's Facebook page here for details. 
Taproom closed until further notice. Fort Orange Brewing is offering to-go only cans & growler fills on Fridays from 4:00 PM - 7:00 PM and Saturdays from 1:00 PM - 4:00 PM. 
Grapevine Famrs is now offering free curbside wine delivery within a 10 mile radius. $25 minimum order.
The Hollow Bar + Kitchen will closing after lunch on Monday, March 16. The remaining food the restaurant purchased for the week will be donated to South End Children's Cafe. The Hollow is still able to fulfill catering orders by request. Please call Dora at 917-279-8817 or email at dpthehollow@gmail.com.
Honest Weight Food Co-Op cafe favorites are available via Grubhub for home delivery. The grocery store is also still open with reduced hours from 8:00 AM to 8:00 PM.
As of March 16th, Innovo Kitchen is closed to on-site service but open for to-go and delivery. Hours of Operation: Monday-Thursday 12:00 PM - 7:00 PM, Friday 12:00 PM - 8:00 PM, and Saturday 4:00 PM - 8:00 PM. Order via Grubhub or by phone at 518-608-1466. 
Open for pick up orders only.
Offering take out service Monday through Saturday with pick up times at 5:00 PM and 6:00 PM.
Offering takeout only.
Tasting room is closed. Purchase gift cards or merch online. Pick-up, to-go and deliveries are available from 11:00 AM to 6:00 PM, 7 days a week. Nine Pin can also now ship cider directly to your door.
Nicole's has suspended in-house dining from Tuesday, March 17 to Tuesday, March 31. The restaurant will be offering a limited take out menu, which will be available for pick-up Tuesday to Saturday from 12:00 PM - 6:00 PM. You can place your order through email info@nicolescatering.com or call 518-436-4952. For anyone who is unable to pick up food, they will be offering free delivery for customers with limited means of transportation or who have trouble getting there. 
Offering free delivery with $20 minimum purchase.
Pearl Street Pub is offering takeout and delivery everyday from 4:00 PM - 9:00 PM.
Open for takeout or delivery. New hours are Tuesday-Thursday 11:00 AM - 8:00 PM, Friday & Saturday 11:00 AM - 10:00 PM, Sunday 11:00 AM - 8:00 PM, Monday closed.
Offering a limited takeout menu from Tuesday - Saturday, 4:30 PM - 9:00 PM.
Wellington's is taking to go orders from 6:00 AM - 8:00 PM for breakfast, lunch, and dinner. 
Restaurants Closed without Take-Out/Delivery as of March 16
All 110 Grill locations are closed starting at 5:00 PM on Monday, March 16 until the tentative date of April 7. 
Temporarily closed as of March 17. 
City Beer Hall is temporarily closed down until further notice. 
Temporarily closed.
Temporarily closed (including takeout). 
Temporarily closed until further notice.
Not offering take-out. 
Temporarily closed.
Temporarily closed as of Saturday, March 21. 
Temporarily closed.
Temporarily closed.
Temporarily closed. Offering meal prep help to customers. Email info@steubenstmarket.com for more details.
Beginning at 8PM on March 16 The Tavern will be CLOSED for indoor dining until further notice. As of March 23, The Tavern has also closed all takeout and room service orders.
Please note: Simpson's will also be closed for renovations.
Temporarily closed.
Temporarily closed.
Temporarily closed.