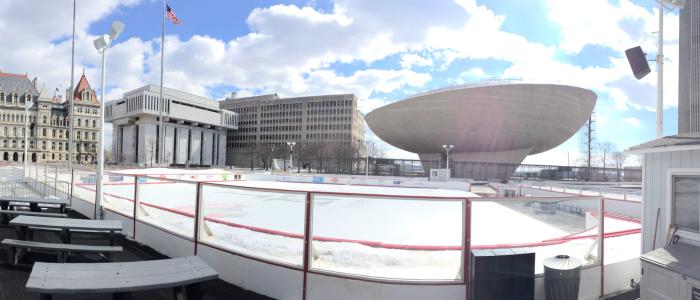 Bundle up! Winter may be chilly, but Albany County offers an array of outdoor activities for visitors to enjoy during the cold-weather months. Keep reading to discover a few outdoor winter adventures in Albany County that are worth the freezing temperatures. 
Embark on a winter adventure at the Pine Hollow Arboretum for a tranquil walk through the snow. Nestled in Slingerlands, the picturesque arboretum is a hidden gem in Albany County. Trek across the 22-acres of land to view over 3,300 unique plants, a dozen frozen ponds and breathtaking views of nature. The grounds are open dawn to dusk, 365 days per year. 
Chase icy waterfalls, admire frozen landscapes and view panoramic scenes of the Hudson-Mohawk Valleys and the Adirondack and Green Mountains at John Boyd Thacher State Park this winter. Adventure seekers can cross-country ski, snowshoe, hike, mountain bike and snowmobile on designated trails throughout the cold-weather months. Swing inside the Visitor Center (open 9:00 AM - 4:30 PM) to learn from the staff which trails are open for the season before heading out on a trek. 
Empire State Plaza Ice Rink
Ice skating at Empire "Skate" Plaza is a classic winter activity in Albany. Glide across the ice while marveling at the splendor of the New York State Capitol and striking Empire State Plaza. The ice rink is open Tuesday through Sunday, weather permitting. Skate rentals are $4 for adults and $3 for children 12 and under, but free skate rentals are offered every Saturday thanks to Hannaford! 
Did you know that America's first Shaker settlement is at the Shaker Heritage Society in Colonie? In addition to the historic Shaker buildings, herb garden, apple orchard and Shaker cemetery, the property includes the Ann Lee Pond nature preserve. The trails at the preserve are perfect for winter hikes, snowshoeing and cross-country skiing. The preserve is open dawn to dusk, year-round. 
Huyck Preserve
Venture to Rensselaerville in the Helderberg Hilltowns for an outdoor winter adventure at the Huyck Preserve. During the snowy months, explorers are welcome to cross-country ski and snowshoe on the miles of trails. Be amazed by the awe-inspiring views of Lake Myostis, frozen for the season, or connect with nature on an exploration of the peaceful snow-covered forest. Trails are open from dawn to dusk, year-round.
The Albany Pine Bush Preserve, one of only twenty inland pine barrens left in the world, is a great spot to beat cabin fever during the winter months! The preserve's gently rolling sand-dunes create slopes that are ideal for cross-country skiing and snowshoeing. If the ground isn't snow-covered, take a brisk hike on over 20 miles of multi-use trails. The 3,300-acre preserve is open year round, 24/7.