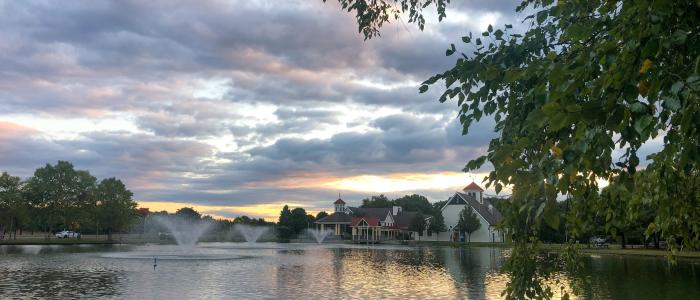 Albany County is full of discoveries. Explore natural wonders in the Helderberg Hilltowns. Dive into history at world-class museums in the City of Albany. Marvel at New York State's second largest waterfall in Cohoes. Follow along as we showcase all there is to explore in the towns of Albany County.   
The Town of Colonie covers more than 57 square miles and is home to nearly 82,000 residents. The town is comprised of two villages, Colonie and Menands, and several hamlets and unincorporated population centers including Boght Corners, Latham, Lisha Kill, Loudonville, Mansville, Maplewood, Maywood, Newtonville, Roessleville, Stanford Heights, Schuyler Heights, Verdoy, and West Albany. Colonie has transformed from "Albany's Breadbasket" with strong agricultural roots into one of the most populous suburbs in the Capital Region. Home of the Albany International Airport and the bustling Wolf Road, there are tons of attractions for visitors (and locals!) to explore in Colonie. 
Please note that some of the below businesses and attractions may be temporarily closed due to COVID-19. We recommend to visit each business's website or social media before making plans to visit. 
Restaurants & Craft Beverage
The Town of Colonie boasts a variety of locally-owned restaurants and craft beverage producers. Colonie's first brewery, Fidens Brewing Company, opened at the end of 2019. Swing by the brewery's friendly taproom to taste small batch ales and stouts. Visit Oligan Distilling's tasting room in Latham to sip on cocktails crafted with Oligan Vodka and Oligan Gin or to pick up a bottle of spirits to bring home. Savor low and slow, apple wood smoked BBQ at the family-owned and operated Warehouse BBQ. Dine inside for an industrial warehouse vibe or outside on the massive patio to enjoy the sights and sounds of Wold Road. Latham's Innovo Kitchen is an innovative gastropub serving up unique dishes and slinging handcrafted cocktails. With plenty of al fresco dining options, the popular eatery is a great spot to grab dinner or Sunday brunch with friends. The Century House in Latham is an iconic family owned and operated hotel with a welcoming restaurant that has been serving patrons for generations. For a sweet treat, stop by Nothing Bundt Cakes on Wolf Road. The charming bakery and boutique specializes in luscious bundt cakes in a variety of flavors. 
Heritage Sites & Historic Attractions 
Visit Shaker Heritage Society at the Watervilet Shaker National Historic District nestled in Colonie near the Albany International Airport. The 770-acre Historic District is the site of America's first Shaker settlement. Take a tranquil stroll through the peaceful grounds to see an apple orchard, herb garden, cemetery and nine remaining Shaker buildings such as the 1848 Meeting House. Discover New York's Dutch heritage at the country estate of Casparus Francis Pruyn. The grounds include the Pruyn House (built in 1825-1830), Buhrmaster Barn, herb and perennial gardens and Verdoy Schoolhouse. The Pruyn House serves as the historical and cultural arts center for the Town of Colonie. 
Located in Menands, Albany Rural Cemetery is one of the most historic cemeteries in Upstate New York. Founded in the 1800s, it is a great example of the garden cemetery movement with winding roads and wooded hills. The cemetery is the final destination of Philip Schuyler, his daughter Margarita "Peggy" Schuyler and her Patroon husband (and founder of Rensselaer Polytechnic Institute in Troy) Stephen Van Rensselaer III. The Schuylers are in good company with one president (Chester A. Arthur), 34 members of Congress; 8 presidential Cabinet members; 5 New York State governors; and 55 mayors of the City of Albany also buried in the cemetery.  
Learn about the stories and contributions of Italian Americans at the American Italian Museum & Cultural Center. Located on Central Ave in Colonie, it is the largest Italian American museum on the East Coast! Peruse the first floor exhibits telling the Italian immigrant story and their contributions. The second floor serves as the Italian Cultural Center with a library, class room, memorial room, chapel, Hall of Art, meeting space and more. 
Shopping
Colonie is home to Albany's busiest commercial corridor, Wolf Road. In addition to a variety of restaurants, offices and hotels, the region's second largest shopping mall Colonie Center is situated on Wolf Road. The mall boasts over 100 specialty shops including locally-owned businesses such as Little Details Party Goods and 25 Silver Boutique as well as large retailers such as Barnes & Noble, Sephora, L.L. Bean, The Body Shop, and J. Crew Factory. After shopping 'til you drop, catch a blockbuster flick at the movies or dine at one of the delicious restaurants located at Colonie Center. Beyond Wolf Road, drop into What's Poppin to pick up local gourmet popcorn in a variety of fun flavors!
Parks & Preserves
Colonie boasts plenty of green space for visitors and locals to explore the great outdoors. Meander through meadows, marshy wetlands, a wooded area and near a pond on 6.5 miles of multi-use trails at The Crossings of Colonie. Journey under a covered bridge to soak up scenic riverside views and hike along nature trails at the Mohawk River Park. Take a serene stroll on the trails through the 180-acre Ann Lee Pond Nature & Historic Preserve, near Shaker Heritage Society. Explore Mohawk Riverside Landing Park in Latham for beautiful views of the water and to cycle on a section of the Mohawk-Hudson Bike-Hike Trail. Plus, part of the Albany Pine Bush Preserve stretches into the town of Colonie. 
More Colonie-based Businesses & Parks:
Find hotels in Colonie near Albany International Airport here. 
Visit the Colonie Chamber of Commerce for more information.