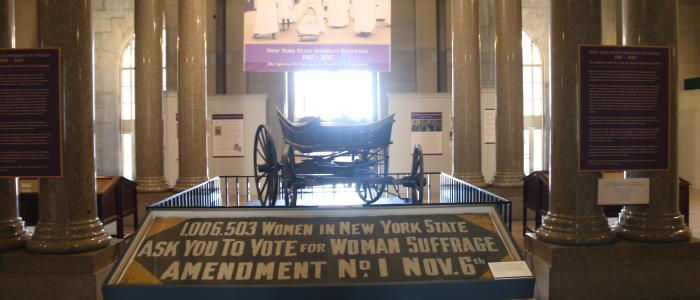 Albany has a vast political history. It is the state capital, you may have heard. But an event that took place in 1861 rings especially important to this day, and the area will honor it throughout March. 

 

It was in 1861 that the National Women's Rights Convention was held in Albany, a milestone nearly 13 years after a gathering of 300 people in Seneca Falls, New York, that became the first formal demand made in the United States for women to have the right to vote. Women marched again in 1914. 

As part of New York's status as the birthplace of modern women's rights, several exhibits will be available for public viewing between the Empire State Plaza and the New York State Capitol Building.

You'll see the exhilaration and bravery, along with some of the nasty, that goes with changing society. There is a lot of imagery of pro- and anti-suffrage propaganda - a great glimpse of the historic struggle.

Don't miss the "Spirit of 1776." It's a wooden monument of a Long Island suffragist and her 8-year-old daughter who traveled around Manhattan to emphasize the importance of women voting.
Special one-hour Capitol tours focused on the suffrage movement will be available to visitors. The tours will feature artifacts selected to showcase the suffragists' journey. This is the 100th anniversary (Nov. 6, 1917 to be exact) of women in New York winning the right to vote.
More information about Women's Suffrage events in Albany can be found here or www.iloveny.com/milestones.