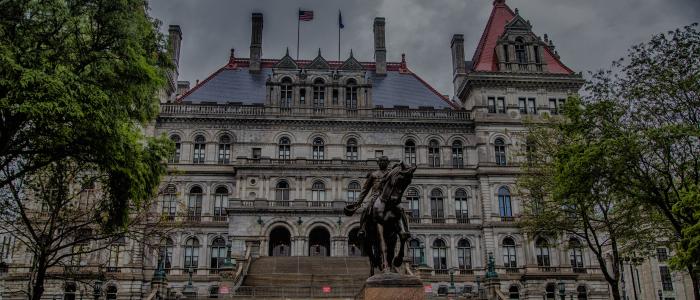 Photo Header Credit: Amityphotos
October in Albany conjures up supernatural spirits, sinister scares and spooky stories. Whether you desire a splash of liquid courage with your ghost story, or prefer high-flying nightmarish thrills, Albany offers many tours, attractions and events to get visitors and locals in the Halloween spirit. Haunted events in Albany tend to sell out faster than you can say boo, so plan your spooktacular getaway today!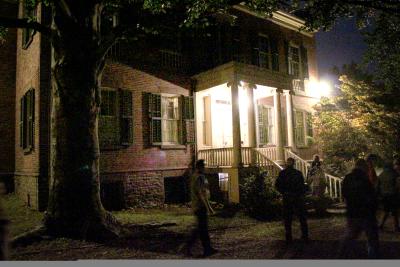 The Turn of the Screw
October 4, 5, 11 and 12
Dying for a night of fright? A ghost story in a haunted mansion should do the trick! Creative License Theater Collective is performing Henry James' classic ghost tale, "The Turn of the Screw" in Ten Broeck Mansion for four nights in October. The historic home will take on the role of Bly Manor, the eerie estate at the center of the story, while two actors perform the thriller. Did you know that Henry James was the son of an Albany merchant? Discover Albany is featuring the performance as part of this year's "Literary Legacy" programming.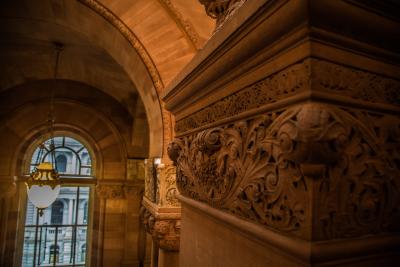 Photo Credit: Amityphotos
Capitol Hauntings Tour
September 25 - October 25, Wednesday/Thursday/Friday
Saturdays in October
October 28 - November 1, Daily
Explore the NYS Capitol Building's famous ghosts and urban legends on a Capitol Hauntings Tour. Learn about the "lost" Capitol murals, discover which two United States Presidents visited the Capitol after they died, and spy the secret demon with a Capitol curse carved in stone. Brave guests may even feel the spirit of the night watchman who died in the Capitol Fire of 1911 still inhabiting the building. This tour is free, but registration is required.


Murder at Cherry Hill
October 16, 17, 18, 19, 23, 24, 25 and 26
Walk in the footsteps of a murderer! On May 7, 1827, a notorious murder that resulted in Albany's last public hanging and two sensational trials happened at Historic Cherry Hill . Each October, visitors can relive the harrowing night with the popular Murder at Cherry Hill event. Meet the cast of historical players including John Whipple, who was scandalously murdered by his wife's handyman Jesse Strang, and investigate the scene of the crime. This popular event tends to sell out quickly, so act fast to book tickets!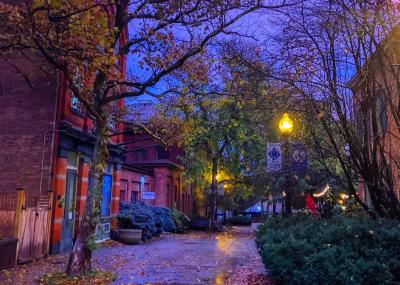 Eerie Albany Ghost Tour
October 13
Gather at the Discover Albany Visitors Center for a chilling afternoon of haunted history with the Eerie Albany Ghost Tour. Your tour guide will regale you with supernatural tales of Legs Diamond, Boz the Baker and Abraham Lincoln. Feel a chill down your spine? It might just be one of those spirits still haunting the city streets.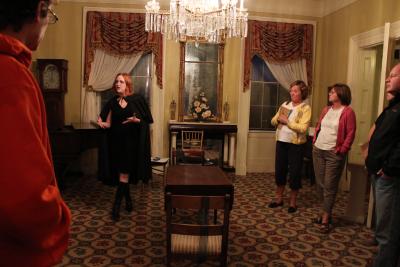 Hops & Haunts: Haunted Pub Crawls
October 10, 15, 17, 22, 24 and 29
Enjoy spooky spirits and bubbly libations on a paranormal pub crawl like no other! Historic Albany Foundation, Ten Broeck Mansion and The Original Albany Ghost Tour host Hops & Haunts, a paranormal pub crawl, in downtown Albany each October. The pub crawl embarks from Albany's very own haunted mansion, Ten Broeck, filled with frightening tales of the "Man with the Billy Goat Beard" and the "Woman in White". From there, the pub crawl continues to nearby watering holes such as the Olde English Pub. Sip on drinks with happy hour pricing while listening to a tour guide tell captivating tales of Albany's ghostly past.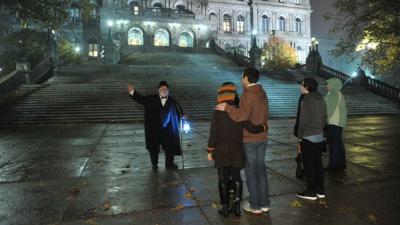 Ghosts of Albany Tours
Fridays and Saturdays from September 13 - November 2 and October 31
Lace up your walking shoes for a guided tour by Ghosts of Albany in September and October! Tour guides weave stories of legends and lore of Albany's haunted sites with their own paranormal experiences for a frightfully fascinating tour. Learn about ghostly encounters, scandalous stories, Albany folklore and more during the one hour and thirty minute walking tour.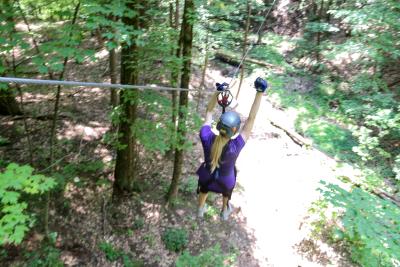 Zombie Zips
Fridays and Saturdays in October
Have a screaming good time at Zombie Zips at Mountain Ridge Adventure. The nightmare begins with a journey through a serial killer infested forest and ends with a horrific plunge into complete and utter darkness. Brave guests will fly through the dark night sky, not knowing when the zip line will end, and then will be caught by an evil zombie. This repeats ten times (on ten zip lines!) for night of frightful fun.