Aurora Games
August 20 - 25, 2019
Times Union Center
Mark you calendars now for August 20 - 25, 2019! The Times Union Center is hosting the inaugural edition of the Aurora Games, created by sports marketing executive Jerry Solomon. The Aurora Games are designed to celebrate the best in women's sports, entertainment and culture by welcoming all-star athletes from more than 15 countries. The six-day event will include team and individual competitions in basketball, tennis, figure skating, gymnastics, ice hockey and beach volleyball. Fans will also enjoy musical performances, food tastings, sports clinics, autograph sessions and seminars in the Aurora Games Fan Zone at the Albany Capital Center. 
Purchase tickets to the games here. 
Discover Albany is a proud sponsor of the Aurora Games. A special thank you to the Albany Capital Center, Souders, Holiday Inn Express - Downtown Albany, and Homewood Suites by Hilton Albany and Pearl Street Pub for sponsoring the Aurora Games VIP bags. 
#JoinTheMovement
Ultimate Guide for What To Do in Albany During the Aurora Games
Your Aurora Games tickets are purchased. Your hotel is booked. Your evenings are set to be filled More
11 All-Star Female Athletes Competing at the Aurora Games in Albany
The Aurora Games have a star studded lineup of all-star female athletes competing in Albany this More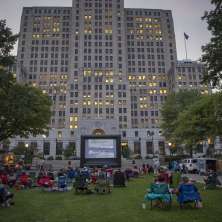 Where To Watch Free Movies This Summer in Albany
Photo Header Credit: Empire State Plaza Events This summer catch a Hollywood classic or a More