Literary Legacy
Albany is a city of storytellers. Many literary legends have walked the streets and famous novels are set in New York's Capital City, so this year Albany's heritage sites and cultural institutions are highlighting the area's literary legacies.
Featured Events & Tours
In Place of Now
Co-curated by Judie Gilmore, gallery director, and writer and scholar Rone Shavers, In Place of Now showcases both... More
Renee Engeln, author of "Beauty Sick: How the Cultural Obsession with Appearance Hurts Girls and Women"
Renee Engeln, Ph.D., professor and director of the Body and Media Lab at Northwestern University, teaches about psychopathology, the psychology of... More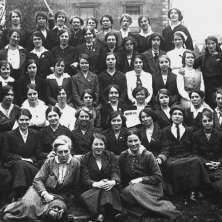 Film Club: Guns and Chiffon
After the 1916 Rising, seventy-seven women were held prisoner in Kilmainham for their part in the rebellion, and at the height of the Civil War in 1923 over three-hundred women,... More