February 22nd- 23rd, 2019
Times Union Center, Albany, New York 
Welcome to Albany!
1. Albany, New York's capital city, welcomes NYSPHSAA wrestlers, families, friends and fans to a weekend of exciting sports! Come and cheer on all of the elite wrestlers representing their sections encompassing New York State, plus the New York City Public School Athletic League (PSAL) and Catholic High School Athletic Association (CHSAA).
2. On behalf of Discover Albany, we are delighted to welcome the 2019 NYSPHSAA Wrestling Tournament to New York State's historical Capital City.
We are certain your experience will be productive and personally rewarding, but will also provide you with an opportunity to discover all that Albany has to offer. From shopping to dining, to arts and entertainment opportunities, and countless cultural cuisine venues, Albany has it all!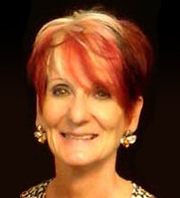 If there is anything we can do prior to your convention and while you are here, please contact Debby Goedeke, Convention Services Manager at 1-800-258-3582 x 100. Enjoy your stay and come back soon!
2019 ACEC New York Winter Conference Hotels
While attending the Conference, be sure to take advantage of the discounted sleeping rooms that are currently available. Please book early as we anticipate they will sell out. 
144 State Street
518-992-2500
40 Lodge Street
518-462-8192
25 Chapel Street
518-432-7000
**You may book your hotel room online by clicking here**
Hotel Map
Need a Rental Car or a Driver?
While you are in the capital region, Discover Albany has partnered with Enterprise and National Car Rentals to assist you with all of your rental car needs at a discounted price. From the economical vehicle to the luxury sedan they will have a stocked inventory for you to choose from. All of this combined with their great customer service and can-do attitude you will feel right at home. No driving in your future? No problem...Lyft has you covered. No matter where you end up, count on Lyft for rides in minutes. The Lyft app matches you with friendly local driver at the tap of a button.Just request and go. After the ride , simply pay through your phone.
Downtown Albany Attractions 
Welcome to Albany, the Capital City of New York State!  We hope you will have time to explore our beautiful 400-year-old city.  Albany's history combined with our rich Dutch architecture tell an important American story.  
Downtown Albany is home to the New York State Museum, one of the country's largest with a September 11 exhibit and a working carousel on the 4th floor.  The Albany Institute of History & Art is home to "Albany's Mummies" and was founded in 1791.  The Corning Tower Observation Deck at the Empire State Plaza is where you not only get a bird's eye view of Albany but also three mountain ranges - the Adirondacks, Berkshires, and Catskills.   
 
The Discover Albany Visitors Center offers visitors access to information seven days a week.  The knowledgeable staff can answer visitor inquiries and they are well stocked with travel brochures about New York's Capital Region.
The Visitors Center is also home to the USS Albany Exhibit, an exhibit dedicated to preserving the National Heritage of the City of Albany and to honor all those who proudly served aboard ships named after the capital city of New York State. Experience the rich history of the USS Albany ships starting in 1846 to the current day. Come walk through history and view memorabilia!
What is There To Do in This 400-Year-Old City?
Lark Street 
Located just a short walk from downtown Albany's business district is Lark Street, often referred to as the "Greenwich Village" of the Capital Region. With countless restaurants, cafes, art galleries, boutiques and more, Lark Street is reminiscent of the great and colorful neighborhoods of Manhattan. For more information on dining and shopping on Lark Street, please click here.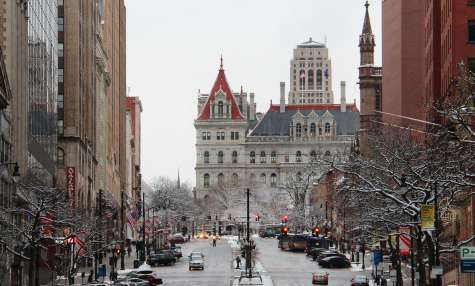 Winter in Downtown Albany
Hot Spots to Eat, Drink and Repeat
Downtown Albany Area Information
| | | |
| --- | --- | --- |
| Banks | | |
| Citizens Bank | 10 North Pearl Street | (518) 447-0151 |
| Key Bank | 120 State Street | (518) 433-2000 |
| NBT Bank of Albany | 54 State Street | (518) 426-3285 |
| Pioneer Bank | 90 State Street | (518) 427-5913 |
| | | |
| --- | --- | --- |
| Medical Care Facilities | | |
| Albany Medical Center | 43 New Scotland Avenue | (518) 262-3125 |
| Albany Memorial Hospital | 600 Northern Boulevard | (518) 471-3221 |
| St. Peter's Hospital | 315 South Manning Boulevard | (518) 525-1550 |
| Pharmacies | | |
| CVS | 16 New Scotland Avenue | (518) 434-0667 |
| Rite Aid | 17 North Pearl Street | (518) 434-6024 |
| | | |
Wolf Road
On Wolf Road you will find many options for shopping and dining, including over 40 restaurants and the Colonie Center Shopping Mall featuring L.L. Bean, P.F. Chang's, The Cheesecake Factory, Christmas Tree Shops, Sephora, Regal Cinemas Stadium 13 and more.