Click here for Albany's dining options while you are in town!...    Please be sure to visit the many restaurants and breweries in downtown Albany open and ready to serve you.  From the Speakeasy at the City Beer Hall to the award-winning Angelo's 677 Prime Steakhouse, there will be menus and offerings to suit everyone's taste. Located just a short walk from downtown Albany's business district is Lark Street, often referred to as the "Greenwich Village" of the Capital Region. With countless restaurants, cafes, art galleries, boutiques and more, Lark Street is reminiscent of the great and colorful neighborhoods of Manhattan. For more information on dining and shopping on Lark Street, please click here.
Visitors Center
Check out the Albany Heritage Area Visitors Center to find out more about Albany!...
The Albany Heritage Area Visitors Center offers visitors access to information seven days a week.  The knowledgeable staff can answer visitor inquiries and they are well stocked with travel brochures about New York's Capital Region.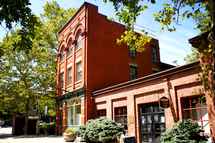 The Visitors Center is also home to the USS Albany Exhibit, an exhibit dedicated to preserving the National Heritage of the City of Albany and to honor all those who proudly served aboard ships named after the capital city of New York State. Experience the rich history of the USS Albany ships starting in 1846 to the current day. Come walk through history and view memorabilia!
Wolf Road
 Approximately 20 minutes from downtown Albany is the Wolf Road area. You will find many options for shopping and dining, including over 40 restaurants and the Colonie Center Shopping Mall featuring L.L. Bean, P.F. Chang's, The Cheesecake Factory, Christmas Tree Shops, Sephora, Regal Cinemas Stadium 13 and more.
Beautiful park to hike, bike, or walk and enjoy its peacefulness and diversity....

In close proximity to Wolf Road is the Crossings of Colonie, Colonie's largest public park.  As a visitor, you will find an extraordinary setting in which to walk, bike, fly a kite or enjoy a relaxing picnic with friends or family.  Situated in the heart of Colonie just a stone's throw from the hustle and bustle of Wolf Road, the 130-acre passive park features a pond, acres of meadows, marshy wetlands, and extensive wooded and wildflower areas - all of which are connected by 6.5 miles of multi-use trails for walking, running, biking and in-line skating that wind across the natural landscape.
What is there to do in our 400-year old city? You can find out right here!
Eat, Drink and Repeat
Downtown Albany Area Information
Banks

Bank of America ATM

69 State Street

800-432-1000

KeyBank

120 State Street

518-465-2946

SEFCU

110 State Street

800-727-3328

Pharmacies

CVS Pharmacy

613 New Scotland Ave

518-482-4996

Rite Aid

17 North Pearl St

518-434-6024