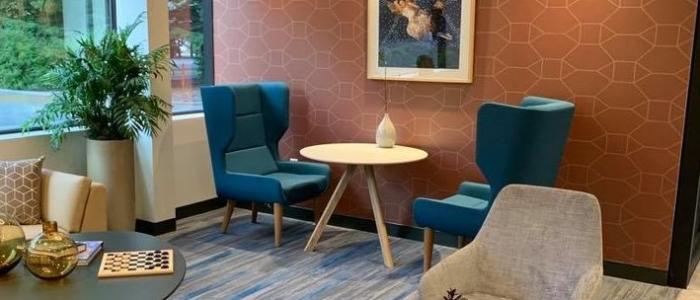 Header photo courtesy of the Guilderland Chamber of Commerce 
Does working from home have you stuck in a rut? Switch up your "work from home" space! Albany County hotels and coworking spaces offer the perfect change of scenery to help spark creativity and productivity. Scroll on to learn about where to work remotely in Albany County. 
Create, create and connect at Bull Moose Club! The hyper-charged coworking space features common workspaces, private office suites and group meeting rooms. With sweeping windows overlooking the magnificent New York State Capitol Building, the spot boasts one of the best views in Albany. The interior is equally exciting and energizing. From abstract murals, to inspirational phrases, to murals of Teddy Roosevelt, the walls and rooms are decorated with art to provoke thought and conversation. Bull Moose Club has you covered with healthy and safety features such as hand sanitizing stations, touch free technology and disinfectant wipes, so that you can focus on having a productive, worry-free work day. 
Located in Guilderland, Hone Coworks is a brand new flexible workspace offering "everything plus the kitchen sink". Amenities include free printing and shredding, coffee and snacks, a cafe, meeting rooms with conference tech, a kitchen, secure internet and more. Hone Coworks is housed in a green office building boasting abundant free parking, outdoor picnic areas, showers, free EV charging stations and a walking trail. Private offices, dedicated desks and open coworking space are available with month-to-month plans. View Hone Coworks extensive health and safety protocols at this link. 
Spend a day working in downtown Albany's elegant Renaissance Hotel! The hotel is offering an "Insider Day Package" that includes use of an Executive room, desk space, wireless internet access, $20 food and beverage credit, and parking for one vehicle. These rooms boast spectacular views of the New York State Capitol Building that will help spark inspiration and productivity! 
Juggling working from home with kids? Downtown Albany's newest coworking space, the Broadway Portal, was designed with working women in mind. Moms can plug away in the space's remote work areas, while kids are supported and nurtured with on-site child programming. Programming ranges from yoga, to STEM, to homework help, to art, and more! Located in a four story building, The Broadway Portal features a floor for virtual learning, one for childcare and two for parents to get work done. Plus, each floor has a UV air filtration system. The building utilizes a professional cleaning service, sanitation stations are scattered throughout and daily health and temperature checks are required for coworkers, children and staff. 
Beahive, the first coworking space in the Capital Region, opened in 2012 across the street from the SUNY System Administration Building. Housed partially in a former architect's studio, the coworking space has eleven private studio offices, four meeting rooms, open coworking space and three kitchenettes. The space is spread out over 9,000 square feet on 3 floors. Beahive was recently upgraded with a new coffee bar, new second floor lounge and new wireless internet. Sanitizer and face masks are available and masks are required unless sitting at a desk. 
The Century House, a historic boutique hotel in Latham, is offering "Work from Home" packages! All packages come with access to a private room, free WiFi, unlimited daily coffee and access to private conference rooms. Looking for something beyond a day pass? Monthly passes include extra perks such as discounts to the on-site restaurant and a complimentary drink during Happy Hour on Friday! Enjoy peace of mind knowing that The Century House is committed to a strict regimen of cleaning for your health and safety.
Conveniently located off of I-787 in Cohoes, Harmony CoWorks is a brand new workspace. From private offices, to dedicated desks, to private meeting rooms, to conference rooms, there are a variety of spaces available depending upon your workspace needs. Harmony CoWorks features printer service, high speed WiFi, private parking, secure lockers, a kitchen and more. Hourly, daily, weekly and monthly passes are available. 
Novel Coworking is opening on State Street in the heart of downtown Albany in January 2021. The space will offer private offices, meeting space, daily offices and more. The company is dedicated to creating a healthy business environment with enhanced cleaning schedules, directional signage and touchless faucets.