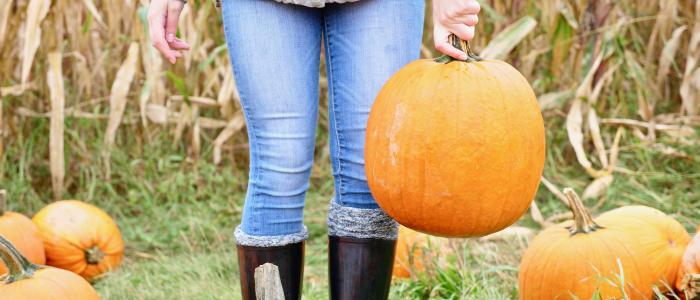 Pumpkin spice is an autumn staple in Albany County! From doughnuts, to coffee, to ice cream, local Albany County businesses and eateries embrace all things pumpkin every Fall. Keep reading to get the details on where to get your pumpkin fix before the season ends. 
Located in Downtown Albany, Cider Belly Doughnuts serves up hot, fresh, delicious apple cider-based doughnuts. During the autumn months, pumpkin-lovers can find items such as "Holy Moly Pumpkin Cannoli," "Pumpkin Spice," "Autumn Harvest" and "Pumpkin Pie with fudge" on the menu. The doughnut shop is currently only open for curbside pick up with a limited menu. Make sure to check social media for the current flavor offerings and place your order ASAP to snag your favorite. 
Sweet Eats specializes in handcrafted snacks for those with food allergies, sensitivities, digestive issues and dietary restrictions. Indulge in breakfast cookies with fall-inspired flavors such as Pumpkin Chocolate Chip or Autumn Harvest (apples, cranberries and pumpkin seeds with cinnamon and nutmeg). Get your hands on the fresh gluten and dairy free treats with curbside pickup from the Delaware Ave retail shop or by ordering online and shipping straight to your home! 
Add pumpkin to your morning perk-up! Pop into the Lark Street or Broadway location of Stacks Espresso Bar! The coffee shop's menu features drool-worthy seasonal beverages such as a Pumpkin Latte or a Pumpkin Chai. Interested in non-pumpkin Fall-inspired drinks? Try the Maple Steamer, Mulled Apple Cider or Cinnamon Bun Latte! All these cozy beverages can be hot or iced, and can be made vegan.
Pumpkin lovers will be delighted by the selection of sweet treats at Emack & Bolio's. The charming ice cream parlor in Albany's Delware Avenue neighborhood does not disappoint when it comes to seasonal flavors. From pumpkin ice cream, to pumpkin lattes, to pumpkin chai milkshakes, to pumpkin mochas, there are a lot of options to get satisfy your pumpkin craving - and your sweet tooth! 
Pumpkin lovers can go all out with a Fall-themed brunch at Iron Gate Cafe. Devour pumpkin ricotta pancakes while sipping on a pumpkin pie latte. Or, make it a boozy brunch with a seasonal beverage! Fall drink specials include a Pumpkin Pie Sangria, described as "white wine infused with pumpkin spices and fresh cider," and The Smashing Pumpkin, which is "Guinness Irish Stout and 'Roadsmary Baby' Pumpkin Alewith a cinnamon sugar rim ." The family-owned and operated restaurant, located on the edge of Albany's Center Square neighborhood, is a go-to brunch spot no matter the season. 
Sweeten up your day with a decadent dessert from Nothing Bundt Cakes. Nestled on Wolf Road in Colonie, the bakery and shop specializes in luscious bundt cakes offered in a variety of flavors. Throughout the year, the bakery rotates out "featured flavors" and the most popular is pumpkin spice! Pumpkin spice bundt cakes are available until November 30.