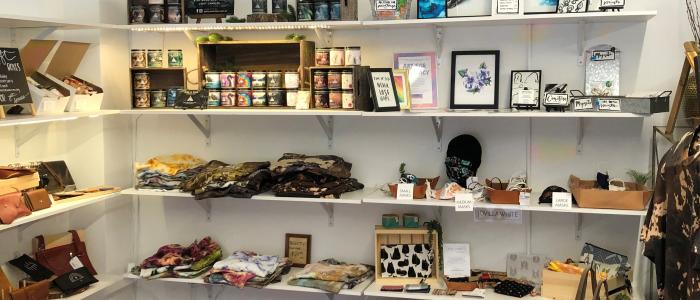 It's time to mask up! New York State requires individuals over the age of two (and able to medically tolerate a face-covering) to cover their nose and mouth with a mask or cloth face-covering when in a public place or business and unable to maintain, or when not maintaining, social distance. From face masks handmade by local makers, to bulk orders customized with a logo, there are a variety of places to find face masks in Albany County. Keep scrolling for a list of Albany boutiques, businesses and local online shops selling non-medical-grade face coverings. 
Jovilla White is a local small business specializing in originally designed, handmade products and goods. Jovilla White sells two varieties of masks, the flawless fit face mask and contour face mask. All masks feature comfort fit elastic loops and are offered in a variety of sizes. Order face masks online or pick one up at the charming Lark Street Merchantile! 
Local business Screen Designs launched "Mask Up 518" in response to the global pandemic earlier this year. This is a wonderful option if you are looking to bulk order face masks with a logo! Order a minimum of 25 USA-made face masks customized with your logo and a portion of the proceeds will be donated to the Regional Food Bank of Northeastern New York. The masks, offered in 8 colors, are 3 ply fabric, 100% cotton, washable and reusable. 
Downtown Albany's neighborhood shop Fort Orange General Store has face masks in stock from two Upstate New York artisans. Pick up a handmade face mask from Solulu Handmade or peruse the selection available from Opal And Ivy Collection. Purchasing a face mask from Fort Orange General Store is a great way to shop local and support local makers!
Notable Stitches, an Albany small business specializing in custom sewing, is now selling custom non-medical face masks! All masks are made from 100% Cotton, 4 layers and include a nose wire. Order masks from Notable Stitches online or keep an eye out for the small business at local farmers markets in Voorheesville and Albany! Do you have a mask that doesn't quite fit? She has a video tutorial on how to make an adjustable knot or a conversion from around the head to adjustable ear loops.
The Costumer, located on Central Ave in Colonie, is selling a variety of made-in-the-USA face masks! Masks are available in several sizes including toddler, youth and adult. From funky patterns, to polka dots, to solid colors, The Costumer offers face masks that match every personality! 
Gally's Awards & Promotional Products, located in Delmar, is selling one size fits all reusable face masks! The non-medical grade face masks are 2 ply, double layer with ear loops. Choose from a variety of solid colored neutrals or mix things up with stars, gingham or tropical prints.