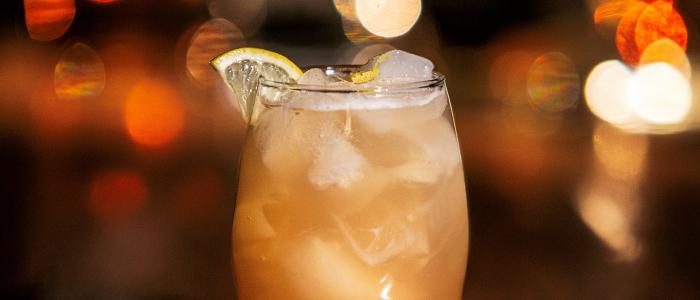 Photo Header Credit: J. Malouf

It's almost time to say goodbye to 2020 and toast to a much brighter 2021! As with all of 2020, this year's New Year's Eve will be a different kind of celebration. Keep reading for a few fun, at-home ways to ring in the New Year. 
Cocktails To-Go
Toast to the end of 2020 in style with handcrafted cocktails to-go from local restaurants and craft beverage producers. Sister restaurants Rosana's and Dove + Deer have an impressive line up of signature cocktails to-go available through their brand-new delivery service! Or pick up to-go cocktails from Albany Distilling to sip on festive beverages such as Capital City Gimlet, Knickerbocker Tea, Holiday Punch, NY Sour, Cranberry Collins and more. 
Have a full bar at home, but need a little cocktail inspiration? Local restaurants and craft beverage producers shared holiday cocktail recipes that are totally cheers-worthy. This blog's photo header showcases "A Simple Spruce & Gin" cocktail by Hedonic Tonic featured in the holiday cocktail recipes blog post. 
'Sayanora 2020' Takeout Menu​
Downtown Albany's The Hollow Bar + Kitchen can help you bid adieu to 2020 with delicious food! The specialized menu has options for duos, family meals and party platters. Many of the options are vegan, vegetarian or gluten-free to fit all of your dietary needs. The Hollow Bar + Kitchen also has several seasonal cocktails (including a vegan Pumpkin Spice Latte Martini) available. Add a bubbly beverage to your order to toast goodbye to 2020! Pre-orders must be submitted by Monday, December 28 at midnight for pickup on Thursday, December 31 between 2:00 PM and 5:00 PM. 
Art To Go
Searching for an activity to keep the whole family busy until the clock strikes midnight? Pick up an Art To Go Kit from The Pottery Place, located in Stuyvesant Plaza! Choose from a variety of ceramic pieces online (banks, mugs, ornaments, bowls, planters and more!), pick your colors, pay online and then pick up the pieces at the studio. After your at-home New Year's Eve painting party with your family, bring your pieces back to the studio to be fired and glazed. 
New Year 3-Course Special
Indulge in a 3-course dinner special from Innovo Kitchen on New Years Eve or New Years Day! Available for takeout and delivery, the $35 per person special features an appetizer, entree and dessert. Choose from mouthwatering entrees such as Tuscan Braised Beef Short Ribs, Faroe Island Salmon, Grilled Pork Tenderloin, Garlic Shrimp and Le Cirque Primavera. Innovo Kitchen also has an extensive seasonal cocktail menu and even boozy hot cocoa & cookies available for delivery or takeout! 
Charcuterie Boards
Perfectly curated charcuterie boards are one of the hottest food trends on Instagram right now. While you could compose your own, eliminate the hassle and order a charcuterie board! Grate Expectations has you covered with New Year's Eve offerings in a variety of sizes with pick up on December 31 in Latham Farms and Stuyvesant Plaza. BoardsbyKenzie offers delivery for custom boards with cheeses, cured meats, fruits, nuts and more delightful snacks. It may sound cheesy, but charcuterie boards are a grate way to say farewell to 2020! 
NYE Celebration Packs
Celebrate the end of 2020 at home with New Year's Eve Celebration Packs from Indian Ladder Farms Cidery & Brewery. From cookies and pies, to apple-wood smoked dishes, to bites crafted with fresh ingredients from local farms, order a pack for a delicious at-home celebration. All of the food packs include an option to add your favorite "farm-to-glass" beer and hard cider to your order! Orders are due by December 25 for pickup at the Tasting Room on December 31 from 12:00 PM to 5:00 PM. 
Virtual Twelfth Night
While not a traditional New Year's Eve celebration, Twelfth Night (or the Feast of Epiphany) was the final holiday of the season celebrated by the Dutch and English of the 17th and 18th centuries. Schuyler Mansion State Historic Site and Crailo State Historic Site's annual Twelfth Night festivities are going virtual on January 6, 2021! Tune in on social media in January to enjoy this old-fashioned fun and lively holiday! Until then, check out this blog post from the Schuyler Mansion to learn about the festive fare, decorations and games!