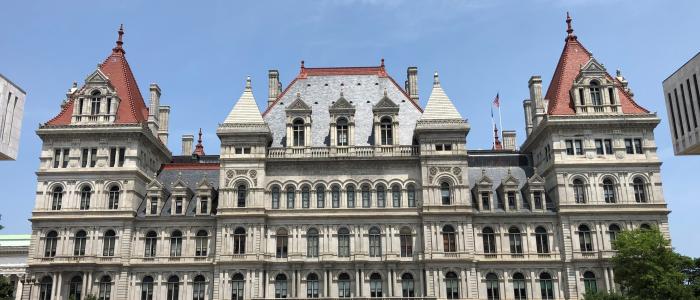 Scroll on for a list of updates from attractions, museums, stores and other organizations in Albany County. We will update this on a daily basis as information is released from our partners. For information on restaurants, please click here. 
The Albany Art Room is temporarily closed. Visit the Albany Art Room's Facebook page for daily creative distraction challenges.
Albany Center Gallery is temporarily closed. The Upstate Alliance for the Creative Economy Mixer that was scheduled at ACG in March has been postponed. 
Albany Institute of History & Art has temporarily closed galleries, shop, café, and research library to the public until the end of May.
The Albany Pine Bush Preserve Offices and Discovery Center is closed until further notice. All scheduled programs, activities and meetings are cancelled during this time. Our trail system remains open. 
Albany Rural Cemetery's grounds remain open to the public from 7:00 AM to 7:00 PM. Offices are closed to visitors.
The Museum, thrift shop, events, classes and programs are cancelled until further notice. 
CDTA has suspended recreational transit service, the Capital City Trolley, until further notice. 
Due to restrictions on public gatherings in New York State and in keeping with industry decisions, all public performances, movies and rentals at Proctors, UPH and theREP are postponed.
CMOST is closed for the foreseeable future.
As of 7:00 PM on March 19, Colonie Center will remain closed until further notice. 
Crossgates has reopened for Curbside@Crossgates. Click here for more information and list of participating stores. The inside of the shopping mall still remains closed. 
Closed under further notice. 
Due to restrictions on public gatherings in New York State, many of the performances in the coming weeks will not take place as scheduled. Visit The Egg's website for more details. 
Due to concerns regarding the COVID-19 virus, visitors are prohibited from entering the State Capitol, Legislative Office Building, and Ancillary Spaces until further notice.
FASNY Museum of Firefighting is closed and closed until such time the Governor deems it safe to reopen.
Fort Orange General Store has closed until further notice as of 3:00 PM on March 16. Support the small business by shopping online. Fort Orange is offering free shipping on online orders of $50 of more with the coupon code FREESHIP and gift cards in any amount ship free with coupon code GIFTCARD.
Historic Albany Foundation offices and warehouse are temporarily closed. 
Closed until further notice.
The museum is temporarily closed. 
The Iroquois Indian Museum will postpone its opening for the 2020 season and remain closed until further notice.
Lark Street Yoga has closed the studio until further notice. The yoga studio is offering virtual streaming classes.
Galleries and permanent collections are closed until further notice.
Closed until further notice. 
NYS Maple Weekends have been cancelled. Mountain Winds Farm's shop will be open regular hours. Visitors can also take advantage of the maple producer's online store. 
Due to current circumstances, the museum is closed to the public until further notice.
The State Museum, State Library and State Archives are temporarily closed.
The NYS Writers Institute has postponed the Albany Film Festival until 2021. The organization has launched the Virtual Writers Institute at the University at Albany to stay connected with its community during this time. Visit the new online community bulletin board, The Conversation at this link. 
New York State Parks remain open and access to Olana's 250-acre landscape is free. The park is open every day from 8 AM to sunset. Based on current New York State Department of Health guidance, Olana has suspended all public programs and tours at this time. 
Old Songs has canceled ALL in person participatory events at the Old Songs building in Voorheesville, NY until further notice. 
The Palace Box Office is closed. Many shows have been postponed and canceled. Tickets for all postponed shows will be honored at the rescheduled dates. If you are unable to attend a rescheduled date, you will be able to obtain a refund at your original point of purchase.Please check www.palacealbany.org for rescheduled dates and additional information. 
Park Playhouse is posting a series of videos and FREE online enrichment activities for students on Facebook and Instagram over the next month.
The Saratoga Automobile Museum is temporarily closed to the public. This includes all of the museum's programs and events.
Schuyler Mansion has canceled all remaining focus tours in March and has temporarily closed the Visitors Center and Mansion to visitors. 
Shaker Heritage Society's museum shop and exhibits are closed indefinitely in compliance with the statewide PAUSE order, but the grounds remain open dawn to dusk everyday.
Stuyvesant Plaza​ is waiving rent payments for all 60 retail and restaurant tenants for a two-week period effective Friday, March 20. Many of Stuyvesant Plaza's restaurants will remain open for takeout and delivery but dine-in will be closed. 
The Times Union Center Box Office is closed.  If you need a refund for a cancelled event please mail your tickets and contact information to: Times Union Center / Attn: Box Office / 51 South Pearl St., Albany, NY 12207. View list of postponements and cancellations at this link. 
USS SLATER will be closed for the foreseeable future with the hope to reopen July 2020.
What's Poppin is temporarily closed, but online orders are still being fulfilled.