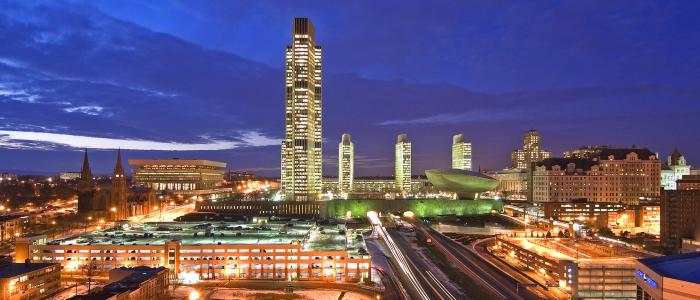 Your Aurora Games tickets are purchased. Your hotel is booked. Your evenings are set to be filled with exhilarating competition, unparalleled excitement and rockstar women athletes. But how are you planning to spend your days in Albany during the Aurora Games? Ticket holders will have access to the Fan Zone at the Albany Capital Center during the day, but there is so much of Albany to discover! Explore a fascinating museum, step back in time at a historic home, marvel at the Empire State Plaza or embark on an outdoor adventure. We've got your guide for how to spend your days in Albany during the Aurora Games from Tuesday, August 20 to Sunday, August 25, 2019. 
Don't have tickets yet? Don't wait! Purchase tickets here.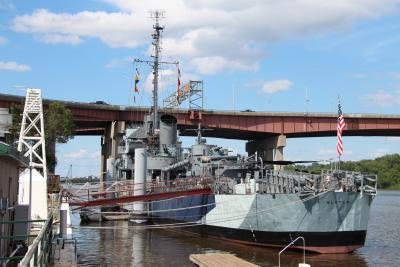 Museums
Watch all-star women athletes compete by night and learn about historically significant women by day. Head to the Albany Institute of History & Art, the second oldest museum in the country, and view the exhibit "The Schuyler Sisters and Their Circle". This exhibit highlights the intellectual, social, and political interests of Catharine Schuyler and her three eldest daughters Angelica, Elizabeth (Alexander Hamilton's wife), and Margaret (Peggy). Catch a glimpse of Eliza Schuyler Hamilton's wedding ring, peruse rarely exhibited portraits, and explore many treasures on loan from across the country. 
Museum Hours: Wednesday, Friday, Saturday, 10AM - 5PM; Thursday, 10AM - 8PM, Sunday, Noon - 5PM
Museum Admission:  Adults: $10/Seniors: $8/Students: $8/Children 6–12: $6/Children under 6: Free
Gallery Talks (featuring Schuyler Sisters exhibit): Offered Wednesday, August 21 - Sunday, August 25 from 1PM - 2PM (included with admission)
Dive into New York State's cultural and natural history at the New York State Museum. Browse glittering minerals of New York, view the massive Cohoes Mastodon and learn about the impact of the Erie Canal. After you have finished perusing the exhibits, take a trip up to the 4th floor for a spin on a full-sized carousel. 
Museum Hours: Tuesday - Sunday, 9:30AM - 5PM
Museum Admission: Free
Albany's floating museum, the USS Slater, is the last remaining World War II Destroyer Escort afloat in the country. The museum offers hour-long guided tours for visitors to explore the ship deck-by-deck. Visitors will see, hear, smell, and touch the objects used by the men who lived and fought on board the ship on this immersive tour. 
Museum Hours/Tours: Wednesday - Sunday, 10AM - 4PM
Museum Admission: Adults: $9/Seniors (65+) $8/Children 6 -14: $7/Children 5 and under: Free with family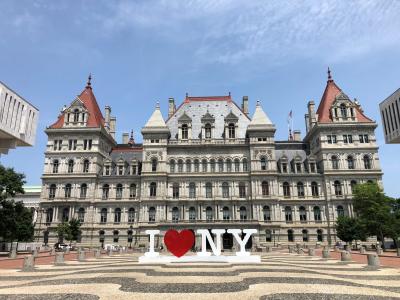 Empire State Plaza
Don't forget to arrive a day early for the Aurora Games NY Kickoff at the Plaza on Monday, August 19. The festive event will feature a special screening of A League of Their Own, meet-and-greet opportunities with athletes and a brilliant fireworks display. 
If this is the first time you are visiting Albany, the New York State Capitol should be at the top of your bucket list. Tour guests will receive a complete history of the building – ghost stories, unfinished carvings, famous inhabitants and all! If you do not have time for a tour, wander through the halls on your own and marvel at the Million Dollar Staircase, the Senate Chamber, and the War Room. 
Weekday Walk-In Tours: Tuesday - Friday at 10AM, 12PM, 2PM, and 3PM (meet at Capitol State Street Lobby Information Desk)
Saturday Tours: Saturday, 11AM & 1PM (meet at Washington Avenue Entrance, near the intersection of Washington Avenue and Hawk Street)
Admission: Free (Reservations are required for Saturday tours)
Explore Albany's city-within-a-city, the Empire State Plaza, on a guided tour. The Empire State Plaza is more than just the seat of government operations for New York. This world-class complex contains one of the greatest public collections of modern American art in the country, a cultural education center, and a unique performing arts center, The Egg. Discover these rich cultural assets and more on a free, guided tour! 
Tours: Tuesday - Friday at 1PM (starts at Plaza Visitors Center in the North Concourse)
Admission: Free, no reservations needed
Historic Homes
Explore the storied halls of Schuyler Mansion, historic home of Revolutionary War General Philip Schuyler and his family. The Georgian-style mansion features gorgeous 18th century interiors complete with furniture, decorative arts, paintings and more. The home was lived in from 1763 to 1804, and even saw the famous marriage of his daughter Elizabeth to Alexander Hamilton in one of the parlors. The site offers a general tour focusing on the time Philip Schuyler and his wife lived in the mansion, a focus tour called "When Alexander Hamilton Called Albany Home," and a focus tour called "Women of Schuyler Mansion." 
General Tour: Tuesday - Saturday, offered on the hour from 10AM - 4PM; Sunday, offered on the hour from 10AM - 3PM
When Alexander Hamilton Called Albany Home: Thursday and Saturday at 2:30PM (Reservations required, call 518-434-0834)
Women of Schuyler Mansion: Wednesday and Friday at 2:30PM  (Reservations required, call 518-434-0834)
Admission: Adults: $7/ Senior: $6/Student: $6/Ages 12 and under: Free
Ten Broeck Mansion is a beautiful Federal-style home built for General Abraham Ten Broeck and his wife, Elizabeth Van Rensselaer in the late 1790s. The mansion is now operated by the Albany County Historical Association. Explore the recently rediscovered wine cellar, view the antique furnishings and take a peek at the sweeping formal gardens on a visit to Ten Broeck. 
Weekday Tours: Thursday and Friday, tours on the hour from 10AM - 4PM
Weekend Tours: Saturday and Sunday, tours on the hour from 1PM - 4PM
Admission: General Admission: $5/Students and Seniors: $4/Children 12 and under: $3
Historic Cherry Hill tells the stories of five generations of an Albany, NY household. The 1787 house is currently in the final stages of an extensive restoration, so Cherry Hill provides a unique opportunity to see a restoration firsthand. Visitors will learn about the architecture and layers of history on a Behind-The-Scenes Restoration tour. There is also the opportunity for kids to participate in a learning-to-look activity investigating Cherry Hill's architecture. 
 
Behind-The-Scenes Restoration Tours: Wednesday and Saturday at 1PM, 2PM and 3PM
An Architecture Hunt for Families: Wednesday and Saturday from 1PM - 2PM
Admission: Adults: $5/College Students and Seniors: $4/Children: $2/Active duty military service personnel and their families are free as part of the Blue Star Museums Program.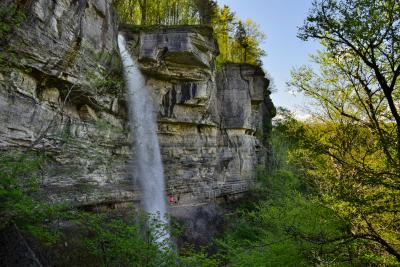 Outdoor Attractions
Visit a globally rare ecosystem while in town for the Aurora Games! The  Albany Pine Bush is one of only twenty inland pine barrens in the entire world. Hike, jog, walk or bike more than 18 miles of trails to view the pine barrens and rolling sand dunes. Bring your kids to the Discovery Center for interactive exhibits and hands-on activities for little ones to learn about this unique fire-dependent habitat. 
Albany Pine Bush Preserve Hours: Daily, 24/7
Discovery Center Hours: Tuesday - Friday, 9AM - 4PM; Saturday - Sunday, 10AM - 4PM
Special Programs: Turtle Time - Wednesday, August 21 at 2PM - 2:30PM; Turtle Time - Friday, August 23 at 2PM - 2:30PM, Discover the Pine Bush - Saturday, August 24 at 10:30AM (Free but advance registration required for all programs)
Admission: Free
Hop in the car for a quick 30-minute drive to one of Albany County's outdoor gems! John Boyd Thacher State Park sits atop the Helderberg Escarpment with sweeping panoramic views of the Hudson-Mohawk Valley, Adirondacks and Green Mountains. Start your trek at the Visitor Center to explore the geological and historical exhibits, interactive displays about fossils and information on where to take a hike on the over 25 miles of trails. Before you leave, swing by WildPlay Elements Park for a dose of adventure and thrills. 
Visitor Center Hours: Tuesday - Sunday, 9AM - 5PM
WildPlay Elements Park Hours: Tuesday - Friday, 10AM - 8PM; Saturday - Sunday, 9AM - 8PM
Explore the tranquil Pine Hollow Arboretum, located 5 miles from downtown Albany in Slingerlands. Wander the the trails to view over 3,300 unique trees, shrubs and woody plants from around the world. The preserve is arranged by geographic areas of the world, so visit China, Japan and Russia - without the cost of a plane ticket! View natural marvels, walk across scenic bridges and relax in the beauty of nature at the Pine Hollow Arboretum. 
Hours: Tuesday - Sunday, open from dawn to dusk
Admission: $5 suggested donation/Kids and students are free

Shopping
Crossgates Mall is the Capital Region's largest shopping, dining and entertainment destination that guarantees fun for the whole family! Shop 'til you drop at 180 retail shops, including a LEGO store, Zara, and lululemon. Escape from reality with a relaxing, unplugged afternoon at the world-class Spa Mirbeau. Catch the latest blockbuster at Regal Cinemas, or dive into some live-action entertainment at 5 Wits, Get Air Trampoline Park and more. Plus, there are plenty of dining options to fuel up the whole family!
Hours: Tuesday, - Saturday, 10AM - 9:30PM; Sunday, 11AM - 6PM
Browse unique boutiques, specialty shops and more at Stuyvesant Plaza, an outdoor shopping plaza, in Guilderland. Shop at well-known brands such as West Elm or locally-owned shops such as Rad Soap Co. There are also plenty of restaurants and eateries to grab a bite. Stuyvesant Plaza is the perfect place to spend an afternoon strolling down the sidewalks and window shopping.  
Hours: Tuesday - Friday, 10AM - 9PM; Saturday, 10AM - 6PM, Sunday,12PM - 5PM (hours may vary)
Colonie Center is conveniently located on Wolf Road around the corner from the Albany International Airport. Peruse over 100 specialty stores including Sephora, Express, The Body Shop and more. Grab a quick bite to eat at Whole Foods or dine al fresco on an outdoor patio at PF Changs or the Cheesecake Factory. Beat the heat with a matinee at Regal Cinema before heading back into downtown Albany for the Aurora Games!
Hours: Tuesday, - Saturday, 10AM - 9:30PM; Sunday, 11AM - 6PM