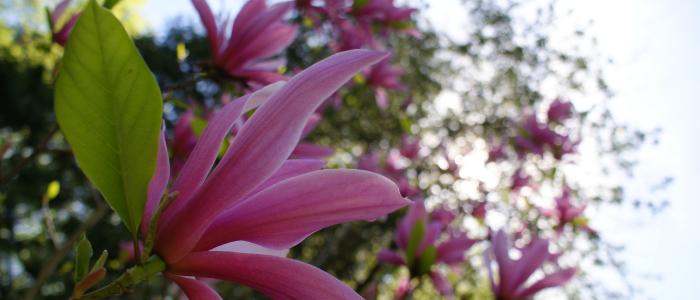 Albany County is on the verge of spring! With the tulips beginning to bloom and the temperatures rising, spring is a wonderful time of year to explore all that Albany County has to offer. Scroll on for a few ideas for a day trip, or even a staycation, in Albany, New York this spring. 
Please follow all COVID-19 healthy & safety protocols including wearing a mask and social distancing. The below offerings are subject to change. Head to each attraction's website or social media before visiting for the most updated information. 
Discover Cohoes
Embark on a spring day trip to Cohoes for outdoor adventures, unique dining experiences and live performing arts. Begin your exploration of Spindle City with an afternoon at Cohoes Falls. Venture to Falls View Park or Overlook Park to marvel at the impressive waterfall measuring roughly 1,000 feet across and up to 90 feet high. Wander across the 192-foot-long pedestrian bridge for picture-perfect views. After admiring the second largest waterfall in New York State, explore the city's emerging culinary scene. Savor craft beer from Bye-i Brewing or Table 41 Brewing, both located on the newly revitalized Remsen Street. Enjoy classic diner fare at The Tiny Diney, homestyle Lebanese cuisine at Teta Marie's, your favorite Italian dishes at Anthony's Italian Restaurant or craft cocktails and dishes with locally-sourced ingredients at Cafe Monocle. Cap off the Spindle City day trip with live theater at the historic Cohoes Music Hall. Playhouse Stage Company is welcoming back live audiences for "I Love You, You're Perfect, Now Change", running from April 30 to May 9. 
Tour USS Slater DE766
All-aboard the USS Slater DE766, the last Destroyer Escort afloat in the United States! Moored on the Hudson River at intersection of Broadway and Quay Street, the historic ship opens for her 24th season in Albany on April 7. Plan a day trip to downtown Albany to discover this floating museum on a guided tour, offered every 30 minutes. Walk in the footsteps of heroes as you explore the ship deck-by-deck and learn the stories about the brave men who lived and fought on board the ship. No reservations are required, but visitors can call ahead to reserve a time slot. Masks are required, tour groups will be kept small and the ship will be disinfected regularly.
Explore by CDPHP Cycle!
May is National Bike Month, so spring is the ideal time to embark on a pedaling adventure! CDPHP Cycle!, a bike-share program operated by CDTA and CDPHP, makes it super easy to explore Albany County by bicycle. For $5 an hour, locals and visitors can rent a bike to see the sights. Bike rack locations are conveniently located near popular cycling spots such as the Corning Preserve, Albany County Rail Trail and the Crossings of Colonie (and Wolf Road). Looking for more places to put the pedal to the metal? Check out our blog post: Explore Albany County by Bicycle.
Visit Two Must-See Exhibits
Plan a day trip to downtown Albany to tour two must-see exhibits this spring. Visit the Stephen & Harriet Myers Residence at 194 Livingston Ave, operated by the Underground Railroad Education Center, to view an exhibit titled, "Yours for the Oppressed, Harriet Myers," on display through June 2021. This fascinating exhibit celebrates Black women activists including the life and legacy of Harriet Myers. View artifacts such as a handwritten letter by Harriet from 1860 detailing the role of female abolitionists, information about Underground Railroad activism and the Capital Region's political climate. Another must-see exhibit titled,  "A Sense of Time: The Historical Art of L. F. Tantillo," is on display through July 25 at the Albany Institute of History & Art. See over 90 works of art from the renowned New York artist Len Tantillo featuring the sites and events that shaped New York State's history. Admire paintings depicting how 17th and 18th-century Albany may have looked and keep an eye out for paintings featuring local landmarks such as the USS Slater and the Schuyler Mansion.
Enjoy Spring at the Pine Hollow Arboretum
Immerse yourself into the sights and sounds of spring at the Pine Hollow Arboretum. Tucked in Slingerlands, the arboretum is hosting several exciting spring events in the upcoming weeks. From April 23 to June 28, admire the "Earth, Wind & Weave" art installation by fiber artist Lori Kochanski featuring original pieces of multi-dimensional weaving in three of the arboretum's trees. On April 24, bring your kids for a full day of free activities such as crafts, scavenger hunts, and tours to celebrate Arbor Day! Looking for a unique way to celebrate Mom this Mother's Day? On May 8, Mother's Day in the Magnolia Field will feature live music, ice cream from Emack & Bolio's, arboretum tours, and Nine Pin Cider against the beautiful backdrop of blooming magnolias. If these special events do not interest you, the Pine Hollow Arboretum is open to the public for free all 365 days a year.