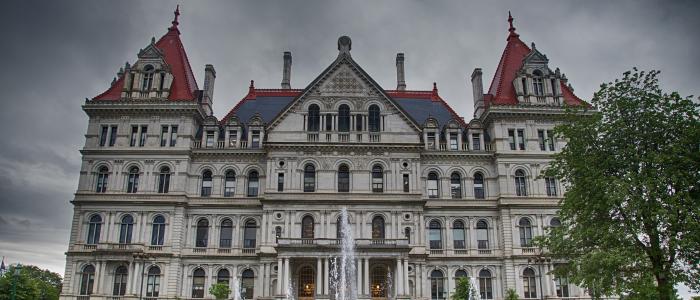 Photo Header Credit: Amityphotos
'Tis the season to be spooky! Searching for ways to get in on the hocus pocus? From pumpkin spooktaculars, to haunted walking tours, to frightfully fun virtual events, Albany County and the Capital Region have brewed up safe ways to celebrate Halloween this year. Scroll on to get the details on the festivities and let the ghoul times roll!
Please remember to follow by all COVID-19 health and safety protocols. Wear a mask and maintain social distancing when possible. Visit the CDC and the Halloween & Costume Association for more information on Halloween safety. 
Hollowed Harvest
September 25 - October 25; Thursday to Sunday
October 26 - November 1; Daily
Marvel at 7,000 illuminated Jack-O'-Lanterns at the Altamont Fairgrounds this season! Hollowed Harvest is a not-so-scary Halloween experience that the entire family will love. Pumpkins come to life as dinosaurs, zombies, sea creatures and medieval castles. Wander along the walking trail to view larger-than-life displays towering as tall as 3 stories and spanning more than 60 feet in length! 
Price: Adults (17+) $20 + $2 free; Kids (4 - 16) $16 + $1.80 fee; Kids (0 - 4) Free
COVID-19 Policy: Masks and social distancing are required. Tickets must be purchased in advance and are available online only. Click here for more detailed information. 
Hounds of Halloween
October 1 - October 22 (Virtual) 
Hounds of Halloween event is going virtual this year! Submit a photo of your costumed canine to the Downtown Albany BID by October 22 for a chance to win a gift certificate to a downtown business. Plus, the BID will will make a donation to the Mohawk Hudson Humane Society of $1 per photo! Or, if you pose your petrifying pooch or hair-raising hound for a photo at a downtown Albany location, such as a pet-friendly business or the Olde English Downtown Dog Park, the BID will donate $5 per photo during the submission period. The Costumed Canine Photo Contest winner will be determined by public vote on the BID's Facebook page between October 22 and 29. 
Price: Free
Crossgates Pumpkin Carving & Costume Contests
October 1 - October 16: Pumpkin Carving Contest (Virtual) 
October 17 - October 31: Costume Contest (Virtual)
A timeless Halloween tradition? Pumpkin carving! Submit photos of spooky, cute or creatively carved pumpkins from October 1 to 16 to CrossgatesMall@pyramidmg.com and automatically be entered to win a $100 gift card. Major squash goals! Then it is time to dress up for the "Pic or Treat" Costume Contest! Done your Halloween costume and pose for a photo in the photo booth inside APEX Entertainment at Crossgates. Submit your costume photo to CrossgatesMall@pyramidmg.com to be automatically entered to win a prize. Dressing up at home? You can still send in a photo for a chance to win a prize. 
 
Price: Free
Zombie Zips
October 2, 3, 9, 10, 16, 17, 23, 24, 30, 31
Searching for a night of fright? Zombie Zips at Mountain Ridge Adventure promises to be a nightmarish experience not for the faint of heart. The blood-curdling adventure starts with with a journey through a serial killer infested forest and ends with a horrific plunge into complete and utter darkness. Brave guests will fly across 10 ziplines in the dead of the night for a screaming good time! 
Price: $50 per person
COVID-19 Response: Hand sanitzer stations are throughout the park. Click here for detailed information on Mountain Ridge Adventure's COVID-19 Response. 
Haunted Cave Tour
October 3, 10, 11, 17, 23, 24, 25, 30
Dare to be scared! Journey to The Underworld at Howe Caverns for a fully immersive haunted cave tour, complete with a spooky boat ride. 16 stories below the Earth's surface, fearless guests will uncover spine-chilling creatures and menacing monsters stalking the caves. The best part? It's always 52 degrees in the Underworld, so no need to worry about bad weather or rain! 
Price: $50 per person (must be purchased online) 
COVID-19 Healthy & Safety Protocols: All guests are required to wear a mask for the duration of their visit. Click here for more detailed information. 
City Séance​
October 14, 16, 21 & 23
Tickets are selling faster than you can say "BOO!" for "City Séance!" Presented by Capital Repertory Theatre and The Original Albany Ghost Tour's Maeve McEneny-Johnson, this chilling theatrical walking Ghost Tour unearths the ghastly spirits haunting New York's Capital City. Keep your eyes peeled as Madam Maeve may conjure the spirits of infamous bootlegger Legs Diamond and his flamboyant paramour Kiki Roberts or the cursed couple who shared Lincoln's ill-fated theatre box – Henry and Clara Rathbone. 
Price: Purchase $25 tickets here. (Tours accommodate 10 guests) Tickets come with $2.00 off a beverage with purchase of food at Albany Pump Station and 20% off your meal at dp, An American Brasserie.
COVID-19 Healthy & Safety Protocols: Masks required. Please keep a 6-foot distance from the tour guide and others on the tour that are not in your party. Everyone in your party will be screened for temperature and will be required to fill out a short form. 
ValleyCats Fall Festival
October 16 & October 17
Trick or treat! Celebrate Halloween with the Tri-City ValleyCats! The baseball team's first-ever Fall Festival includes drive-in movies and trick-or-treating for little ones. Watch Hocus Pocus on Friday or Monsters University on Saturday under the stars in Parking Lot E. Arrive early with your kids dressed in costume for a safe trick-or-treating experience inside the stadium. 
     
Price: Free but registration is required
COVID-19 Health & Safety Protocols: Social distancing and COVID-19 protocols will be enforced such as mask requirements, temperature checks, and limited capacities for the stadium/parking lot. Trick or Treaters will be assigned specific times and will enter/exit through different gates as part of a one-way route. The Trick or Treating path will be disinfected periodically between groups for proper sanitization.
Halloween Spooktacular 
October 17 (Virtual)
Get your kids in the spooky spirit with the New York State Museum's virtual Halloween Spooktacular! Transform your home into a Halloween fun zone by participating in online activities such as spooky stories from the Albany Public Library, frightfully fun science experiments and creepy craft demos. Activities even include a glimpse at the museum's clothing and costume collections. 
Price: Free
Eerie Albany Ghost Tour
Limited Private Tour Dates Available
The Eerie Albany Ghost Tour is a chilling walking tour filled with sinister stories of Albany's haunted history. Your tour guide will regale you with supernatural tales of Legs Diamond, Boz the Baker and Abraham Lincoln. Feel a chill down your spine? It might just be one of those spirits still haunting the city streets. If you are interested in a private tour for your party, please call Discover Albany at (518) 434-1217 or email accvb@albany.org.
Price & COVID-19 Guidelines: Based on current COVID-19 NYS Reopening guidelines, we can only offer tours for members of the same household/ party. A group price of $20.00 provides a group tour for a minimum of 4 and maximum of 10 attendees.