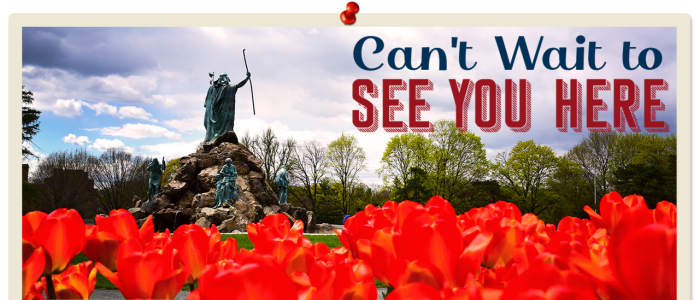 While times are uncertain, it is certain that the #SpiritOfTravel will not be broken. Discover Albany celebrated National Travel & Tourism Week 2020 by highlighting local attractions and small business owners in Albany County that embrace the spirit of travel. We all cannot wait to welcome visitors back when the time is right. 
What does travel and tourism mean to your business?​
"The Fort Orange General Store's mission is to showcase the beauty of the Capital Region and the talent of its residents through an experiential downtown shopping experience. Each product on our shelves has a unique story that represents the fabric of our community, and the travel and tourism industry gives us an opportunity to share those stories while helping to support an independent brick-and-mortar retail store. We look forward to opening our doors and welcoming visitors to Albany once again."

- Schuyler Bull, Owner of Fort Orange General Store
What does travel and tourism mean to your business?​
"Travel and tourism is one of the world's largest industries and a vital component to our business. Each year Dutch Apple Cruises hosts tourists from all over the world, showing them all that Albany, and the Hudson River, has to offer. Tourists take our sightseeing cruises, book our tour guides and utilize our transportation services. It is important to recognize that tourist attractions are not the only market segment that is greatly impacted by travel and tourism. Travelers visiting Albany contribute to our local economy over multiple sectors. They fly into our airport, take our trains and buses, stay at our hotels, eat and drink at our restaurants, and visit our retail stores. Our entire region benefits from Albany tourism, and we look forward to the time when it is safe for travelers to visit again."
- Melissa and Anthony Renna, Owners of Dutch Apple Cruises 
What does travel and tourism mean to your business?​
"The spirit of travel encourages curiosity, exploration, and discovery. Our world is full of beauty and creativity. At the Albany Institute of History & Art, we are inspired by a region rich in history and abundant in art and try to share that pride of place with our visitors. Whether online or in person, we invite people to come explore New York's Capital Region through our exhibitions, collections, and programs. We are proud to be an organization that welcomes the curious, both the traveler and the local, and are glad to be in such good company with our region's outstanding cultural and heritage sites. There are countless things to discover."
- Aine Leader-Nagy, Director of Community Engagement at the Albany Institute of History & Art
What does travel and tourism mean to your business?​
"Travel and tourism means everything to our business.  As we are located at the cross-section of north/south bound I87 and east/west bound I90, tourists from all over visit our tasting room routinely.  We are proud to be the face of Albany and New York Cider for these visitors and make a point to educate them about the starring role that the apple plays in New York agriculture and culture."
- Sonya del Peral, Proprietor - Manager of Nine Pin Cider
What does travel and tourism mean to your business?​
"Travel and tourism allows us to foster an appreciation for the Albany Pine Bush on a global scale. Our Discovery Center receives nationwide and international visitors on a regular basis. These visitors learn about one of the best and last remaining examples of an inland pine barrens ecosystem on earth. The 3,350 acre Albany Pine Bush Preserve encompasses critical habitat for inland pine barrens-dependent species as well as a diversity of species more common to the northeast. With an accessible interpretive center open seven days a week and over 20 miles of trails, there are many ways to experience this National Natural Landmark in person. Through travel and tourism visitors explore and enter a land of beauty and transformation here in the backyard of New York State's Capital District. www.AlbanyPineBush.org"

- Wendy Craney, Communications & Outreach Director of the Albany Pine Bush Preserve
What does travel and tourism mean to your business?​
"Travel and tourism are the lifeblood of the lodging industry, and our bright-hearted hospitality has been not only the key to our success but also the driving force behind our team at Hilton Garden Inn Albany/SUNY Area — it's in our blood. We make authentic connections with our guests from around the world and all walks of life, as well as throughout our community. In turn, these connections make our guests' stay better and brighter and our community bonds stronger, all while building lasting memories for our work family. We love what we do, no doubt."
- Sherrene Zachow, General Manager of Hilton Garden Inn/SUNY Area