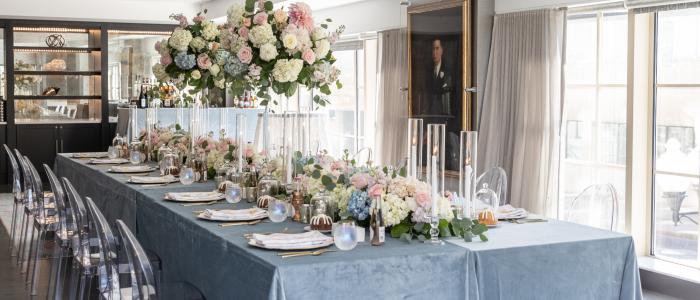 Photo Credit: YTK Photography​ courtesy of Total Events 
2020 has been a challenging year for wedding vendors and engaged couples. Melissa & Richard Carrier, owners of Total Events, shared with us how the tent rental and décor company (and the entire wedding industry) has shifted efforts to focus on magical, intimate celebrations. Keep reading for their insights on how to pivot plans to still have a dreamy #AlbanyEverAfter despite the circumstances! 
1. How has your venue adapted to hosting smaller weddings under the current health and safety regulations? 
As a tent rental and décor company, we have shifted our efforts to providing tenting for small gatherings and for outdoor seating for local restaurants and businesses bringing their staff back to the office.  In order to limit exposure, we are doing installations several days in advance of guest usage and removing rentals several days following usage to minimize risk.  While the majority of our business is focused around much larger events and mostly located inside venues, this has been a challenging shift for us.  
2. What is the biggest concern (or hesitation) you've received from couples currently planning a wedding and how do you overcome this? 
Most couples imagined large weddings of family and friends across the country.  So they struggle with "keep the date" or "wait".  However once they make the decision either way, there is great relief.  They all say that making the decision was the most stressful.  We have tried to support our client's decisions which ever they decide, whether a small intimate wedding now or a larger one next year.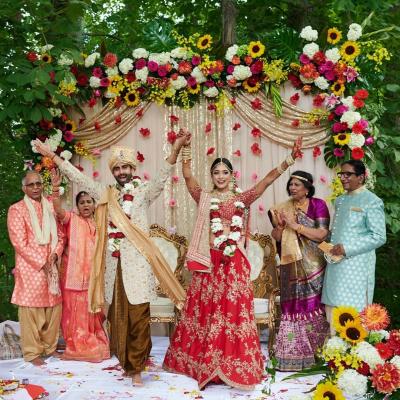 Floral: Surroundings Floral Studio
Rentals: Total Events
3. Do you have a success story on a recent minimony or microwedding that you can share with us? 
We had a large South Asian wedding that was scheduled for August at the Albany Capital Center.  Over 400 guests planned and most flying in from other parts of the country and outside of the US.  Being in the medical profession, the couple realized in the late Spring that their plans would need to be adjusted to accommodate a much smaller guest list.  Luckily their family and friends were more than understanding of the situation and supported their decision to keep their wedding date and move forward with a more intimate ceremony.  After pairing down their guest list to only 50 people, we created a wedding ceremony and reception at the bride's family home in Selkirk – complete with a custom Mandap stage, bistro style seating to keep guests contained to only their immediate family members and plenty of space to distance.  While it was not the massive reception they had initially envisioned, the weather was perfect for their outdoor event and the design selections they made fit the outdoor aesthetic beautifully. 
Many of our petite weddings taking place now are then planning a larger one year anniversary celebration for next year.
4. How do you think the COVID-19 pandemic has changed the future of the wedding industry? 
Our industry has always been creative and resourceful.  We are the innovators of celebration.  With that said, the industry is quickly responding to create celebrations that are more intimate.  Less people with more thought and purpose, from pop-up weddings, to spontaneous home gatherings.  Even when we can gather in larger groups, I believe these smaller gatherings will still be a popular choice.  Challenges always create opportunities and new ideas we would have never considered.  So I am very hopeful about the future of our industry, especially how it relates to social events.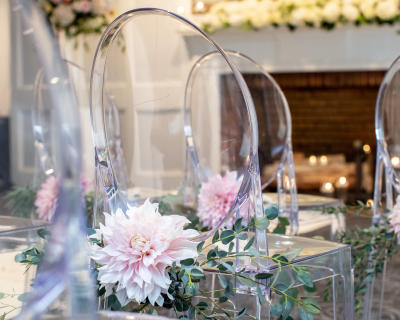 Planning & Design: SBM Events Co
Floral: Surroundings Floral Studio
Photos: YTK Photography
Venue: Renaissance Albany Hotel
Rentals: Total Events
5. What is your biggest piece of advice for couples planning a wedding in 2020? 
Focus on what is important to you.  What are the memories and moments you want to capture?  Most couples marrying in 2020 have succeeded in making their day just as beautiful and memorable as they initially pictured, just on a smaller scale.  What the smaller guest count brides are finding that they have the budgets to afford the details that would have been prohibitive for a large wedding.  Custom menus, personalized calligraphy, higher end finishes like upgraded chairs and linen, more elaborate florals – they have all made for a triumphant return to many couples who would likely not have been able to afford them at a 150+ person reception.  
6. What is your biggest piece of advice for recently engaged couples starting the wedding planning process?  
My advice to newly engaged couples hasn't really changed from what it would have been pre-Covid.  Make a list of the things that are true priorities for you – write them down and see if they are possible to achieve with our current circumstances.  If you are looking at a long list of guests from out of state that can't easily get into NY, or dancing is at the top of your list – well, you will likely need to wait for everything to stabilize a bit more before that can happen.  However, if you are looking to have a beautiful ceremony with your immediate family and close friends followed by incredible food and ambiance – that is still very possible.  I have seen more vendor creativity and focus towards custom selections which has given way to some of the most spectacular final results.
For 2021 nuptials, we highly recommend securing dates with your vendors as soon as possible.  Most vendors have moved a large number of their 2020 weddings to 2021, so dates are already limited.  Use any down time you might be experiencing to finalize details, this way you can relax and enjoy your longer engagement.