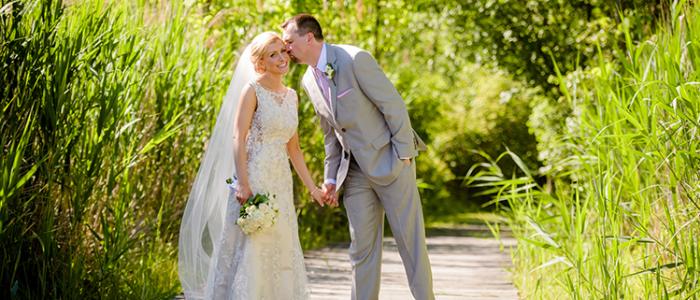 Photo Credit: Hitlin Photography

2020 has been the year of pivoting plans for the wedding industry. Maribeth Livingston, Director of Marketing at The Century House, spoke with us about how intimate weddings are happening under the current health and safety regulations. She also shared advice for couples currently planning a wedding and for recently engaged couples. Keep reading for her insights for planning an #AlbanyEverAfter! 
1. How has your venue adapted to hosting smaller weddings under the current health and safety regulations? 
We've always had intimate weddings for 2 – 50, but they've always been in appropriately sized rooms. Now, under the current health and safety regulations, a party for 15 is filling a room that holds 50 – 100. Of course, there's the use of masks, gloves, safety and cleaning measures that go above and beyond industry standards, etc. that make preparing for weddings different than what our staff and couples are used to, but most of all - as of today – there's no dancing, which makes most weddings feel totally different. We've adapted by reimaging our event spaces and the use of decor to give our couples the unique atmosphere they've envisioned, while still keeping set-ups spaced appropriately for social distancing.
2. What is the biggest concern (or hesitation) you've received from couples currently planning a wedding and how do you overcome this? 
Dancing is the biggest issue. Beyond that, the concerns are contractual and they want to know what happens if… Honestly, communication is what's been keeping us going. We are honest with the couples and try to always remember how much they've put into this day. For couples requesting to postpone, we've offered comparable dates in the future, or duo weddings (2 weddings on the same day at different times, or the option to have a ceremony now and then a great big celebration next year). We just try to give lots of options that can be done within the laws.
3. Do you have a success story on a recent minimony or microwedding that you can share with us? 
We had a couple call us a few weeks before they wanted to get married and say they had cancelled their wedding at another location. They'd decided to elope and asked if we could do that. Of course we said we could, and very quickly after we sent them our small wedding packages, they booked their elopement for a few weeks later. We celebrated with the two of them plus a few friends who stopped by (did not exceed 10) and they called and told us they wanted to book their big reception with us next year! We were so excited, their wedding gave us hope that "normal" is around the corner. They were so crazy about each other - it was sweetness personified, and to have them feel the same connection to us just made our day. Love isn't cancelled …
4. How do you think the COVID-19 pandemic has changed the future of the wedding industry? 
We believe for some time the numbers will be lower, intimate weddings will become more of a norm and of course, contracts will become more detailed.
5. What is your biggest piece of advice for couples planning a wedding in 2020? 
Go with the flow and don't cancel. Instead, find a way to celebrate with all those important to you. If not this year, then next. Consider all your options, but don't cancel. We all need reasons to celebrate and enjoy this year most of all!
6. What is your biggest piece of advice for recently engaged couples starting the wedding planning process?  
For 2021 and 2022 wedding dates, book soon! With all the rescheduled dates, 2021 is full at most places, so don't delay! Get yourself locked in on pricing and date as soon as possible.