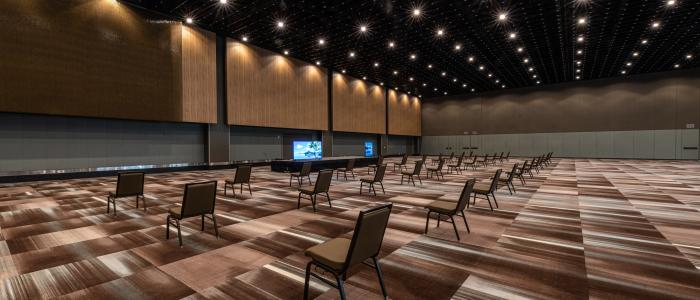 Photo Header Credit: Baker Public Relations, courtesy of Albany Capital Center
It has been an extremely challenging year for the leisure and hospitality industry in Albany County. The Albany Capital Center has adapted to the changing times with socially distanced and hybrid meetings, while also enhancing health and safety protocols. Shannon Licygiewicz, CEM Director of Sales of the Albany Capital Center, shares her insights on how COVID-19 has impacted the meetings industry. 
Do you have an example of a small meeting success story that you can share with us?
Yes, back in September we hosted a Hybrid Event for Plug Power – there were about 30 people onsite and we streamed to more than 2,000 of the company's shareholders and other partners. It was extremely successful and well received by Plug Power. 

What health and safety protocols does your hotel have in place for meetings? 
Our company ASM has a program called VenueShield which instructs our staff to be compliant with all CDC and Government guidelines. To name a few areas - enhanced cleaning of high traffic areas, hand sanitizer stations, set ups that support social distancing, and recourses to help with new COVID friendly traffic flow, temperature/contactless check ins, and streaming throughout the facility so a larger footprint can be safely provided. 

How important do you see hybrid meetings to the future of the industry? 
I think hybrid events need to be a part of our industry for a long as clients, associations, and promoters can offer them. It is a very expensive market but it does offer additional ROI. So the balance will become how long the client can support the efforts. As attendees start to feel safe to return to our new normal – some of these options I see fading away mainly just do to the cost and effort to produce this feature for an event. While others who have a more robust budget will see it as a continued opportunity for ROI. So it's sort of a 50/50 split. 

Right now sadly I feel like people are not as excited about virtual events as they were a few months ago. While association, meetings, and tradeshows have done their best to provide content and value to their members during this time – again I think the virtual world will also depend on the overall new goals an association has had to make due to COVID. As far as trends: having the virtual event be as interactive as possible, offer continuing content as added value, still offering a cocktail networking hours, and in-home swag see to be the top surfacing.

Most of what we are learning right now is from other states that are successfully getting back to the meeting and event business – it will happen for us here NY because it is happening elsewhere and right now they are the best examples we can hope for and follow.

How do you see food and beverage evolving for future meetings? 
In my option for food and beverage there are some really great things that have come from COVID and not so great. The extra safety and sanitary procedures are always welcome and I think give clients even more piece of mind knowing that the food being served is as safe as it has ever been! However we are definitely taking a step back when it comes to pre-packaged goods and waste. The hospitality industry has been heading in such a great direction with running a green conference being at the top of the list for most clients. While this is a step back, I am confident that we will see food service adopt some trends being used today and continue with them permanently. It will be up to each and every individual events to design what sort of food plan they want to offer – but the good things in food & beverage personnel are always up for a challenge, their creativity is off the charts, and flexibility is their middle name! 

What is your biggest piece of advice for meeting planners planning an event for 2021? 
DO NOT WAIT TO BOOK DATES AND DO NOT WAIT TO START PLANNING! Event Planning and events during COVID, during vaccinations, or even right after vaccinations is now like it used to be – it takes time and is a total new way of thinking. While events are not currently moving forward clients are with future dates making plans for their first meeting back to it – don't expect calendars are sitting empty in the future because they are not! We are all here and ready when meeting planners are and cannot wait to get back to doing what we all love; making event dreams happen – no matter how different they may now look!