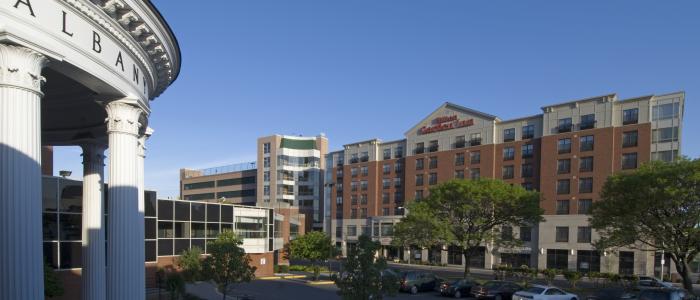 Photo courtesy of Hilton Garden Inn, Albany Medical Center
It has been an extremely challenging year for the leisure and hospitality industry in Albany County. The hotels have adapted to hosting socially distanced and hybrid meetings, while enhancing health and safety protocols. Hilton Garden Inn, Albany Medical Center Director of Sales Samantha Munn shares her insights on how COVID-19 has impacted the meetings and hotel industry. 
Do you have an example of a small meeting success story that you can share with us? 
In early December we were able to host our first hybrid event. We held 15 guest in our Atrium, classroom style and socially distanced. We served a dinner buffet along with cocktailing beverages of their choice. We were able to zoom in their presenters allowing the crowd to interact with their presenters via AV equipment and support from the hotel staff. 

What health and safety protocols does your hotel have in place for meetings? 
Hilton has partnered with Lysol and has provided their hotels with Clean Stay & Event Ready. These are amazing programs put together to ensure customer safety while with us. We follow their playbooks closely as well as local and NYS guidelines. 

How important do you see hybrid meetings to the future of the industry? 
Hybrid meetings are going to be vital to our future, especially 2021, as people find more comfortability in meeting in person again. We are hosting a lot more social events and having the ability to call into friends and family is super important. Allowing their loved ones to see them at their bridal/baby shower and for the family/ friends to feel like they are still apart of such a big day is priceless. 

How do you see food and beverage evolving for future meetings? 
It's difficult to say what the future is since we are still in the middle of the battle but I will say currently its all about your customers comfortability. Having options and being flexible. 

What is your biggest piece of advice for meeting planners planning an event for 2021? 
My biggest piece of advice would be to stay open minded, creative, think outside the box and be flexible.