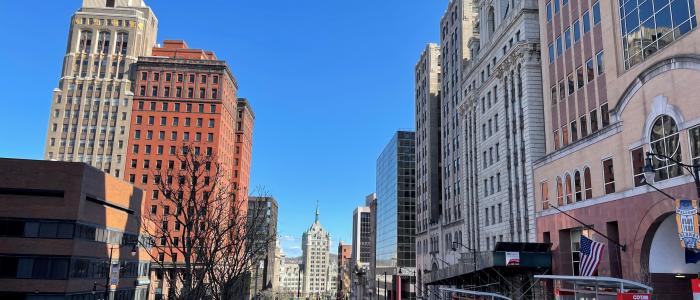 Searching for a new way to discover Albany? Tune into a podcast! Capital Region residents and organizations host podcasts on a variety of topics from beer, to art, to history! Turn on a podcast during your morning commute, while working from home, or even while exploring downtown Albany's streets. Scroll on for six podcasts for discovering Albany. 
Love art and history? Embark on a self-guided walking tour of downtown Albany's dynamic public art with the Artful Albany podcast. Each podcast episode dives into fascinating stories about Albany's 400 year-old history as well as the #CapitalWalls mural project, spearheaded by Albany Center Gallery, Albany Barn and Park Albany. While tuning into the podcast, you'll hear from the mural artists and brush up on your historical fun facts about downtown Albany. This podcast can be listened to from anywhere, but it is best experienced from the sidewalks of downtown Albany. 
The Artful Albany podcast is presented by Discover Albany, Albany Center Gallery and the Downtown Albany BID.
Stories From a Bar is a locally popular podcast hosted by Capital Region resident Chris Osborne. Each episode features various brewers, restaurant owners and other Capital Region locals discussing small businesses, the local beer scene and much more! Past guests have included The Hollow Bar + Kitchen co-owner Dora Philip, Fort Orange Brewing co-owner John Westcott, Albany Beer Historian Craig Gravina and many more. The podcast episodes are hosted on a variety of platforms, including Nippertown! 
The Albany Made Podcast, hosted by the Albany Public Library, explores the city of Albany and the function of the library in the local community. Episodes feature APL's team of librarians and APL Executive Director Scott Jarzombek speaking with local musicians, historians, activists, artists and more on a variety of topics from "Albany History," to "2020 In Books," to "A Library's Place In The Time of COVID-19," to "Albany Pride." Tune in to support the library and learn more about Albany's wonderful community. 
Albany-based theater company, Creative License, recorded the "Tales of Old Albany" podcast, with help from the Albany County Historical Association and local writer and historian Jessica Serfillippi. The podcast episodes focus in on the life, times, and friendships of two of Albany's most historic families, the Schuylers and the Ten Broecks. One episode features the letter penned by Dirck Ten Broeck detailing the Hamilton-Burr duel and the passing of his "dear departed friend," while another episode focuses on the Battle of Saratoga. History buffs will love this dynamic way to take a deep dive into Albany's history, local families and historic events! 
Listen Albany, a podcast by the Historic Albany Foundation, explores the city of Albany's 400 year-old history. Learn about the famous faces and places that make Albany's heritage unique! Some of the episodes are designed as self-guided walking tours, for listeners to tune into while exploring the neighborhoods. Other episodes are live recordings with historians and prominent local figures discussing the city's cultural heritage. 
It is not a traditional podcast, but HEAR About HERE tells stories of Albany's history, three minutes at a time. Using the GPS in your smartphone, explorers can to tune into audio stories about people, places and events that happened near your current location. Explore Albany's Pastures Neighborhood and hear City Historian Tony Opalka tells tales of the neighborhood from its time as a pasture for animal grazing to present-day. Learn about Albany's Dutch roots with the New Netherland Audio Tour to hear, see and imagine Albany's Dutch past.