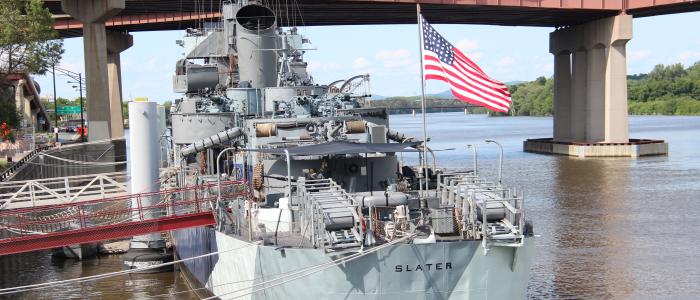 Celebrating summer's biggest holiday looks a little bit different this year. Many local celebrations and annual fireworks displays have been postponed due to COVID-19 concerns. While traditional festivities may not be happening, keep scrolling for a few fun ways to celebrate Fourth of July weekend safely in Albany. Please remember to maintain social distancing and wear a mask!
July 4th Oration
The Underground Railroad Education Center's annual July 4th Oration will be occurring virtually this year via Zoom. Guest reader Jonathan Jones will read selected excerpts from Frederick Douglass's 1852 speech, 'What to the Slave is Your Fourth of July" and featured speaker Gretchin Sorin will offer reflective comments. The Oration will examine issues of liberty, citizenship, civic engagement and social responsibility from the historical perspective in light of contemporary injustice. Sign up in advance to receive access to the Zoom link!
Fireworks Extravaganza and Movie
Rock your red, white and blue at the Jericho Drive-In and Twist Ice Cream for a Fireworks Extravaganza! Celebrate July 4th with a dazzling fireworks display followed by a family-friendly movie under the stars. The price is $40 a carload for fireworks and two movies or $50 a carload for fireworks, two movies, and a large popcorn and two medium sodas. 
Drive-Thru Fair Food Fest
Summer in Upstate New York is not complete without the taste of fried dough, sausage and peppers, steak sandwiches and deep-fried Oreos. The Altamont Fair may be canceled this year, but satisfy your fair food fix at the Drive-Thru Fair Food Fest! Every Friday, Saturday and Sunday in July, head to the Altamont Fairgrounds for takeout from your favorite fair food vendors. Admission is free, just drive-thru, order and pick up for take-out! This is a great way to savor the quintessential tastes of summer on the ultimate summer holiday - July 4th! 
4th of July Sunset Cruise
Relax and enjoy the view on a 4th of July Sunset Cruise with Dutch Apple Cruises! Marvel at views of the Albany skyline accented with (hopefully!) a spectacular sunset while listening to some tunes. Food and drinks will be available for purchase. Tables for two start at $50 and there are also tables of 4, 5 and 8 available. Dutch Apple Cruises has implemented a variety of measure for health and safety purposes, learn more at this link. 
4th of July Backyard Burger Grill Kits
Leave the grilling prep to City Beer Hall! Enjoy a classic American cookout with a City Beer Hall twist this July 4th. Backyard Burger Grill kits are $65 and include four Highland Hollow Farms burger patties, four brioche buns, Beer Hall burger toppings, kimchi kraw salad, apple cole slaw and house potato chips. These are available by pre-order only by Thursday July 2 for pickup on July 3. If you would rather dine-in, City Beer Hall is offering Half Price Burgers all night on July 4!
Hamilton: An American Musical
Hamilton: An American Musical will be available to stream on Disney+ starting on July 3! While watching the Broadway sensation at home, keep an ear out for mentions of Albany. The musical may even inspire you to head out on a "Hamilton In Albany"-inspired adventure over July 4th weekend to see the local sites with ties to Alexander Hamilton such as the First Church, Ten Broeck Mansion and Schuyler Mansion State Historic Site. Or, visit the final resting place of Philip Schuyler and his daughter Peggy Schuyler at Albany Rural Cemetery. Snap a photo of you visiting these sites and share on social media with #HamiltonInAlbany! For a deeper understanding of the Schuyler and the Ten Broeck family, tune into the "Tales of Old Albany" podcast by Creative License. 
Leave the cooking to the experts this July 4th! Mazzone Hospitality is offering four Fourth of July catering packages that each come a 4-pack of Joann IPA from Browns Brewing. Choose between "All American", "King of the Grill", "New England Lobster Bake" or "Hot Off the Grill" packages to feed 8-10 people. Add a slew of a la carte options to your order such as corn on the cobb, hot dogs, lobster mac & cheese, pan baked beans, corn on the cobb and more!
I LOVE NEW YORK's annual Spring Path Through History Weekend has gone virtual and is a lot longer than one weekend! The historical fun began on June 15 and concludes on July 4. Embark on a self-guided walking tour or virtually explore museums all across New York State. It is a great way to discover the people and places that shaped American history and to dive into New York State's rich heritage.
Get your camera ready! Albany's floating museum, the USS Slater DE766, is departing Albany via tugboats on Sunday, July 5 at 5:00 AM for her voyage to Staten Island for shipyard repairs. The Hudson River voyage is expected to take approximately 20 hours and is a wonderful opportunity to view a World War II warship on the move! Early birds desiring the best view of the ship's departure from Albany can climb aboard Dutch Apple Cruises at 4:45 AM for a USS Slater Send Off Cruise. Follow the USS Slater's Facebook page for location updates throughout the day. The ship is expected to open to the public back in Albany on August 5, 2020.