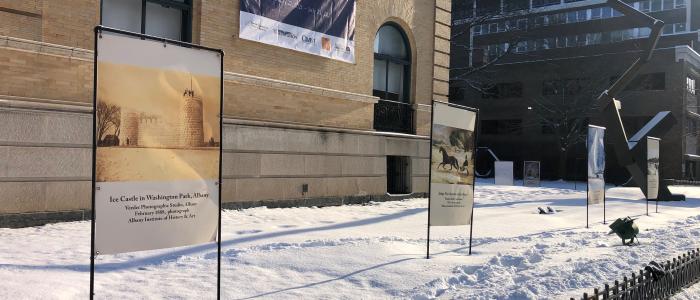 Beat the winter blues by bundling up to view outdoor exhibits at local museums, libraries, preserves and more! Outdoor exhibits, ranging from photographs to public art installations to history displays, have popped up throughout Albany County. Scroll on for five must-see outdoor exhibits in Albany County. 
Please follow all COVID-19 healthy & safety protocols including wearing a mask and social distancing. 
Creative Curbsides
Albany Public Library, in partnership with Opalka Gallery as part of the Art at APL program, are brightening up Albany! Designed to be viewed from outside of the buildings, Creative Curbsides features colorful art installations in the front-facing windows of library's Bach and Arbor Hill/West Hill branches. Local artist duo Eight Plums (Gracelee Lawrence and Ben Seretan) created a nature-inspired abstract design called "A Beneficent Fluid Bathes Us" at the Bach Branch. Local artist Dana Sela was inspired by the nearby Tivoli Lake Preserve and Farm to create a natural-themed landscape for the Arbor Hill/West Hill Branch windows. Titled "A New Day" (pictured above), her installation was done in collaboration with artist Kim Tateo. On display through March 31.
Winter Amusements 
Stroll along Washington Avenue to view an outdoor pop-up exhibit at the Albany Institute of History & Art. Winter Amusements features winter-themed artwork and photographs from the museum's collection. Marvel at historic photographs featuring Albany covered in four feet of snow in 1888, ice skating on Washington Park Lake during the early 1900s and an ice castle as part of a winter carnival in Washington Park in 1888. Admire artwork showcasing snowy winter scenes, sleigh riding and the beauty of snow. If you are interested in exploring the inside of the Albany Institute, timed tickets for museum admission can be purchased in advance online and masks are required. On display through February 28. 
Pine Bush Perspectives
Venture to the Albany Pine Bush Preserve, a globally-rare ecosystem in the heart of Albany County, to view an outdoor juried photo exhibit. 30 images from photographers (such as photographer Adrienne Kallner, pictured above) were selected by jurors for Pine Bush Perspectives. Each photograph captures a unique perspective of the inland pine barren. The exhibit starts at the back of the Discover Center and continues along the blue trail up to the overlook. On display until March 1. 
Windows on New York
While the inside of the New York State Museum may be temporarily closed, the windows offer an immersive outdoor experience. Start by looking into the windows of the museum's lobby on Madison Avenue to view the introduction for the "Windows on New York" exhibit. Head across the street to the Empire State Plaza and go up the outdoor steps to the 4th Floor Terrace. Follow the sweeping windows around the building to view popular items from the museum's collections and the fourth floor gallery. See and learn about items such as a 100 year-old model of a eurypterid (sea scorpion!), a "Papa Burger" mascot for A&W Root Beer dating back to the 1960s, a Sears Automobile Model K and even catch a glimpse of the museum's treasured full-sized carousel. On display through March 1, 2021. 
#CapitalWalls Murals & Artful Albany Podcast
Over a dozen vibrant #CapitalWalls murals are sprinkled throughout downtown Albany. Brave the cold temperatures for a self-guided walking tour of the murals with the Artful Albany podcast. Each podcast episode dives into Albany's 400 year-old history as well as the #CapitalWalls public art project, spearheaded by Albany Center Gallery, Albany Barn and Park Albany. While tuning into the podcast, you'll hear from the mural artists and brush up on your historical fun facts about downtown Albany. 
The Artful Albany podcast is presented by Discover Albany, Albany Center Gallery and the Downtown Albany BID.