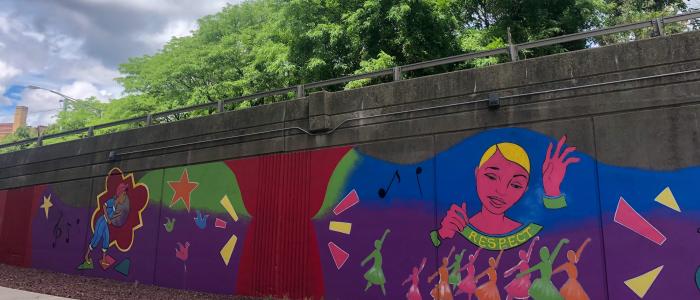 Throughout 2020, Discover Albany is highlighting Artful Albany by showcasing the many ways art is featured throughout the community in restaurants, meeting spaces, historic sites, rural areas, craft beverage facilities and more.
"Meet The Murals" is a Q&A feature in our 2020 Discover Albany Visitors Guide highlighting several of the #CapitalWalls artists. Capital Region artist Liz Zunon (@lizzunon) completed "Geraldine's Reverie" along the Clinton Avenue off-ramp from I-787 and across from the north side of the Quackenbush Garage (25 Orange St.) in 2018. 
The #CapitalWalls mural project is spearheaded by Albany Center Gallery, Albany Barn and Albany Parking Authority.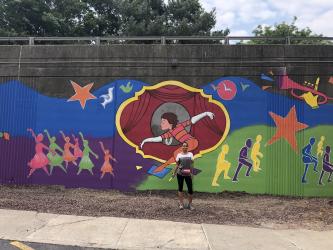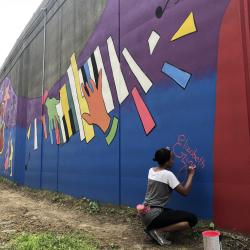 Photos courtesy of Albany Center Gallery

Q: What inspired your mural?
A: The arts and entertainment inspired my mural; especially the freedom of expression that we have as young children when we play, dance, sing, make up stories and explore the world. That is the freedom I seek, as an adult artist, every time I create.
Q. We all see the finished product, but how much planning goes into a mural?
A: There was a lot of planning before actually putting paint on the mural. After taking photographs of the blank wall space, I created a couple of pencil sketches using characters from my sketchbooks and additional musical, dance and theater elements inspired by my conversations with Tony at Albany Center Gallery and research about the performances at our local theaters. This research also inspired my color palette, leading me to paint a watercolor study and a computer mock-up of my vision for the mural. After my color studies were approved, it was time to buy the paint! Then came transferring my pencil sketches onto the mural, projecting them onto the wall at night and outlining the figures and shaped in black paint. Finally came the best part: opening paint cans and making the mural come to life!
Q: Why did you get involved with the #CapitalWalls project and what have you gotten out of it?
A: I got involved with the #CapitalWalls project because I was looking for an artistic challenge (this was my first mural), because I believe in the power of public art, and because I felt that my experience as a children's book illustrator could contribute to this vision of more public art in the urban spaces of Albany. Through painting "Geraldine's Reverie", I've been able to create "live" art in my own community and open up conversations with others about the power of the arts and the freedom of childhood. It's also made me view myself as a member of a local artistic community in the Capital Region.