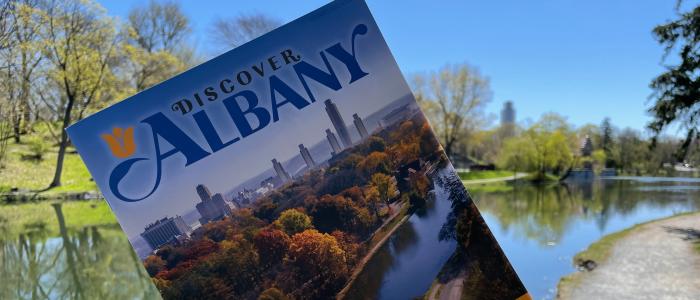 The latest Discover Albany Destination Guide is filled with content celebrating the individual cities and towns that make Albany County such an amazing place to live, work and visit. The "Discover My Albany County" theme showcases Albany County locals sharing their insights on the best places to eat and drink, play, learn, and visit in their respective towns and cities. Meet the faces of #DiscoverMyAlbany and stay tuned on our blog and social media for a video series launching this summer! 
Angelique Powell
Angelique Powell has lived in Watervliet for about three years and currently works in the City of Albany. She grew up locally and left for Boston, MA after college returning to the Albany area after five years. She has always considered the Albany area to be her home base, knowing she would eventually return as an adult and build her life here. Angelique loves the very real sense of community that exists and is so pervasive in Albany. She found it in the theatre community and professionally in the nonprofit sector. This is a community that strives to take care of each other, make space and create opportunity for each other, challenges each other and rallies behind each other in such a significant way. 
Jesse Sommer
Jesse Sommer, a New York-licensed attorney, is a lifelong resident of Albany County. He founded New Scotland Spirits, a whiskey company, to celebrate his hometown of New Scotland. He is a former U.S. Army paratrooper and officer in the Judge Advocate General's Corps. He traveled extensively in the Army, but always knew that he would come back home to Albany County. 
Ed & Linda Tremblay
About Ed: Ed Tremblay is a fourth generation Cohoesier, who has lived there all 67 years of his life. Both sides of his family came to Cohoes to work in the Harmony Mills. He has been an active member of the community since his children were small. He was the Community and Economic Development Director for the City of Cohoes during the last 13 years of his active career. He is actively involved in seven nonprofit organizations in the City of Cohoes. The thing he loves most about the community is the small city spirit. He believes there is something special about a community where you can get to know so many of your neighbors and local business owners. You can go to your favorite restaurant, and they know your special dietary needs. You walk into the coffee shop, and they know your favorite drink. You get to know your neighbor's dog's names as they walk by your house every night. That is what is so great about living in Cohoes.

About Linda: Linda Tremblay has lived in Cohoes for her entire life (67 years). Cohoes was a wonderful place for her to grow up. As a young child most of her extended family lived within a 10-block radius of each other. They lived in neighborhoods where houses were close and neighbors were like family. Because of the strong sense of community in Cohoes, she was married and raised her children there. Linda still volunteers at her church and numerous non-profit organizations hoping to ensure that her grandchildren's generation will be given the best opportunities to thrive and grow in a safe and caring environment.
Matt Malette
Matt Malette has called the Town of Colonie home for the last fifteen years and specifically the Village of Colonie home for the last ten. He finds the central location in relation to the rest of the Capital Region to be one of the greatest things about living in Colonie. It's easy to hop on the Thruway or Northway and find yourself in the mountains in less than an hour's travel or Route 5 will easily take you into Albany, Schenectady, or beyond. On the days he wants to stay close to home, there is still plenty to do; catching a movie, a ton of dining options, nature walks or just hanging out at one of the many parks with his family. Follow him at @AlbanyArchives on Twitter and Instagram! 
James Gaughan
James Gaughan and his spouse have lived in Altamont since 1984. After retiring from his career in Albany, James served as Altamont Mayor for 12 years. Throughout his time as mayor, he worked with his Village neighbors to create initiatives highlighting the community's best facets: its historic origins, parks, cultural events, and businesses. 
Molly Belmont
Molly Belmont lives in Knox, located on the western edge of Albany County. Her She and her family moved there in 2011 with a desire to live in the country. They bought an old farmhouse, on 3.5 acres on a very quiet tree-lined road, and love living there because it's so beautiful. They feel closer to the natural world, and every season brings out different qualities in the landscape. Molly and her husband have two children, and they get to spend a lot of time playing outside, building forts, playing in the woods, and climbing trees. Her family has found the community to be very warm and welcoming, and they love their schools.