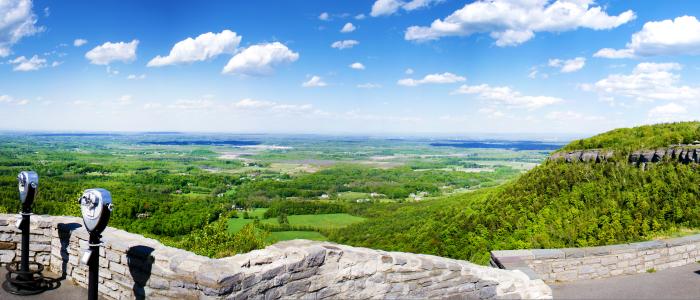 Summer is here! Embrace the season with an Albany County adventure. Uncover the City of Albany's thriving arts and culture scene or escape to Albany County's natural wonders for thrilling outdoor excursions. Scroll on for a few ideas for a day trip, or even a staycation, in Albany, New York this summer.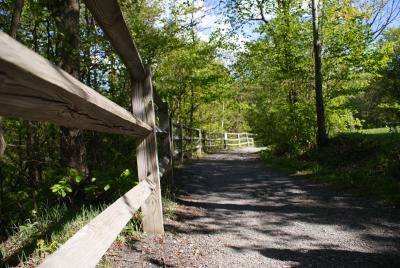 Explore John Boyd Thacher State Park
Spend a beautiful summer day exploring all that John Boyd Thacher State Park has to offer. The must-visit state park is perched atop the Helderberg Escarpment, one of the richest fossil-bearing formations in the world. Trek across over 25 miles of trails to chase waterfalls, scout hidden caves and soak up stunning panoramic views of the Hudson-Mohawk Valleys and the Adirondack and Green Mountains. Stop inside the new Visitors Center to view geological and historical exhibits showcasing the Helderberg Escarpment. Thrill seekers can have a high-flying adventure at WildPlay Thacher. This outdoor adventure course is the perfect place to channel your inner Indiana Jones and experience ziplines, rope swings, swinging logs, and wobbly bridges. If you are really brave, take a 40 foot plunge on the What's To Fear Jump.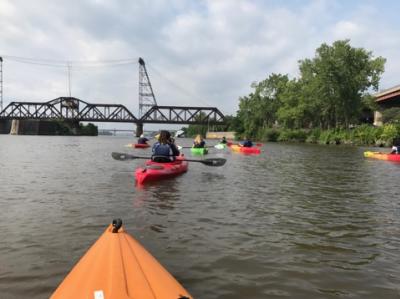 Kayak the Hudson River
Explore the Hudson River by kayak! Upstate Kayak Rentals makes it easy to set out on a paddling adventure. Riverfront explorers can conveniently book and unlock a kayak with a cell phone at self-serve kayak rental hubs at the Corning Preserve, Henry Hudson Park and Coeymans Landing Park. Travel along the Hudson River for a unique view of the skyline and to uncover hidden canals. Make a day out of it and paddle down the river to the next connecting hub location. Paddlers will see Albany County from an entirely new perspective! 
"Geraldine's Reverie" by Liz Zunon
Uncover Artful Albany
Spend a day this summer uncovering Artful Albany! Plan your #ArtfulAlbany excursion from July 29 to August 23 so you can check out "Michelangelo - A Different View" on display at the Albany Capital Center. Marvel at the elaborate reproductions of the paintings of the most famous fresco in the world, without the cost of a trip to Italy. After viewing the exhibit, tune into the Artful Albany podcast from the streets of downtown Albany. Presented by Discover Albany, Downtown Albany BID and Albany Center Gallery, each podcast episode is a self-guided walking tour that explores Albany's 400 year-old history and the #CapitalWalls mural projects.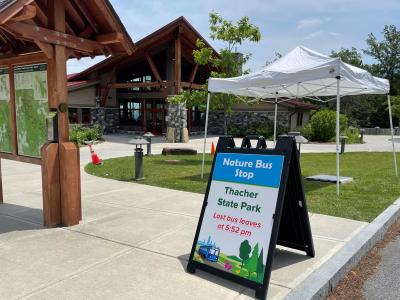 Ride the Nature Bus
Jump on board the Nature Bus on a Saturday morning and spend the day exploring Albany County's beautiful outdoor areas! The Nature Bus, a free service offered on Saturdays through September 25, connects the City of Albany to a variety of Albany County's preserves, parks and outdoor destinations. Plan an excursion to the Bennett Hill Preserve in New Scotland for jaw-dropping views of the Helderbergs or Normans Kill West Preserve in Bethlehem for trails alongside the Normanskill.  Explore the 22-acre Pine Hollow Arboretum, nestled in Slingerlands, to learn about trees from around the world or venture to Five Rivers Environmental Education Center to search for wildlife along the trails. Other stops include Tivoli Lake Preserve and Farm, Albany County Helderberg-Hudson Rail Trail, Lawson Lake County Park and John Boyd Thacher State Park.
The Nature Bus is brought to you by the Mohawk Hudson Land Conservancy in partnership with CDTA.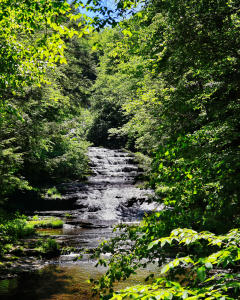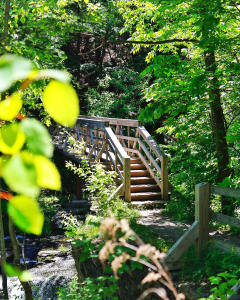 Photos of the Huyck Preserve by The Yellow Note
Discover Renssealerville
Rensselaerville, one of Albany County's Helderberg Hilltowns, is a scenic spot for a summer day trip. Venture to the Huyck Preserve to hike across 12 miles of meandering trails. Marvel at Rensselaerville Falls, a must-see 120 foot waterfall, and reconnect with nature in the peaceful forests. After exploring the Huyck Preserve, stroll down Rensselaerville's historic Main Street, listed on the National Register of Historic Places. See the distinctive Rensselaerville Library and a 19th century grist mill, operated by the Rensselaerville Historical Society. Grab a bite to eat at Kuhar Family Farm Market for farm fresh eats made with local veggies, farm-raised meat and local breads.