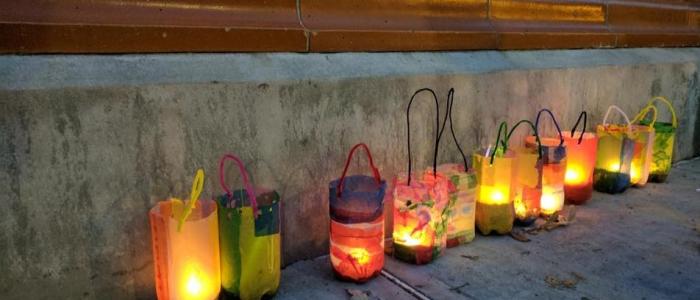 Photo courtesy of Sarah Read
This year's Albany Lantern Parade looks a little bit different, but will still celebrate community and light! Instead of the annual parade through Washington Park, Albany County residents and businesses are encouraged to display lanterns in their windows during the first week of November. Unleash your creativity and make your own homemade lantern, or display one that you already have on hand! During the week, drive through the community to admire the illuminated windows and share your own homemade lanterns on social media with #AlbanyLanternParade. 
Watch a Tutorial by Sarah Reed, organizer of the Albany Lantern Parade: 
 
Materials Needed: 
2 Liter Soda Bottle (or other recycled glass or plastic container)
Scissors or Utility Knife
School Glue
Water
Small Container for Mixing Glue
Tissue Paper
Pipe Cleaner
Foam Brush
Hole Punch 
Battery-Operated Tealight Candle
Instructions:
1. Safely cut off the top of the soda bottle, about 1/3 of the way down (Kids, ask an adult for help!)
2. Select a handful of tissue paper shapes - it is easier to select these before you start gluing
3. Mix your glue with equal parts water in a small container
4. Brush a thin layer of glue mixture onto a small section of the bottle
5. Stick tissue paper onto the glue
6. Dab another thin layer of glue over tissue paper
7. Repeat until the bottle is covered - remember, the more coverage that you have, the more glow!
8. Punch holes hear the top on opposite sides of the bottle
9. Thread pipe cleaner ends through holes and twist to make a handle