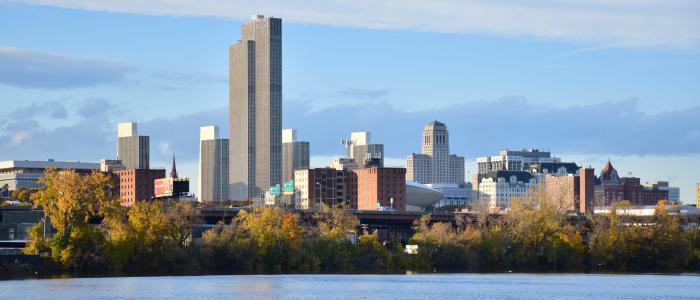 Across the country, the entire tourism industry is celebrating the "Spirit of Travel" for National Travel and Tourism Week. To celebrate on a local level, we wanted to showcase Albany's community champions who truly embrace the spirit of travel by helping their neighbors and supporting local businesses. Albany's hospitality community has gone above and beyond to give back and help those in-need during this time of crisis. These community champions are playing a key role in rebuilding the community to ensure that we will rebound from this crisis and be able to welcome visitors back when the time is right. Keep reading to learn about several organizations and individuals lending a hand in Albany County. 
"Heroes Landing"
Hilton Garden Inn Albany Medical Center has transformed into "Heroes Landing," a safe haven for doctors, nurses, and other medical professionals to rest between shifts. This initiative was made possible through a collaborative effort between SEFCU, BBL Hospitality, CDPHP and MVP Healthcare. SEFCU volunteers staff the hotel entrances to safely greet and screen medical professionals before entering. Once inside, the healthcare heroes receive a care package, a warm meal and are given access to a hotel room to relax and recharge. 
Feed Albany provides at-risk and in-need individuals impacted the most by COVID-19 in Albany and the Greater Capital Region with prepared and packaged meals. Meals are produced, packaged and distributed by volunteers and unemployed restaurant workers in commercial kitchens. The group also distributes some groceries, toilet paper, paper towels and other supplies (when available) to at-risk individuals. Within its first month, Feed Albany gave away more than 20,000 free meals to those in need. The group is taking steps to formally organize so that it will continue after the COVID-19 crisis is over. 
The initiative was co-founded by Jason & Kay Pierce, owners of Savoy Taproom, Dominick Purnomo, wine director & co-owner of dp An American Brasserie & Yono's, Joe Bonilla, managing partner and co-founder of Relentless Awareness, Matthew T. Peter, executive director of ParkAlbany and an Albany County Legislator. Follow along on Facebook, Twitter, Instagram and visit the website to learn how you can get involved. 
Tech Valley Hospitality Shuttle is helping the community in a big way. During this crisis, the transportation service is working with community organizations such as St. Peters Health Care, United Way, local food banks, C.O.C.C.A house, local school districts and more to help deliver food to those in-need. Local families and individuals can also receive no-contact delivery of groceries and goods through Tech Valley Hospitality Shuttle. Essential workers can utilize Tech Valley Hospitality Shuttle's "Get-To-Work" program for affordable transportation rates. Recently, the transportation service also partnered with a local last mile delivery start-up Capital Curbside.
Tip your favorite hospitality employee virtually! Tip Your Bartender is a website where chefs, bartenders, cooks and servers can create profiles to receive virtual tips during this difficult time. Every virtual tip of $5 or more will enter you into a raffle for a free $50 gift card to a restaurant in the Capital Region. 
This initiative was launched by Dominick Purnomo (dp An American Brasserie & Yono's), Jeff Buell (Redburn Development), Jessica Sheridan (Redburn Development) and Heidi Knoblauch (Plum Oyster Bar). 
Save the date for Heroes Night on July 22, 2020! The Tri-City ValleyCats, in partnership with the American National Insurance Company, will recognize nine community heroes during a special ceremony prior to the baseball game. The local community is encouraged to nominate hospital staff, health care workers, military, law enforcement, firefighters, EMS personnel, non-profit staff, along with teachers, volunteers, and everyday people that have helped make a positive impact within the Capital Region. Nominate a community hero at this link by June 22. If the 2020 season is delayed or postponed, the community heroes will be honored at a later game, or during the 2021 season.
Albany BIDs
The city of Albany's three Business Improvement Districts are banding together to celebrate and thank first responders and frontliners! Each day in May, one of the BIDs (Downtown Albany BID, Lark Street BID and Central Avenue BID) will select a hero at random to receive a $50 gift card to a business within their District. Locals can nominate first responders or frontline workers (doctors, nurses, EMTs, fire fighters, police, transportation workers, pharmacists, grocery store workers, etc.) by submitting a photo and brief description of them through the Downtown Albany BID's Facebook page or by emailing info@downtownalbany.org. Keep an eye out for the winners on social media and at this link. All nominees submitted by May 31 will be entered to a win one of the $200 Gift Card Prize Pack from each BID. 
The New York State Hospitality & Tourism Association (NYSH&TA) Education Foundation purchased $10,000 worth of protective face masks to distribute to essential workers in tourism across New York. 16 Convention & Visitors Bureaus across New York State (including Discover Albany!) teamed up with NYSH&TA to hand-deliver over 9,000 masks to hotel and hospitality workers.