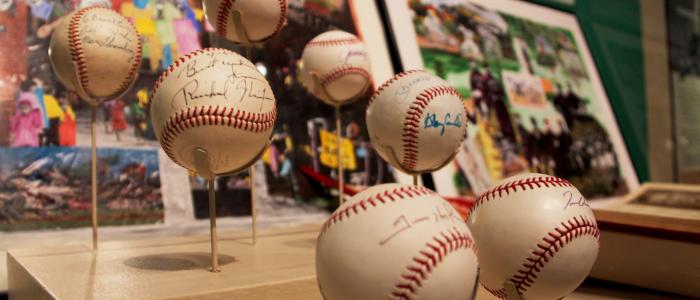 Guest Blog Post by Scott Perry founder of catchershome.com
I have long been fascinated by Baseball and spent many years playing the game. Yet my passion always went deeper than just playing ball. It was and still is rooted in a heartfelt appreciation for Baseball's history, its impact on American culture, and its general ethos. It is for me, in a sense, true love.
It should come as no surprise then that one of the places highest up on my list to go to was Baseball's mecca – Cooperstown, New York, home to the Baseball Hall of Fame. It's a small village tucked in rural New York that lives and breathes Baseball. It's a place where the legends of the game live on – where everyone around is passionate like you about the national pastime.
However, traveling to Cooperstown – as easy as it might sound – was never really an option for me growing up. I lived nowhere close to New York, plus my family didn't have much money to travel anyways. So it ended up taking me almost 30 years to finally make it to the Hall of Fame.
And it was totally worth the wait.
In 2015, my wife and I flew from our home in North Carolina to Albany, New York. We rented a car and did some sightseeing in the Albany area, taking our time enjoying our first visit to New York. Albany is New York's Capital City, so there are tons of things to see and do from the New York State Capitol Building, to the New York State Museum, to walking the trails of the Albany Pine Bush Preserve. We stayed the night at a hotel in Albany, which helped us wind down from a day of travel and exploration, and got us prepared for the day ahead at the Hall of Fame.
The next morning, we made the short and scenic drive from Albany to the tiny village of Cooperstown.
Upon turning onto Cooperstown's Main Street, I was immediately in Baseball heaven. Practically every shop on Main Street was Baseball themed, anchored by the beautiful Hall of Fame building.
We then went on to spend the next 8 hours in the museum. (Also, have I mentioned that I have an awesome wife? Just saying.)
The trek through the museum really started at the plaque gallery where every Hall of Famer has their own plaque, situated in sequence by the year of induction. I methodically read through each plaque – seeing legends like Babe Ruth, Ty Cobb, Cy Young, and others.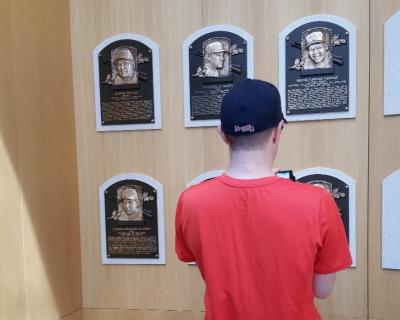 We then slowly worked our way up to the second, and finally – the third floor. There was so much to see and it was truly mind blowing how cool the place was.
A number of things at the museum really stood out to me, including:
The 'Doubleday Baseball" – an incredibly old baseball, made in part from lemon peels
Honus Wagner's herculean bat
A baseball signed by Babe Ruth perfectly on the sweet spot
Some of the earliest known catcher's gear, manufactured in the 19th century
World Series rings from every winner – since 1903, when the Series began
I also really enjoyed a section on the third floor dedicated to the career of 'Hammerin' Hank Aaron. There was a lot of information about his childhood and early career, which I didn't know much about. I really admire the man so it was great to see the museum pay so much respect to him.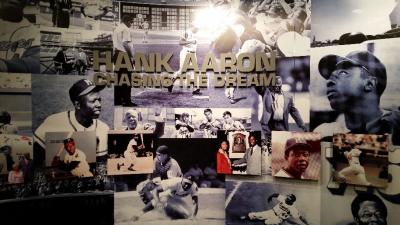 We closed the day at the museum by heading to the gift shop – where I promptly blew a few hundred dollars. Hey, I waited a long time to get there, I was going to take advantage of it!
All in all, it was a remarkable experience that satisfied a boyhood dream of mine. I'm so glad I was able to go, my beautiful wife with me making it even more special. I couldn't have asked for me.
If you're not a Baseball fan, I'd encourage you to still give the Hall of Fame a shot, especially if you're ever in the region around Cooperstown. I'm sure you would learn a ton and you would undoubtedly see something that would interest you.
And if you are a Baseball fan, then I plead with you to make the trip to the Hall of Fame as soon as you can. You will be mesmerized by the history, memorabilia, and respect for Baseball that is packed into only a few acres.
It is a place where Baseball reigns supreme – where Baseball's glory shines bright for generation after generation to witness.