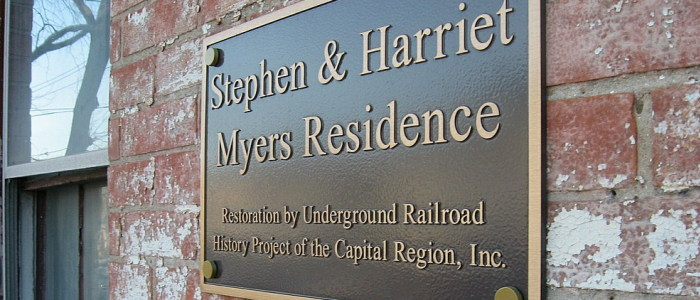 Guest post by Jazzie Gray, Americorps VISTA fellow, Capacity Building Coordinator at the Underground Railroad History Project of the Capital Region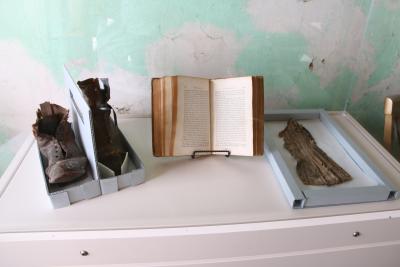 1. Explore and interact with artifacts from the 19th Century on our interactive tour.
Here at The Stephen and Harriet Myers Residence we have preserved artifacts that have been found on three properties, on the Stephen and Harriet Myers lot, Abraham Johnson Gardens, and one known as the Dr. Thomas Elkins property. Dr. Elkins was a medical doctor, a businessman that owned his own apothecary, world traveler, inventor and a member of the Vigilance committee in Albany N.Y. Artifacts from lot 186, have been found such as ceramic artifacts such as "French porcelain flower, a Staffordshire dog, Josiah Wedgewood shards, O.&E.G. Australian Royal porcelain, Qing Dynasty porcelain and Chinese and other porcelains. Some of these artifacts are on display or safely kept in our collections. We invite our guests to fully immerse themselves in history not only through oration but also by interacting and handling the artifacts (with care) to take part in history.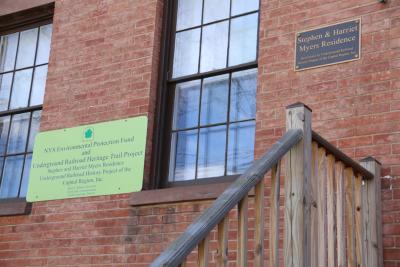 2. Examine our Seeking Sanctuary exhibit with a detailed timeline of American History, created by our summer youth program Young Abolitionist Teen Scholars' Institute.
The Seeking Sanctuary exhibit is to connect the experiences of freedom seekers to the experience of present-day migrants who come to the Capital Region seeking asylum for a better way of life. Stephen and Harriet provided a sanctuary for others and URHP wanted to emulate that through symbolism to have a thorough conversation that links the past to the present regarding sanctuaries of the Underground Railroad movement and present-day asylum seekers.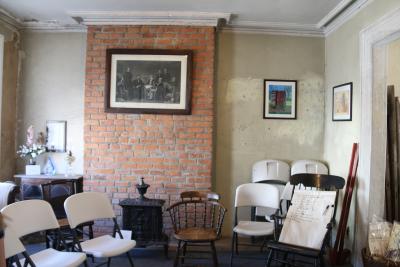 3. Walk with a guide to explore the Stephen and Harriet Myers Residence-Furniture, Gardens, Experience.
Each floor of the residence hosts a story of their own. From the front parlor on the first floor where the Vigilance Committee would've met, to the third-floor collections room where a plethora of artifacts were found on the grounds of The Residence. The first-floor guests will learn about education and where and what the vigilance committee participation with the freedom of escaping enslaved people. The second floor hosts our library, costumes and a rotating exhibition. While the third floor is where the tour wraps up with our collections and seeking sanctuary exhibition.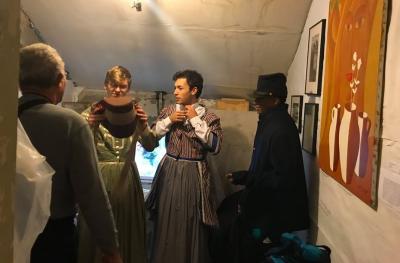 4. Costumes: Immerse in the 19th Century by trying on our period-appropriate costumes.
Guests can immerse themselves in the history of Stephen and Harriet Myers at the Underground Railroad History Project through our historical closet. The Stephen and Harriet Myers Residence offer guests to try on our period-appropriate costumes, that have been generously donated or made by various volunteers. Our costumes are hung in the walk-in closet, in what would have been Harriet Myers bedroom. We hold over 50 pieces of clothing that guests may ask to try on as they take their tour throughout The Residence. The assorted closet ranging in sizes and quantity allows URHP to open their closet for anyone who would like to rent the (URHP) period-appropriate clothing for any special occasion or event. Guests are also able to choose from a variety of clothing such as dresses, petticoats, shirts, trousers, bonnets and more to fully immerse themselves in history.