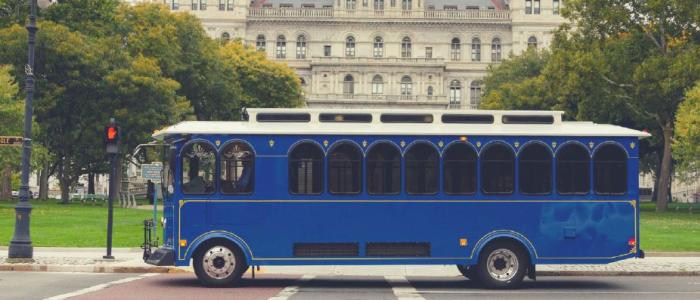 Guest Blog provided by Amy Koren-Roth of Taste of Troy Food Tours
The historic city of Albany, NY was founded more than three centuries ago and each year has more and more to offer. Whether you're planning a staycation in Albany or want to vacation in the Capital Region for a weekend, the city will provide you with a summer weekend that can't be beat. Conveniently nestled in upstate New York just 3 hours from both Boston and Montreal or 2.5 hours by train from New York City, let Albany show you all the things it has to offer. Albany is a blend of sights – both new and old – with music, food, art and more to enjoy. Read on to find out suggestions of things to do in Albany and some restaurants we suggest in Albany.
Friday
10:30 AM
Browse a local museum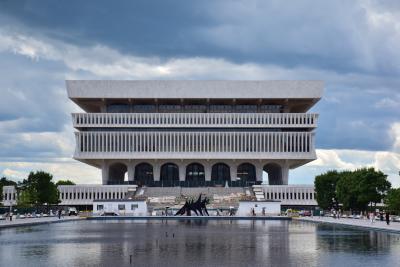 Albany, a city teeming with history that spans over three centuries, has a few great museums to visit where you can learn about the past. The New York State Museum has a fantastic exhibit of New York gems and stones that gives you a peek into what the landscape was like during the Ice Age and the animals that lived here. It also includes a Native American exhibit and a memorial for 9/11.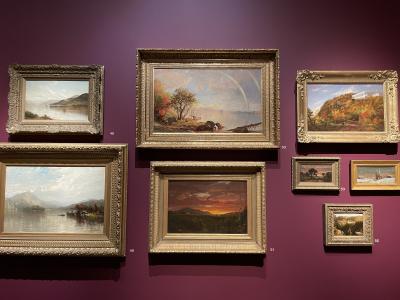 The Albany Institute of History and Art focuses on the craftsmanship of Albany, NY. This year the museum is featuring an exhibit by a Taiwanese American artist and a cartography collection of the area that reflects both the physical and historic changes that have taken place over time. There are ongoing exhibits from the museum's permanent collection that showcase the landscapes of the Hudson River School as well as their Ancient Egypt exhibit and more. Both museums are appropriate for all ages and are a favorite thing to do in Albany.
As you drive around the Capital Region, we suggest listening to the podcast "A New York Minute in History." One of the hosts is the New York State Historian!
12:30 PM
Take a tour with Taste of Troy Food Tours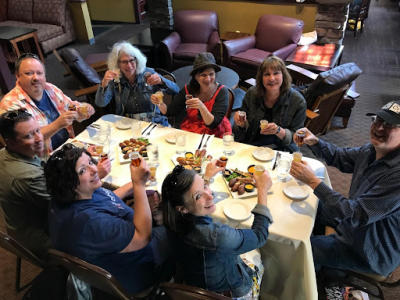 Photo: Amy Koren-Roth
Take advantage of Albany's gorgeous architecture and the city's phenomenal food scene in a way that you can best experience on a guided food tour. The friendly and knowledgeable guide will bring you on a food and history tour of the 320+ year-old Capital Region with stops along the way that show Albany's true colors. The tour ($79 for adults, $59 for kids) is three hours and spans 1.5 miles of Downtown Albany. You will get tastes and sips from 5 different small, independent restaurants and will have had a full meal by the end of the tour. Whether you are looking for something fun to do with the kids or planning a small, private party, head to the Taste of Troy Food Tours website to pre-book a tour while planning your trip to Albany. 
6:00 PM
Live music at The Hollow Bar + Kitchen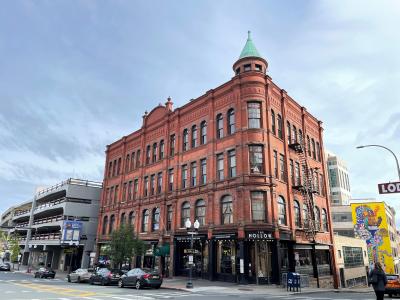 Coined as a "triple threat" of the Capital Region, The Hollow is one of the best restaurants in Albany with great cocktails, food and dinner, to boot. This locally-owned establishment features award-winning chefs, cocktails and equally talented musicians. Make sure the Capital Region's voted Best Small Live Music Venue is on the list for your weekend in Albany, NY.
Will you be in town on the first Friday of the month? You're in luck! On the first Friday of every month, many neighborhoods in Albany roll out the best that they have to offer. This fun thing to do on a Friday in Albany features local clothing boutiques, wineries, artists, food vendors and much, much more. Check out the 1st Friday Albany's Facebook page for a detailed list of all participating vendors.
Saturday
10:00 AM
Coffee, doughnuts and a morning walk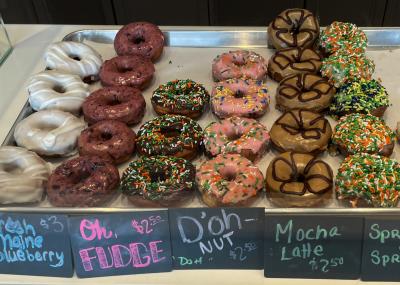 Where can you get a fresh, warm doughnut with a fancy flair? Don't miss out on the chance to enjoy Downtown Albany's Cider Belly. Cider Belly is a local favorite and their doughnuts are baked daily with their signature flavors, premium flavors and over 300 others that rotate in and out. Which flavors will they be baking while you're in town? Grab a cup of morning coffee or homemade lemonade then head over the pedestrian bridge to Albany's Corning Preserve. Or head to the Corning Preserve along the newly opened Albany Skyway either on foot or by bike where you can meander along the beautiful Hudson River and enjoy your morning snack.
1:00 PM
Kayak on the Hudson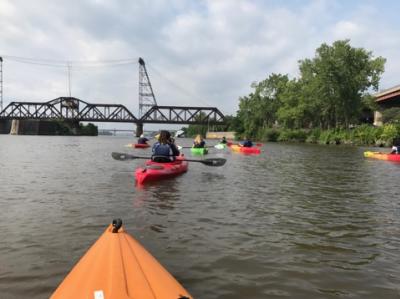 Take a little getaway from city life and paddle your way down the Hudson River. Upstate Kayak Rentals offers kayak rentals by the hour ($30 for up to three hours) in their Waterford and Schenectady locations and have convenient self-serve rental hubs located around the capital region. A quick stop at the Corning Preserve Boat Launch in Albany, NY will get you on your way to an adventurous afternoon sightseeing in Albany. If you're looking for family fun in the capital region, a fun team-building exercise, or celebrating a birthday, kayaking on the Hudson is a gorgeous way to spend a few hours in upstate New York. 
OR
Dutch Apple Cruises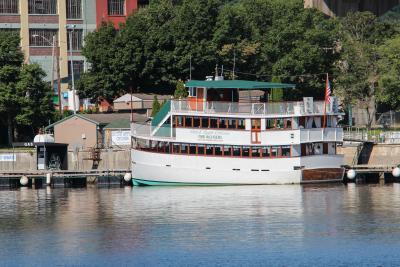 For a more leisurely way of sightseeing in Albany on the historic Hudson River, book a cruise with Dutch Apple Cruises. The cruise is 1.5 hours long and takes you to Van Weis Point, just before Castleton. Your cruise guide will share tidbits of Albany's happenings – both current and past – and share some secrets about the riverside houses. Don't forget to look up! There's almost always a bald eagle sighting on this cruise. Tickets purchased online are $25 with some discounts available and tours run Friday-Sunday from April to October.
5:00 PM
Dinner at El Loco
If you like Mexican food, a stop at El Loco near Washington Park in Albany is an absolute must. The restaurant is decked out in mosaic tile, portraits of Frida Kahlo and of course, plenty of tequila. With over 50 different kinds of tequila and a unique menu with healthy foods that include vegetarian and gluten-free options, it's no surprise that this location has won Best Mexican Restaurant in the Capital Region for the last four years! 
Pro tip: When you sit down to dinner, order the frozen ginger margarita ($9.25) and customize your own combo plate so you can get a bit of everything ($14.75-$21.25).
8:00 PM
A live performance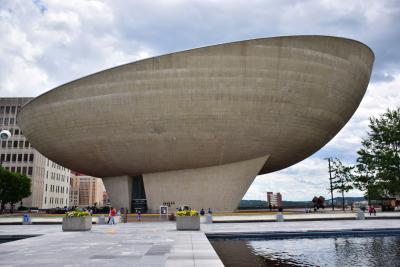 Downtown Albany is home to a plethora of venues. Check the calendars for The Egg (an architectural marvel) the historic and grand Palace Theatre, or the new home of the Capital Repertory Theater. You can catch live music, a comedian, symphony, ballet, or perhaps an off-Broadway show will be in town! The capital of New York has just as much to offer as the city of New York does, often at a lower price and with small-town intimacy. 
Sunday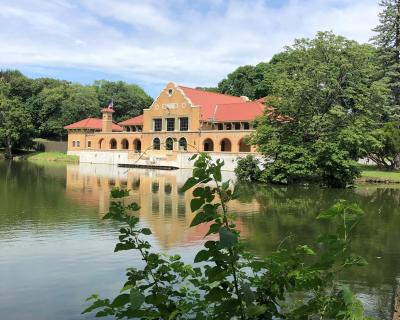 Start your Sunday off with a stroll through Washington Park on your way to some great brunch options on Washington Avenue. Designed in the late 1800's, this park has been a monument to the Albany area ever since. Each of the statues and artwork give a description, detailing the significance of why it's there and what it means to this city. This park is also the site of the famous annual Tulip Festival, a festival dedicated to providing live music and all kinds of festival foods to the tens of thousands who show up every year, and will be held in early May this year. During the warmer seasons, you'll get a view of the beautiful Washington Park Lake located in the southwestern corner of the Washington Park. The further you walk around the park, the more you'll get to see and learn.
Brunch Options:
Iron Gate Cafe
Serving from 9-3, no reservations so build in wait time
The Iron Gate Cafe is a family owned and operated restaurant which specializes in breakfast and lunch, so if you're already in Washington Park, it's a great place to have brunch since it's on the outer edge of the park. You can eat indoors or on their outdoor garden patio to stay in tune with the sounds of Albany. Their quirky menu for omnivores, vegetarians, vegans, and gluten free eaters is what has made this location so popular in Albany, so make sure to check them out!
UmanaYana
Brunch from 9-3, take reservations
Just a few blocks West of Iron Gate, UmanaYana this fun restaurant offering Afro & Asian Caribbean inspired menu. In their attempt to create a meeting place that rises up to greet all, they have connected with neighbors in the local and global communities, partnering with the best of both. They have a vegan specific menu, in addition to a menu for omnivores. They often have live music on Sunday.
NAVIGATING DOWNTOWN ALBANY
CDPHP bikes | visit cdphpcycle.com for a map of locations
Free Albany trolley | www.cdta.org/trolleys
Free parking at meter locations on weekends | Download the ParkAlbany app
LODGING
Fairfield Inn & Suites by Marriot | 74 State Street (Walk to dining and attractions, including the Times Union Center, NYS Capitol Building, and Empire State Plaza, Palace Theater.)
The Morgan State House | 393 State Street (a luxurious brownstone overlooking Albany's Washington Park. Have breakfast in the garden!)
LINKS & INFO
New York State Museum | nysm.nysed.gov
Albany Institute of History and Art |  www.albanyinstitute.org
Taste of Troy Food Tours | tasteoftroyfoodtours.com 
The Hollow Bar & Kitchen Calendar | www.thehollowalbany.com/albany-live-music-venue 
First Friday | albany.org/event/1st-friday-albany
Cider Belly Doughnuts | ciderbelly.com (518) 253-4640
Hudson River Way | hudsonriverway.com
Kayak on the Hudson | upstatekayakrentals.com (518) 209-1063
Dutch Apple Cruises | dutchapplecruises.com (518) 463-0220
El Loco | ellocomexicancafe.com (518) 436-1855
The Egg | www.theegg.org (518) 473-1845
The Palace Theatre | palacealbany.org (518) 465-4663
Capital Repertory Theater | capitalrep.org (518) 445-7469
Iron Gate Café  | irongatecafe.com (518) 445-3555  
UmanaYana | umanayana.com (518) 915-1699