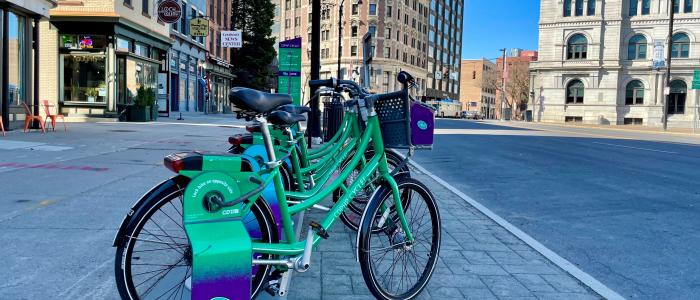 Are you a Capital Region local interested in eco-friendly initiatives or a visitor passionate about sustainable travel? From electric vehicle charging stations, to bikeshare programs, to urban orchards, there a variety of ways Albany County is going green. Scroll on to learn about a few exciting ways Albany County and local businesses are going green!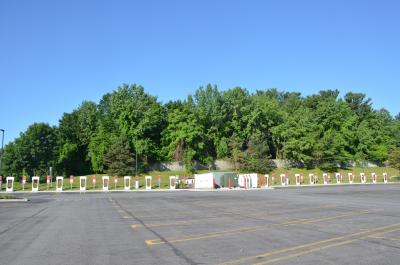 Photo provided by Crossgates Mall
Electric Vehicle Charging Stations 
Electric Vehicle charging stations are popping up across Albany County! Albany Parking Authority has EV charging stations available in all three downtown Albany parking garages and has plans to install charging stations in two parking lots. Popular Albany County attractions such as Crossgates Mall and John Boyd Thacher State Park have EV charging stations for visitors. Plus, the Albany International Airport has 16 EV charging stations onsite in the South Parking Garage, North Parking Garage and long-term parking lot.  
Embark on National Grid's EV Road Trip to discover New York State before summer ends without using a drop of fuel.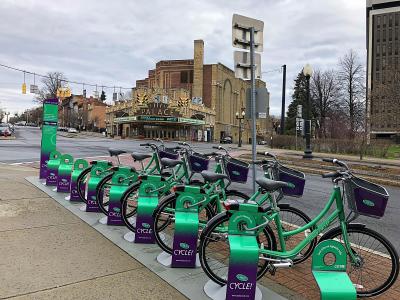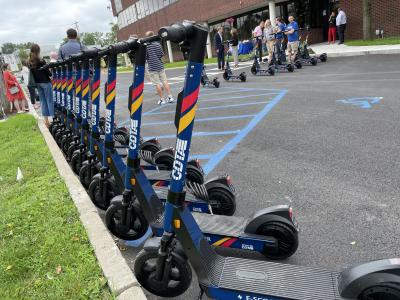 CDPHP Cycle! & SCOOT
Put the pedal to the metal instead of hopping in a rideshare or taxi! CDPHP Cycle!, a bike-share program operated by CDTA and CDPHP, makes it easy to explore Albany County by bicycle. For $5 an hour, locals and visitors can rent a bike to see the sights. Bike rack locations are conveniently located near popular cycling spots such as the Corning Preserve and the Albany County Rail Trail. This summer CDTA is also launching SCOOT, a new electric scooter sharing program. Download the app and zip around the Capital Region!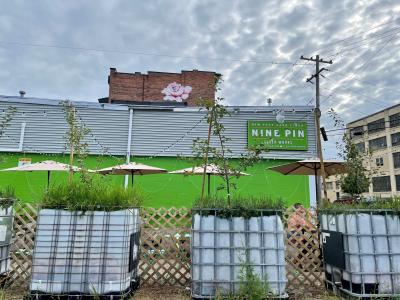 Nine Pin Cider's Urban Orchards
Over four years ago, Nine Pin Cider planted an urban orchard in Washington Park that is now producing fruit. This fall, Nine Pin will harvest the fruit to create a First Harvest batch of cider! Last year, New York's first farm cidery planted baby apple trees on the tasting room's outdoor patio so there is now an urban orchard in the heart of the Warehouse District. Nine Pin Cider also worked with students from Giffen Memorial Elementary to plant Albany's newest urban orchard on the grounds of the elementary school.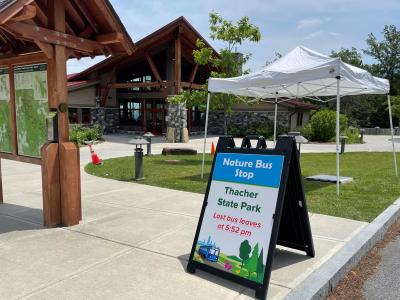 CDTA Electric Buses/Nature Bus 
Over the past few years, CDTA has rolled out electric buses. Some of these electric buses are used for the Nature Bus, a free service offered on Saturdays through September 25, connecting the City of Albany to a variety of Albany County's preserves, parks and outdoor destinations. Jump aboard the bus to explore the 22-acre Pine Hollow Arboretum in Slingerlands, Albany County Helderberg-Hudson Rail Trail, Lawson Lake County Park or John Boyd Thacher State Park. The Nature Bus is brought to you by the Mohawk Hudson Land Conservancy in partnership with CDTA.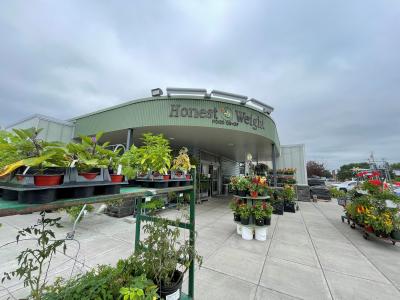 Honest Weight Food Co-op
Located on the edge of the City of Albany, Honest Weight Food Co-op is a friendly public grocery store that provides the local community with area's largest and best selection of local and organic produce and groceries. Since 2015, Honest Weight's Enviro Tokens program has encouraged shoppers to use reusable shopping bags. Each time patrons bring reusable shopping bags to the store, shoppers are given the option to donate 5 cents per bag to local charities. Honest Weight is home to an EV charging station and the store is powered with 100% Community Solar from a solar farm in Castleton, NY.