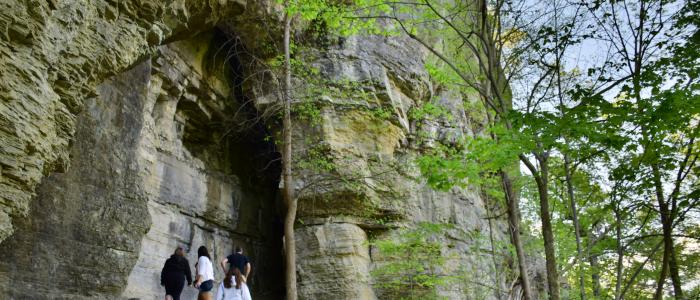 Albany has a lot of great parking spaces. And we're not talking about running errands. We're talking about running. Or even just taking a quick walk.

Whether you have a half hour, a lunch break, an afternoon or a full day - this area has a great place to visit to get some fresh air and rejuvenate.

Here's a selection of some of the best places to visit around Albany.
If you have a full day...
Thacher State Park, Voorheesville
A perfect little day trip, about a half hour from downtown Albany, the park that offers a ton of great views of the city skyline has just about everything a visitor could want. Pack in a lunch or bring a barbecue (fire pits are all over the place). Bring your hiking shoes, or just bring a comfortable chair and a cool drink.

Established more than 100 years ago (1914), and named after former Albany Mayor John Boyd Thacher, the park is a monument to terrific preservation of public space. It's also a wonder in geography and geology as there are six miles of limestone cliff-face, various open fields and a ton of slopes that will leave you momentarily shocked you're not in the Rockies.
This year, through a public-private partnership, the park was able to complete the construction of a $3.8 millon Visitors Center. 

The center offers exhibits devoted to the park's historic and natural resources, kids activities, including a "bat cave" and porches that offer breathtaking views of the overlook. 
Thacher even has volleyball courts, playgrounds, ball fields and numerous picnic areas with nine reservable shelters. Interpretive programs are offered year-round, too. There are over 25 additional miles of trails for summer hiking and mountain biking, and winter cross-country skiing, snowshoeing, hiking, and snowmobiling. There's even camping available - about 140 sites -- at Thompson's Lake Campground. 

Don't forget about the The Emma Treadwell Thacher Nature Center, which is located two miles from the Overlook on Thompson's Lake. The center offers exhibits, interactive displays, trails for hiking and skiing, and educational programs.
Extra prime parking spot: The park is best known for the family-friendly half-mile Indian Ladder trail that includes two selfie-worthy waterfalls. Click here for more info. 
If you have a half day...
Albany County Helderberg Hudson Rail Trail, a project of the Mohawk Hudson Land Conservancy, in partnership with Albany County and Local Municipalities
This 9-mile rail trail connects the communities of Albany, Bethlehem, New Scotland and Voorheesville via the former railbeds of the Delaware and Hudson Railroad. Converting the railway into a multi-use recreational site is the result of a partnership between the Mohawk Hudson Land Conservancy, Albany County, and communities along the trail. Today, about half the trail -- from South Pearl in Albany to Tollgate Plaza in Slingerlands -- is paved, with the other half -- from Slingerlands to Voorheesville -- expected to be paved this year. 

Visitors can hike, bike, or jog this corridor, and experience beautiful views of the natural scenery. This protected corridor is a gem, and wouldn't be possible without the dedication of volunteer labor, and the Mohawk Hudson Land Conservancy. The conservancy has assisted with 18 preserves, scattered across the Capital Region. These preserves are an easy drive for a lunch time hike; a list of the preserves can be found here.
Extra prime parking spot: Visit the picnic pavilion in Voorheesville, whose design is reminiscent of a rail station. Click here for more info. 
See flora from around the world at this unique 25-acre park just outside of Albany. The arboretum is home to more than 3,300 unique trees and shrubs organized by geography. Natural species from China, Russia, and Japan are represented. The arboretum also devotes area to specific species like magnolia and fir. The park also includes 12 ponds and a forest, with some lovely architectural features including bridges and walking trails. Bring a camera or a paintbrush to capture the beauty of this completely planned, but totally natural looking setting. 
Extra prime parking spot: Visit the Dawn Redwood, one of the first trees planted on the property. Fossils of the tree were discovered in Japan in the 1940s, supporting the idea that the tree was extinct. However, shortly after that, live specimens were discovered and shared with arboreta around the world. Stare up at this magnificent specimen, which is expected to live 400-500 years. Click here for more info. 
Known to locals as simply the Pine Bush, it's one of the most distinctive places in the world. One of just 20 "inland pine barren" ecosystems remaining in the world; a testament to a glacial drainage thousands of years ago.

In its current form, the park has a terrific visitors center and a variety of easily strolled trails.
Extra prime parking spot: The area is revered for some amazing visitors, the endangered Karner blue butterfly.
Extra prime parking spot: The Pine Bush also is a sacred home for bats -- which may drive some guests batty, but they're key to maintaining balanced ecosystems. There are believed to be 5 varieties that call the APB home, or a quick pitstop. Visitors and staffers are constantly on the lookout. Click here for more info. 
If you have a lunch break (and can even extend it...)

Cohoes Falls; 231 N. Mohawk, Cohoes
It won't quite replace visiting the majestic Niagara Falls. But one of the surprisingly great little secrets about this area (especially for newcomers) is the Cohoes Falls.

The word Cohoes is believed to have come from either the Native American word Ca-ha-hoose or Coho - meaning "falling or shipwrecked canoe." Venture to the Cohoes Falls Overlook Park, located at the corner of School Street and Cataract Street off of North Mohawk Street, for an afternoon picnic or to get an overlook view of the Falls. Just minutes from 787 and Route 9, the Cohoes Falls are a spectacular regional attraction.

It's a great place to eat a quick lunch and be mesmerized by the tranquil rush of water.
Extra prime parking spot: The four-acre Falls View Park is adjacent to Brookfield Renewable Power's School Street hydroelectric generating facility. Interpretive panels can be found in Fall ViewsPark's canal-side plaza, which were created by the National Park Service. Click here for more info. 
Named one of the nation's 100 most important parks by the American Association of Architects, the 81-acre park has been charming residents and visitors around downtown since 1686. Adults and kids can be found playing Frisbee or volleyball, or just taking strolls. Various recreational opportunities abound, from basketball to tennis and a revamped skateboard park.

Along a swatch in the middle of the park, dog walkers gather to talk toys and breeds while their animals run around - and you'd be surprised how often the dogs seem to recognize their park buddies! The Washington Park Lakehouse becomes an especially popular spot on summer nights for the theater. You can just stop by for free and sit in the bleachers, even after getting in a run.

The most well-known spot is the statue of Moses, a ,3800-pounder made of bronze and boulders from Storm King Mountain to the south. It's a great spot to catch your breath and smell the flowers (tulips).
Extra prime parking spot: One of the best views comes from the last remaining original structure in the park: The footbridge over Washington Park Lake, built in 1875. Click here for more info.