The 2020 Albany Tulip Festival has been postponed. #DiscoverAlbany, the City of Albany and Citizens Bank are virtually celebrating Tulip Festival with videos, blog posts and other online content. Follow along on social media with #518TulipTracker and use the hashtag to join the conversation. 
Tulip Festival is an Albany tradition held annually on Mother's Day Weekend. While Tulip Festival has gone virtual this year, it is an event that holds fond memories for many. We hope you enjoy reading the Discover Albany staff's favorite memories and we encourage you to share yours!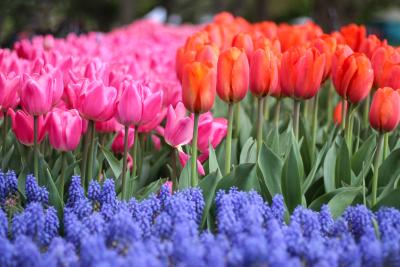 Jill Delaney, President & CEO
"The Tulip Festival really signals the start of Spring here in Albany – the flowers bloom, the streets and park are bustling, and the community celebrates. It really is a magical time!"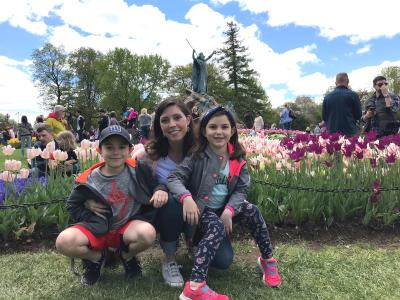 Lisa Flatley, Assistant to the President 
"My favorite part about Tulip Festival is attending with my daughter and my grandchildren." (Pictured above)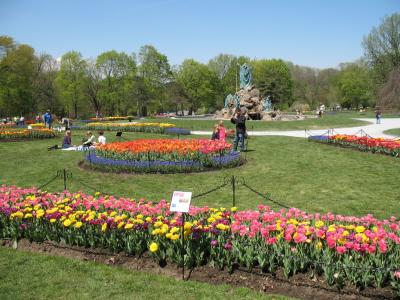 Kathy Quandt, Director of Operations
"On a sunny Tulip Festival weekend, I enjoy a walk to the park to absorb the sunshine, the beauty of the tulips and the music."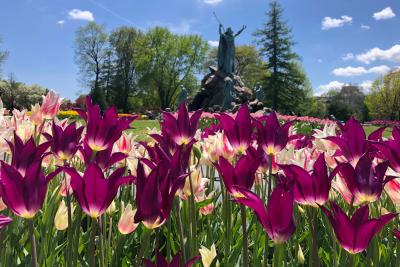 Maeve McEneny, Education & Heritage Coordinator 
"I can remember being a little girl and being allowed to climb the Moses fountain (or maybe I just didn't get caught?). It's formally known as The King Memorial Fountain, but we never called it that. It was always just "Moses."
There's lots of little nooks in the stones surrounding Moses that seem like they were made to catch and cradle tiny feet. This wasn't an endeavor made for grownups! There were always other children clambering around the monument. Luckily, there were unspoken kid-rules that kept us civil, or at least didn't impede someone else's expedition. I was never bold enough to climb to the top of the fountain, but the older kids were fearless and could manage to get to Moses' toes!"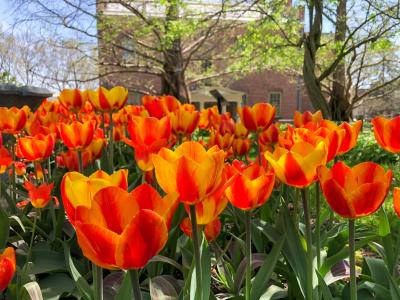 Katy Holland, Director of Marketing
"This year's Tulip Festival, though different, has been my favorite. It gave me the opportunity to work on the Tulip & Garden Driving Tour, which opened my eyes to the many gardens that Albany has to offer. Spring has always been my favorite season, there something about watching everything come back to life and the vibrancy of it that just makes me smile. The fact that we had a part in bringing that beauty into the homes of people during such a dark time makes this festival the best one yet!"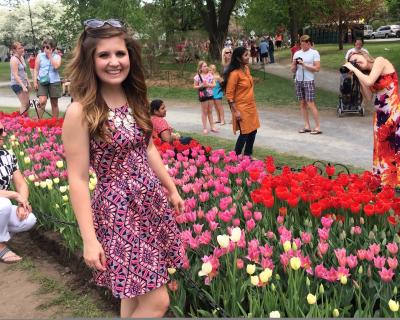 Michelle Santos, Content Marketing Manager
"As a kid growing up in Idaho, tulips were always my favorite flower. During my senior year at Marist College in Poughkeepsie, my boyfriend (now fiancé!) drove us up to his hometown of Albany to spend the day at Tulip Festival. It was a beautiful sunny day but, of course, there was a pop-up rain storm. Despite briefly huddling under a tent to keep dry, I had the best day exploring the tulip beds, snapping tons of photos and perusing the art vendors. At the time I had no idea that after a brief stint of living in NYC, I would wind up calling Albany home. I often think about how serendipitous it is that I now live in a city, across the country from my hometown, that celebrates my favorite childhood flower."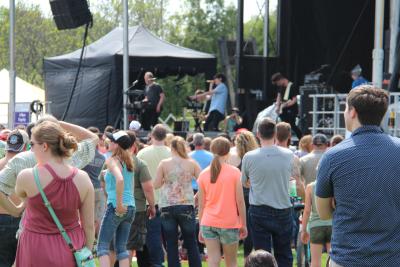 Jay Cloutier, Director of Sales
"I had been on staff of ACCVB for just over a year, and I was tasked by our previous President to immerse myself in the Tulip Fest. The Tour and Travel Sales Manager and I (Dani Brown now, then Danielle DeAmelia) went on Sunday 2000. We spent a ton of time at the main stage listening to a rockin' showcase of music. Then we walked through some of the vendors. Dani saw a local auto dealer showcasing a Hummer, a car that still had some cache in 2000, I took a couple pictures of her pretending it was her vehicle. We were sunburned at the end but we had a blast."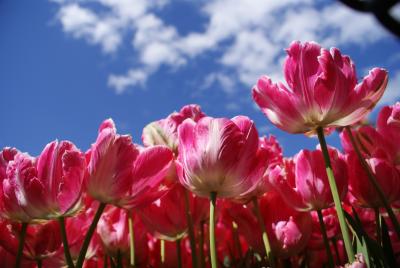 Debby Goedeke, Convention Services Manager
"My favorite Tulip Memory was when one of my neighborhood friends became Tulip Queen. Christine Little. Being a young woman just out of high school, and to have a friend chosen was a complete thrill for me. I always thought it was such an honor to be Tulip Queen and represent our city….  Many years later, I still feel the same exact way…."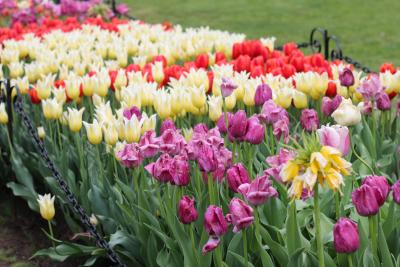 Michele Endries, Senior Sales Manager
"I just love seeing all the tulips 🌷 in bloom."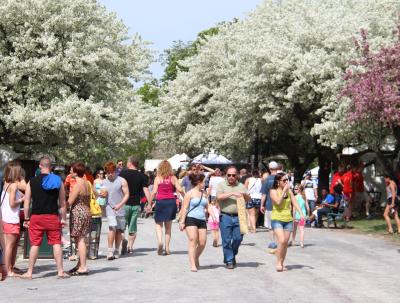 Kristen Thatcher, Sales & Services Administrator 
"I always love walking around, listening to music and visiting all of the vendors."