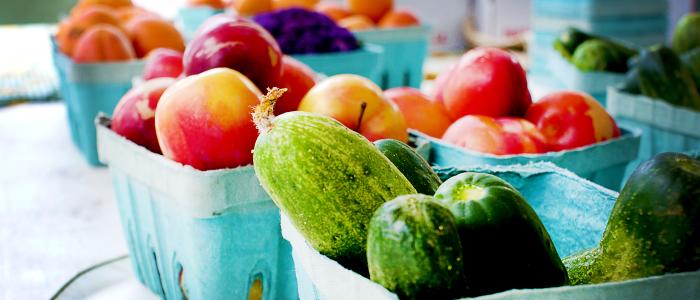 Farm fresh produce from a local farmers market is a summer staple in Albany. This year, a trip to the farmers market might look a little different. From online orders, to pick-up only, farmers markets have adapted to adhere to social distancing requirements. Access to fresh fruits and veggies is also available through a variety of local farm shares.  Scroll on to learn about farmers markets to-go and farm shares in Albany County. 
Albany's newest farmers market, the South End Night Market, is held at the Radix Center on Thursdays from 4:00 PM to 7:00 PM. The family-friendly market gives the local community easy access to fresh produce from local farms. During the current circumstances, masks are mandatory and social distancing will be enforced. If you would rather have produce delivered directly to your door, Capital Curbside is offering produce delivery with online pre-orders. Right now vendors are limited to farmers and prepared produce vendors, but you can purchase non-essential goods from local businesses in the South End with this online platform. As restrictions are lifted, the South End Night Market is envisioned as a hub for music, food, and local vendors. The market was made possible through a collaborative effort between AVillage and other community groups. 
For the first time ever, Nine Pin Cider is offering CSA Farm Share pick up with Sollohub Family Farm. For $360, receive eight bi-weekly pick ups (at Nine Pin Cider's tasting room) of vegetables, fruits, poultry and pork from the Averill Park farm. Sollohub Family Farm focuses on heirloom varieties and open-pollinated seed, with heritage breed chickens and pigs raised outside on natural forage. Limited farm shares are available and they are going fast! There are only a few shares left with a start date of June 17, so sign up ASAP. 
The Washington Park Farmers Market has launched an online market featuring local meat, baked goods, maple syrup and other goods from artisans. Place your order online before 11:00 PM on Fridays for pick up on Saturdays at the Washington Park Lakehouse. The market offers senior citizen pick up, drive up pick up and walk up pick up (masks must be worn!) at various times on Saturday morning. Orders must be placed online in advance, but there is also hot food vendors cooking fresh meals on-site for those who pre-order. 
The Regional Food Bank of Northeastern NY developed a self-sustaining farm in Voorheesville called the Patroon Land Farm. While the majority of the fresh vegetables go directly to the Food Bank, seasonal produce is also available for locals through a CSA program. In addition to receiving locally-grown vegetables each week during the harvest season, CSA members may visit the farm on designated Saturdays and pick fresh vegetables. Learn more details about how this CSA program works at this link. 
Pick up goodies from Wind Hill Maple, Caffe Italia, Lucky Clover Artisanal Bakery, Amy's Tie-Dyes and more with the Guilderland Farmers Market! Pre-order at the online market by Fridays at 11:00 PM. Pick up your purchase on Sundays in the parking lot at Star Plaza in Guilderland from 12:00 PM to 1:30 PM. Patrons are encouraged to stay in their cars and the farmers market will bring your order to you.
The Radix Center, Albany's one-acre "farm in the city", offers farm shares for locals to receive fresh produce grown at Radix. Choose a weekly maximum charge of $10, $20 or $30 and Radix will fill an order with available produce from that week. Radix only charges you for what you are given. The local farm grows a variety of produce such as kale, hot peppers, cherry tomatoes, basil, shitake mushrooms, sage, rosemary and much more! Eggs are also available as is rabbit upon special request. 
While the Empire State Plaza Farmers Market is suspended until further notice, you can still support the local vendors online. Visit this page for special discounts, online ordering and alternative locations to pick up products from your favorite vendors at the Empire State Plaza Farmers Market. Follow @PlazaEvents on Instagram for videos spotlight some of the vendors such as Krug Farms, Maynard Farms, Bulich Creekside Farm, and Engelke Farm. 
Located in Altamont, Black Creek Farm is a small member-supported fruit and vegetable farm. Become a member (for free!) for access to the "first pick" of produce. Members receive an email with prices, quantities and pickup days of produce. Simply respond with what you wish to purchase and the harvest is sold to members on a first-come first-serve basis. The farm grows strawberries, blueberries, garlic and tomatoes. It also produces maple syrup and is home to the Meadowdale Winery.