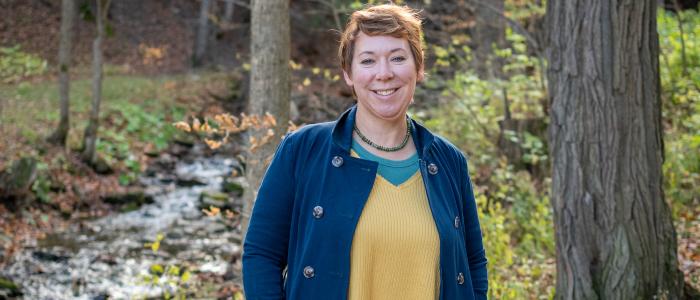 Molly Belmont lives in Knox, located on the western edge of Albany County. Her She and her family moved there in 2011 with a desire to live in the country. They bought an old farmhouse, on 3.5 acres on a very quiet tree-lined road, and love living there because it's so beautiful. They feel closer to the natural world, and every season brings out different qualities in the landscape. Molly and her husband have two children, and they get to spend a lot of time playing outside, building forts, playing in the woods, and climbing trees. Her family has found the community to be very warm and welcoming, and they love their schools.
830 Thacher Park Road, Voorheesville, NY 12186
"Thacher Park is a top destination for visitors and locals alike. With it's stunning views of the Adirondacks and the Green Mountains, it makes a wonderful spot for a hike or a picnic."
87 Nature Center Way, Voorheesville, NY 12186
"Emma Treadwell is an excellent nature center with a calendar full of programs. Visitors can learn to hike, kayak, or fish. You can take a moonlight walk or a geology walk."
68 Thompsons Lake Road, East Berne, NY 12059
"It's a great place for a dip on a hot summer day. There's a wonderful, sandy beach where you can relax. You can also rent kayaks or canoes. We spend a lot of time here in the summer."
83 Main Street, East Berne, NY 12059
"This is a local establishment that opened 5 years ago. They have tons of different flavors on tap. Come out with your friends and family to enjoy great music and great beer.