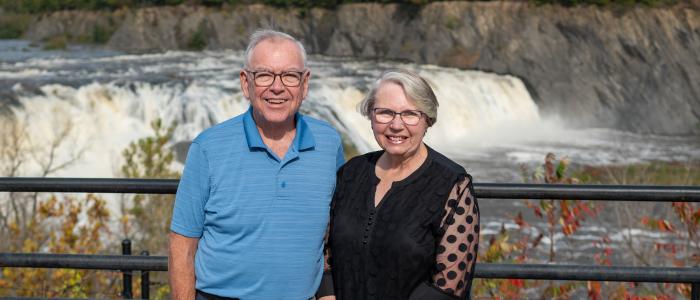 About Ed: Ed Tremblay is a fourth generation Cohoesier, who has lived there all 67 years of his life. Both sides of his family came to Cohoes to work in the Harmony Mills. He has been an active member of the community since his children were small. He was the Community and Economic Development Director for the City of Cohoes during the last 13 years of his active career. He is actively involved in seven nonprofit organizations in the City of Cohoes. The thing he loves most about the community is the small city spirit. He believes there is something special about a community where you can get to know so many of your neighbors and local business owners. You can go to your favorite restaurant, and they know your special dietary needs. You walk into the coffee shop, and they know your favorite drink. You get to know your neighbor's dog's names as they walk by your house every night. That is what is so great about living in Cohoes.

About Linda: Linda Tremblay has lived in Cohoes for her entire life (67 years). Cohoes was a wonderful place for her to grow up. As a young child most of her extended family lived within a 10-block radius of each other. They lived in neighborhoods where houses were close and neighbors were like family. Because of the strong sense of community in Cohoes, she was married and raised her children there. Linda still volunteers at her church and numerous non-profit organizations hoping to ensure that her grandchildren's generation will be given the best opportunities to thrive and grow in a safe and caring environment.
1 Van Schaick Ave, Cohoes, NY 12047
"It's one of the most historic buildings not only in the City of Cohoes, but all of New York State. Back in the 1700's, it was the headquarters of the American Revolution"
58 Remsen St, Cohoes, NY 12047
"Built in 1874, walking into this building is like walking into the 19th century. Ed and I enjoy coming here to see musical acts, concerts, performances, and plays. There's not a bad seat in the house and the acoustics are fantastic!"
Overlook Park, Cohoes, NY 12047
"It has such rich history dating back to the Native Americans and Industrial Revolution. When they built Harmony Mills, they had to put in the Eerie Canal in order to get around the falls you could get from the Hudson to the Mohawk River. It's a wonderful place to come and bring your family, enjoy the park and listen to the water."
Remsen Street
Remsen St, Cohoes, NY 12047
"Linda and I love to come here to do our shopping and eat. The City of Cohoes has some great restaurants, antique shops and we even have two brew pubs in Downtown Cohoes."
Max410 at the Van Schaick Island Country Club
201 Continental Ave, Cohoes, NY 12047
"We have a history here. Ed's parent's wedding reception was here at the Van Schaick Country Club in 1948 and just a few weeks ago we had our 50th high school class reunion here. It's very accommodating to people who have food sensitivities. I'm always able to get food here that can be made to my specification."