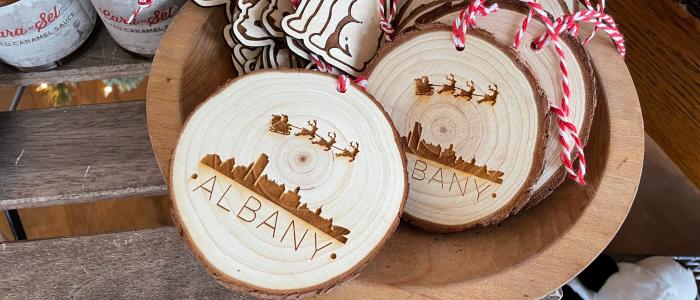 Downtown Albany's Fort Orange General Store is a charming neighborhood shop with a curated selection of home goods and gifts from designers, artists and small companies from the local area and beyond. It is a go-to spot for awesome gifts for those Albany enthusiasts on your holiday shopping list! Pick up this handmade Albany pillow for a cozy gift or choose between a variety of Albany posters and prints for a thoughtful present. Fort Orange is stocked with an assortment of "Upstate of Mind" goods from Compas Life including t-shirts, socks, mugs, hats and sweatshirts. Browse these items featuring Albany's top dog Nipper for a fun gift. Need a stocking stuffer? The shop has a selection of wood ornaments featuring Albany's skyline, Nipper and an Upstate pennant. 

The Discover Albany Visitors Center Gift Shop is a go-to spot for unique Albany gifts! Tucked in Quackenbush Square, pop into the gift shop on Thursdays and Fridays from 9:00 AM to 2:00 PM and Saturdays from 10:00 AM to 2:00 PM. Pick up Albany-themed mugs, bookmarks, postcards, ornaments and much more! The gift shop also has a wide selection of books including The Smalbanac 2.0: An Opinionated Guide to New York's Capital District by Christine M. Garretson-Persans and Cradle of the Union by Erik Schlimmer for a street-by-street history of Albany. 
MW Neighborhoods is a staple at downtown Albany's Fort Orange General Store. The local maker showcases Upstate New York's neighborhoods with posters, t-shirts, pint glasses and more. For the Albany enthusiast, gift an "Albany Has Neighborhoods" t-shirt or poster detailing the names of the neighborhoods within the City of Albany. Check out the MW Neighborhoods Etsy for more Upstate New York-themed gifts.