Have you ever noticed how humans really are creatures of habit? We usually stick to old favorites and stay within our comfort zones. I know it can be difficult, but I want to encourage you to bust out of your norm and try something new! For instance: explore a few attractions you may not have been to and use this trip as an itinerary! 

Here is an idea for an easy exploration that will inspire you to take the trip:
Trip Facts: 
Total distance covered: 13.75 miles
What to wear: sneakers or shoes that are comfortable to walk in; comfortable, weather appropriate clothing; sunglasses.
What to bring: a water bottle; a camera; a light lunch or picnic spread; a sense of adventure
Start your day at the Pine Hollow Arboretum
Suggested to visit: Sat/Sun
Open April - October
This beautiful nature preserve will be the perfect start to your adventure!  Pick up a map (or download one here) and stroll along the wooded trails throughout the 25 acre botanical tree garden taking in the beauty of the more-than 3,300 species of trees planted on the property. Allow yourself to take in the natural beauty of the landscape and maybe take a few selfies or a nature post for Instagram!
Catch the afternoon cruise on the Dutch Apple
Suggested to visit: Sat/Sun at 12:30p
Open April - October, Weekend cruises board at 12:30p
Climb aboard the comfortable Dutch Apple for this 90 minute cruise. Travel down the Hudson River and back while a historian discusses the history of the river and explains some of the sights along the way! Although there is a snack bar on the ship, here is where that lunch you packed will come in handy. 
Take a tour of the USS Slater
Suggested to visit: Sat/Sun 
Open April - November
The only Destroyer Escort still afloat is docked right next door to the Dutch Apple and is absolutely worth exploring. The guides, who are mostly Navy Veterans, will take you throughout the ship that was present in many battles in WWII. Learn all about the monumental history this boat had.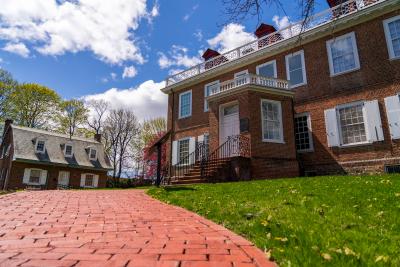 Make your way to Schuyler Mansion State Historic Site
Suggested to visit: Sat/Sun
Once the home to Philip J. Schuyler, renowned Revolutionary War general, US Senator, and business entrepreneur, this stunning 250 year old historic site is open for tours on the hour from 11a-4p. Throughout the Schuyler family occupancy from 1763-1804, the mansion was the site of military strategizing, political hobnobbing, elegant social affairs, and an active family life. The wedding of daughter Elizabeth Schuyler to Alexander Hamilton took place in the house in 1780, too!